If I Switch To A Cloud Phone System, What Happens If My Internet Goes Down?
June 26th, 2020 | 6 min. read
By John Taylor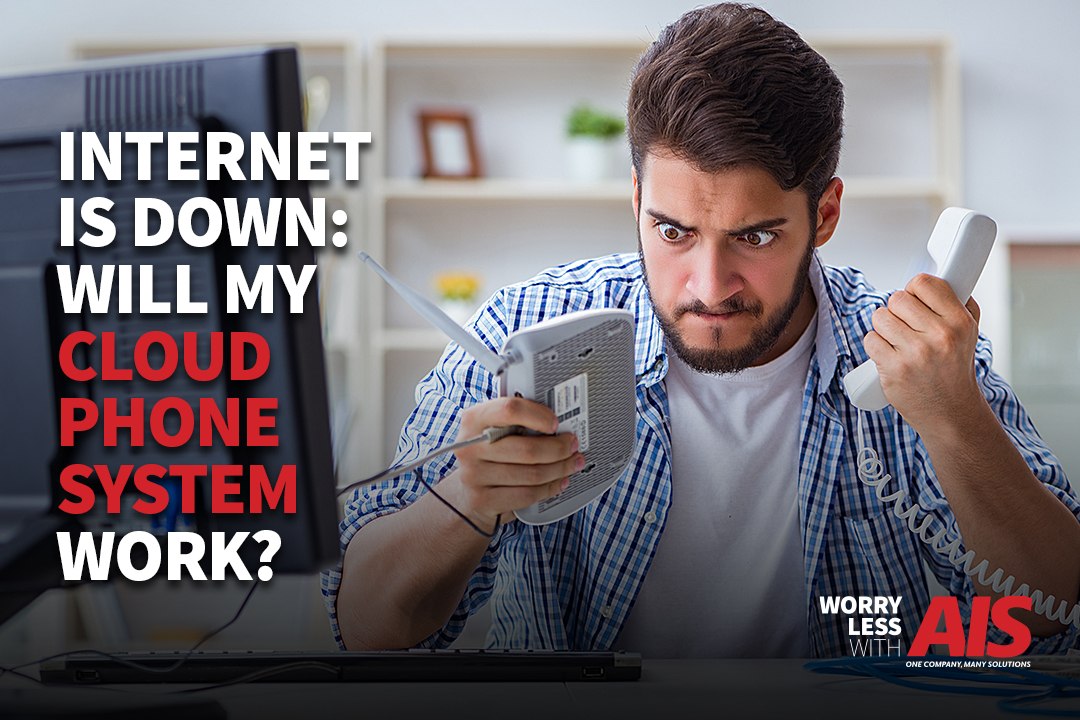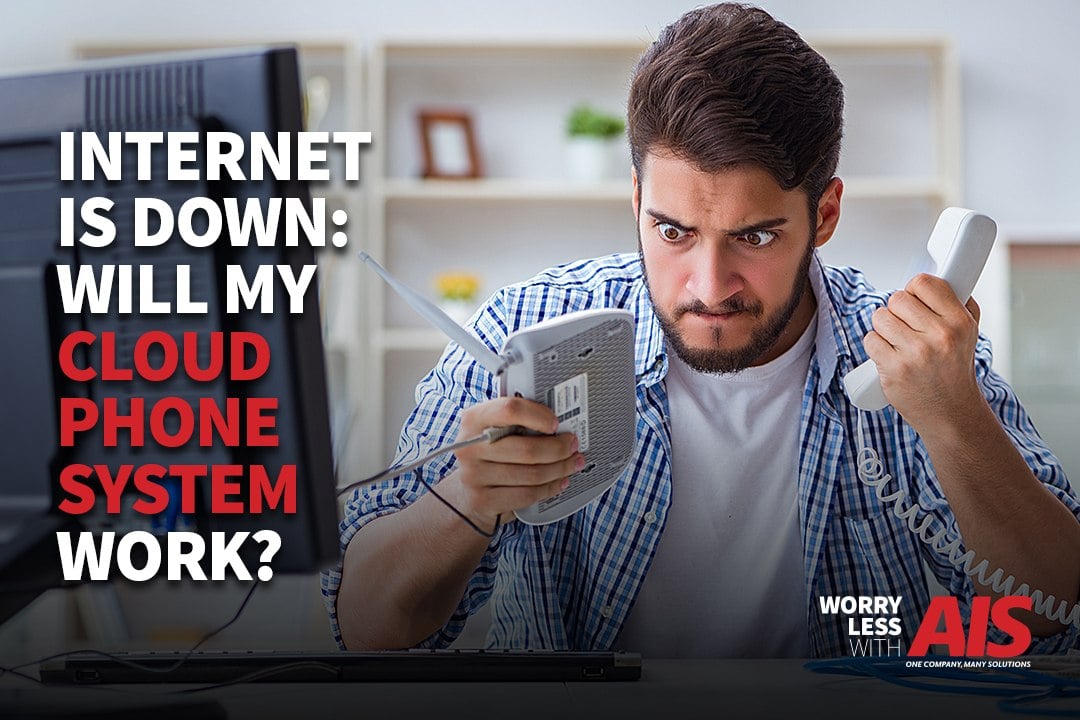 READ TIME: 4 MINS.
We can all agree that technology gives us our fair share of issues, right? If you're thinking about or recently have switched to a cloud phone system, what happens when the internet goes down? How will you and your employees be able to conduct business?
Utilizing your phone system through the cloud means that you're using your business phone services over the internet.
Instead of maintaining a phone system on a server in your office, you have the option to instead, purchase a cloud-based phone system. Once doing so, you're able to pay on a per-user or subscription basis.
There are many benefits of a cloud phone system that are great to understand as you progress through the decision-making process. To learn them, read our article, Why Your Business Phones Should Be in The Cloud (PBX, Cloud vs. On-Site).
When it comes to a cloud-based phone system and your internet connection goes down, what do you do? Let us explain!
Cloud Phone Systems and Your Internet: What Are My Options?
The good news for you is that you have options for your cloud phone system options if your internet connection is spotty or goes down.
As you talk with your telecom provider, make sure they can offer some of these options. If they can't, it might be time to look for a new and more well-versed telecom provider, like AIS.
Call Forwarding and Mobile Apps
Utilizing call forwarding and mobile application features through your cloud phone system is one of the best ways to keep your employees and customers connected, regardless of your internet connection.
You'll find that many cloud phone system services include automatic call forwarding in the event of an Internet service outage. Mobile applications for iPhone and Android are common as well.
Call forwarding is typically used to route company calls to one destination, but what if you need a group or team to receive calls? That's where mobile applications save the day.
Mobile apps allow for call queues that ring members of your team, and you decide how the calls get distributed. Maybe it's best to send calls to the team sequentially so the calls are delivered evenly.
Maybe it makes more sense to have everyone receive calls simultaneously. With a mobile app, you're in control. Did I mention a mobile app will also allow you to make calls that show the company name and number as caller ID?
Using a mobile app through your cloud-based system allows for any incoming call to ring to your device (or devices) of choice, such as your desk phone, cell phone, or laptop, even all of them at the same time. And perhaps the coolest thing about the mobile app, it's included at no charge from most cloud phone system providers.
Phone Backup Through An Analog Connection
For most companies, if their server goes down, they have a backup server that can handle the workload until the primary server issues are resolved. This type of backup policy should be the same for your cloud phone system.
Although your main phone system is through the cloud, having an onsite connection to physical lines from a local phone company is also an option. This is made possible by installing a device on your premises that connects your internal network to a local phone provider's lines.
This type of backup system will allow your desk phones to make outbound calls, even when the Internet connection is down.
Analog phone lines may be considered "old school" technology, but they can be a critical backup plan if your organization demands the highest possible uptime. Chances are, your employees just want to pick up the phone and have it work, they aren't worried about the details.
Secondary Internet Connection
I briefly mentioned the importance of a backup server if your primary server goes down. You may also want to consider a backup internet connection.
A secondary internet connection can serve as an inexpensive insurance policy to keep your organization running when the primary internet provider has a failure. This is not only important for the stability of your phone system.
Consider the impact of an Internet outage on all aspects of your organization. For many, an Internet outage will be crippling. However, you'd be surprised by the number of businesses that lack this kind of backup.
The Final Say: Switching To A Cloud Phone System
New or unfamiliar technology can seem a bit overwhelming, so if you're feeling this way, know that you aren't alone.
There are a lot of moving parts that should be considered when switching to a cloud phone system—and it's critical to understand how your business can benefit from this technology and how to make it as reliable and resilient as possible.
AIS is a technology company that has the answers to your questions. We're always looking for new trends and solutions that support the growth and sustainability of your business. To learn more about a cloud phone system for your business or any of the products and services we offer, reach out to us. We're here to give you peace of mind to help you win more business.
As our Senior Technology Consultant, John Taylor has been in the business technology industry for over 20 years.