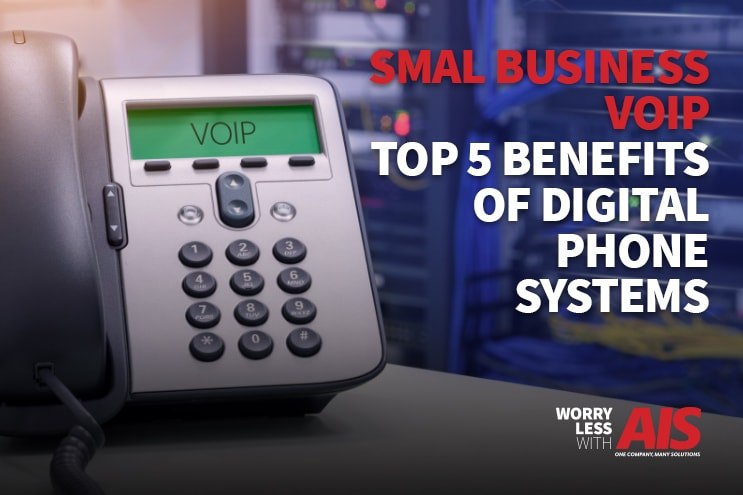 READ TIME: 5 MINS.
When your small business (SMB) is investing time and money into your phone systems, isn't it important to make sure you're getting what you deserve? Business VoIP is one effective phone solution for telecom support that encourages the growth and success of any business.
Before we get into business VoIP and your SMB, and the top 5 benefits of digital phone systems, let's start with the basics. VoIP (Voice over Internet Protocol) is the transmission of communications over the internet. To simplify, VoIP is a digital phone system.
VoIP helps reduce network infrastructure costs, allows phone system providers to deliver voice services over their private network, and promotes organizations to operate using just their voice.
There are many benefits that SMBs experience by switching to a VoIP telephone or digital phone system. With the right phone services provider or team, the room for growth in any business could be exponential if they decide to utilize VoIP phone services.
The value of knowing and understanding the benefits of VoIP, and how these benefits can resolve the current telecom pain points is something we can't stress enough.
Follow along as we discuss some of the most common benefits of digital phone systems and the best ways these services can help your SMB and employees succeed.
If you're unsure if VoIP is right for you, read an article we recently published, What is Business VoIP And Is It Right For You?
Top Benefits of VoIP: Learn What Your SMB Needs
New technology is sometimes intimidating or something that you don't have time to invest in at the moment. If your a small business owner or office manager, when do you have the time to research new technology?
With the ever-evolving market of telecom, it's becoming harder and harder to ignore the enhancements of phone systems and how these advancements are changing the way we work and communicate.
Even if you don't think your business needs to implement a digital phone system, at least hear us out. Staying informed on new and emerging technology trends and implementations only allow you to make the most informed decision when it comes to your telecom needs.
1. Lowered Costs
As we mentioned above, VoIP uses Internet Protocol (IP) to make calls. By the way, these calls can mean voice calls over the phone, or even audio and video conferencing calls. Instead of using telephone lines, all communicative data is sent over an IP network.


When placing calls over traditional phone lines, there's a line taken up by the two (or more) callers using it. Since there are only so many lines that can be installed, calls placed over landlines are costly.

Using the internet to communicate and place phone calls allows a business to cut down on costs simply because the calls aren't taking place over landlines. Also, many businesses that utilize VoIP phone services can make domestic and long-distance calls for free. Now, that's a steal!
2. Mobile Services

How many locations does your business have? Do you have any employees who work remotely? VoIP services can significantly help out your business because these services follow where you and your employees go.
When talking about a traditional phone system, there's a line that runs to either a home or business and assigned to its own phone number. Any movement that takes place is problematic as the user is forced to remember the right codes or keys to dial on their phone.
Customer support is a real issue. There's a lot of downtime that can be experienced when you have no other choice but to contact the phone company to transfer services or phone numbers to new locations.
This problem can easily be solved with a digital phone system because there are no physical limitations to using VoIP. You and your employees can now have the freedom to move as the business demands, even if employees are spread out around the country.
3. A Variety Feature Rich and Add-Ons
Have you ever heard someone say they're great at multitasking? Typically, you think to yourself, "Yeah, right. Multitasking is impossible." Well, not with VoIP! When utilizing VoIP business phone services, you're able to multitask with the most modern tech tools and devices. Talk about increasing productivity!
Here's an example: One of your customers puts you on hold. Doesn't it seem like such a waste of time to sit and wait for them to come back to the line?
With VoIP, you can perform another task while you're waiting. You're able to read through voicemails you received from the day before. That's right, we said, "Read" your voicemails! One of the many features of VoIP is voicemail-to-text transcriptions that can be sent directly to your inbox.
Learn more about VoIP features by reading an article published by SMB Nation; The Top 5 Coolest VoIP Features That Can Improve Your Business.
4. Reliability

We would be lying if we said there wasn't a concern about VoIP reliability because of how this digital phone system functions solely over an internet connection. If the internet or network goes down, VoIP does too, right? Well, not necessarily.
VoIP features, such as call-forwarding, helps make VoIP systems pretty flexible. What is call forwarding? Call forwarding is a feature allowing calls made to one number be forwarded to another specified number. For example, many workers enable a setting on their desk phone that if they're unable to answer a call, the call is then forwarded to their cell phone, or even their laptop.
These types of features give you options, and options are always a good thing! With VoIP, you can forward your calls to other lines of communication.
5. Easy Implementation and Continuity

One of the most exciting things about VoIP is how easy it is to use. From installation, implementation, and continued maintenance, a digital phone system eliminates the need for service technicians to continually having to run phone wires through your office.
VoIP software also makes it easy and straightforward for users. Depending on the software you use, you'll find simplicity in many features, such as adding new users or easy mobility through an online portal.
Something else to keep in mind is that easy implementation goes hand-in-hand when finding the right VoIP phone system provider for your business. There are probably many different digital phone companies to partner within your area, and deciding on the one who's best for your business can be tricky. Don't forget to ask about their customer service when comparing purchase options.
To learn how to find the Best Business VoIP Provider Near You, read our article, here.
We've barely scratched the service on the benefits of VoIP phone systems, but we hope the ones we've shared with you so far have given you more insight on business VoIP solutions. Remember, as technology continually evolves, your only choice is to keep up. If you don't, your competition will.
At AIS, we understand that business technology solutions can sometimes seem overwhelming or confusing. Leave it up to us to do the research for you, so that you can spend your time on more pressing tasks. We're here to guide you and give you the resources you need to make the best purchasing decisions for your company. To learn more on VoIP phone systems, or any of the other products or services we sell, reach out to us, here. Also, check out our video channel on YouTube, The Copier Channel. We're here to give you peace of mind to help you win more business.