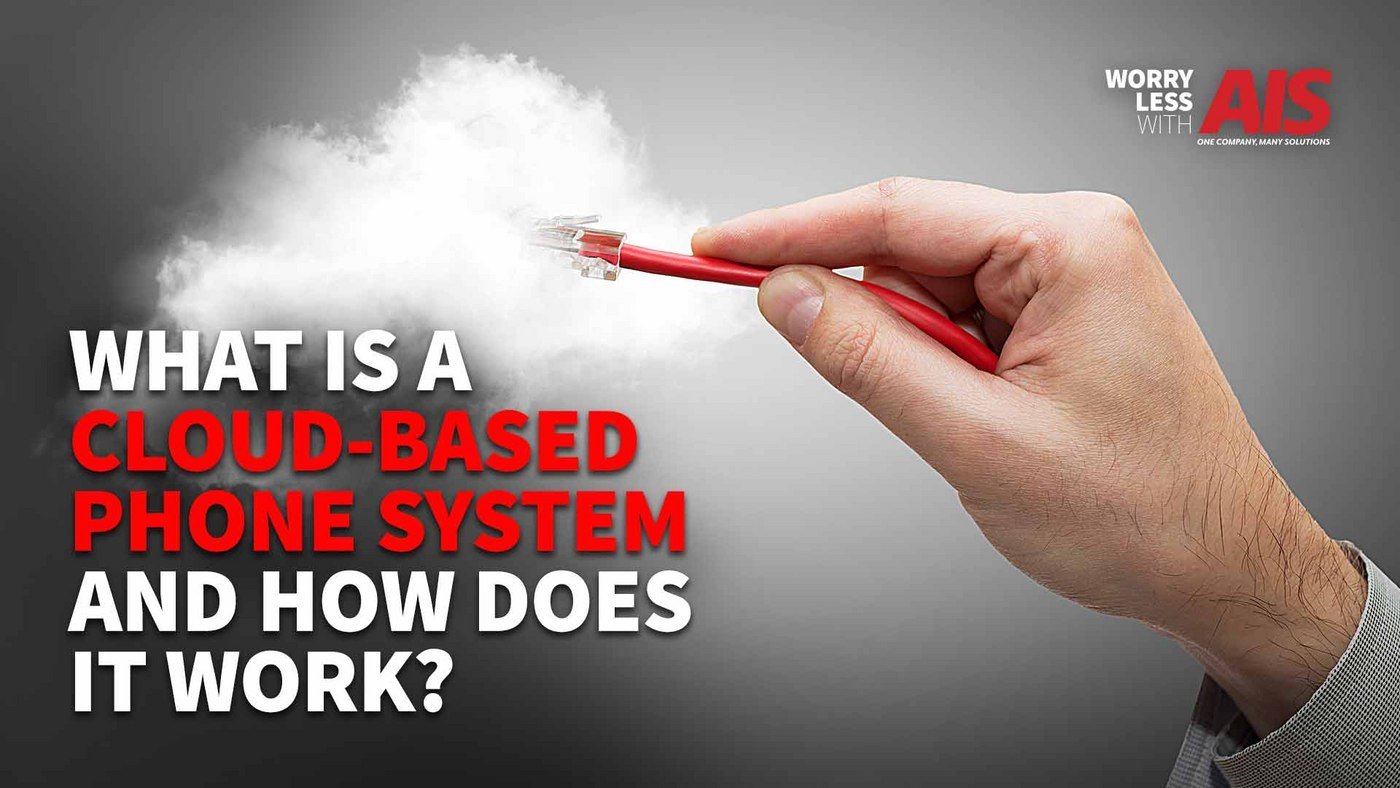 READ TIME: MINS.
Phones have been around for a while now, and whether they're for work or personal use, we rely on them more and more each day. They are an essential tool for communication, especially within our businesses and organizations.
Although there are many additional ways to communicate, such as through texting or emailing, placing a phone call remains ordinary and necessary.
As of late, the COVID-19 pandemic has prohibited us from meeting in person, making our business phone systems more critical than ever before. For this reason, you and your employees should be using advanced technology, such as a cloud-based phone system.
But, what is a cloud-based phone system, and how does it work? Let us tell you all about it and how this technology solution promotes your business operations, internally and with your valued customers.
What is a Cloud-Based Phone System?
A cloud-based phone system means you're using the internet to communicate through Voice over Internet Protocol (VoIP). A cloud-based system is a service that runs over the internet instead of on traditional telephone lines.
Cloud-based phones use a group of phones that all work together to route calls through an internet connection. The phone system of an on-premise or traditional landline typically brings high maintenance and infrastructure costs.
Think about your smartphone and how you store your data in the cloud instead of keeping your photos or messages on the device itself. It frees up space on your device while also giving you access to those files from anywhere with an internet connection.
Choosing to communicate through the cloud works by transferring signals between two IP addresses. For more technical analysis, here's a breakdown of how this transfer works:
Our voice signals are converted into pieces of data—small enough to transmit. Then these signals are broken down into packets.
The packets travel over the Internet to the VoIP solutions provider and sent to the receiver.
The VoIP provider uses the

cloud-based Private Branch Exchange (PBX)

system to route the call.
Once the call is routed, the data is sent to any receiving line, whether to a VoIP phone or a landline.
When the data reaches its destination, it transforms back into voice signals.
Don't worry if this sounds a little confusing; it's a tricky concept to grasp! It might make more sense if you compare a typical landline to a cloud-based one, so look at our article for further explanation, Cloud Solution vs. On-Premise Phone System. Which is Better?
Cloud-Based Phones vs. Landlines
If you read the article above, you'll learn many differentiating factors between a cloud-based system and a standard landline. Business phone services vary, depending on the individual communication needs of the organization.
It's essential to weigh the differences between the two, so your employees have the right tools they need to communicate with each other and the customers you serve.
Traditional phone lines rely on networks of copper wires and switches and do not transmit data over the internet. A conventional landline system was pretty much the only way to successfully place a call until cloud-based systems were created in the 90s.
Traditional phone systems include features such as call forwarding, voicemail, and call conferencing. But cloud-based phone systems go a little further and provide organizations with advanced options such as transmitting voicemail to text.
The neat thing about a cloud-based system is that you can also integrate it with third-party tools and software that your business is already using. This type of integration isn't available through traditional landlines, limiting your communication and collaboration options.
One other differentiator to note is that there is no need for expensive and clunky hardware with a VoIP service plan. Installation is easy, and you only need a sturdy internet connection to get your phone system up and running.
You can even use your mobile device as an extension of your desk phone. In a time like now, when so many of us are working from home (WFH), this feature is a no-brainer.
Why Make The Switch To a Cloud-Based Phone System?
Switching your technology can seem like a daunting process. It's essential to know that a cloud-based system is a technology solution—designed to increase productivity and efficiency while saving your company money.
Here are some more reasons why so many organizations said goodbye to their traditional landlines and continue to enjoy their cloud phone systems.
Cutting Back on Costs: Many of us aren't aware that cloud-based systems are actually more cost-effective solutions compared to the standard landline. The only extra cost that comes with a cloud phone system is the internet installation. But, most companies already have the Internet and only have to pay for the initial set up costs and monthly payments. Cloud systems are priced on a per-user basis and offer unlimited calling. When you

speak with your telecom provider

, have them compare your current phone bill to the one you'd see if you made the switch—you'll be impressed at the numbers.
Reliability: As I mentioned earlier, we rely heavily on our phone systems for continued communication in our workplace. Any potential downtime you experience directly affects your sales and the revenue you're bringing in—not to mention the valuable time your employees are losing when the phones go down. Choosing a cloud-based system means service downtime is a thing of the past. The components of a cloud-based system aren't housed in the same location so that you won't experience disruptions.
Security: If security is something high on your priority list, let this article be your warning sign. Cybersecurity is one of the essential components that needs your constant attention. Security risks through your phone systems like phishing intercepted calls, and fraud continues to threaten all of our technology solutions within our organization. Traditional landlines on-site means your phone equipment is kept in a storage closet or IT room, where anyone can access it. But with the cloud, there are more security measures in place, such as data encryption, network security, HIPAA-compliant software that ensures more protection for your personal and business information.
Scalability: Are you planning on growing your small business? Or, maybe your business is currently expanding and adding new employees to your offices. The great thing about a cloud phone system is that it grows with you. So, adding additional phone lines or extensions when someone new joins your team is a simple task. There's no re-wiring with on-premise equipment—all you need is your telecom admin to configure your system based on your employee size.
Mobility: You and your employees need freedom, especially if they're

working from home

. With cloud communication, you and your employees have total access to your business cloud system wherever they are. A lot of telecom providers even offer mobile applications for smartphones, tablets, and laptops. These advanced mobile apps and features permit your entire staff to access real-time information without being tied down to their desk at the office.
With a cloud-based phone system, you will have an easier time adding video to your calls too. Try that with a landline and see if it works. The capacity to add images and video is so much easier with new cloud-based phone systems and in today's world where meeting face-to-face is not an option, you may gain an edge over your competition based on the type of phone system you use.
A Cloud Based Phone System: Here are Your Next Steps
There's a whole lot more about a cloud-based phone system that you'd benefit from learning. But, I wanted to start with the basics, so you feel more comfortable if you're newly interested in switching from a landline system to a cloud-based one.
If you are a little more curious about how a cloud-based phone system works and how it provides continued support to your organization, read this article and then give us a call.
We're an office technology company that specializes in telecommunications. Our dedicated team of consultants and technicians are excited to show you how to improve your day to day communications while also providing continued education and support. We're here to give you peace of mind to help you win more business.