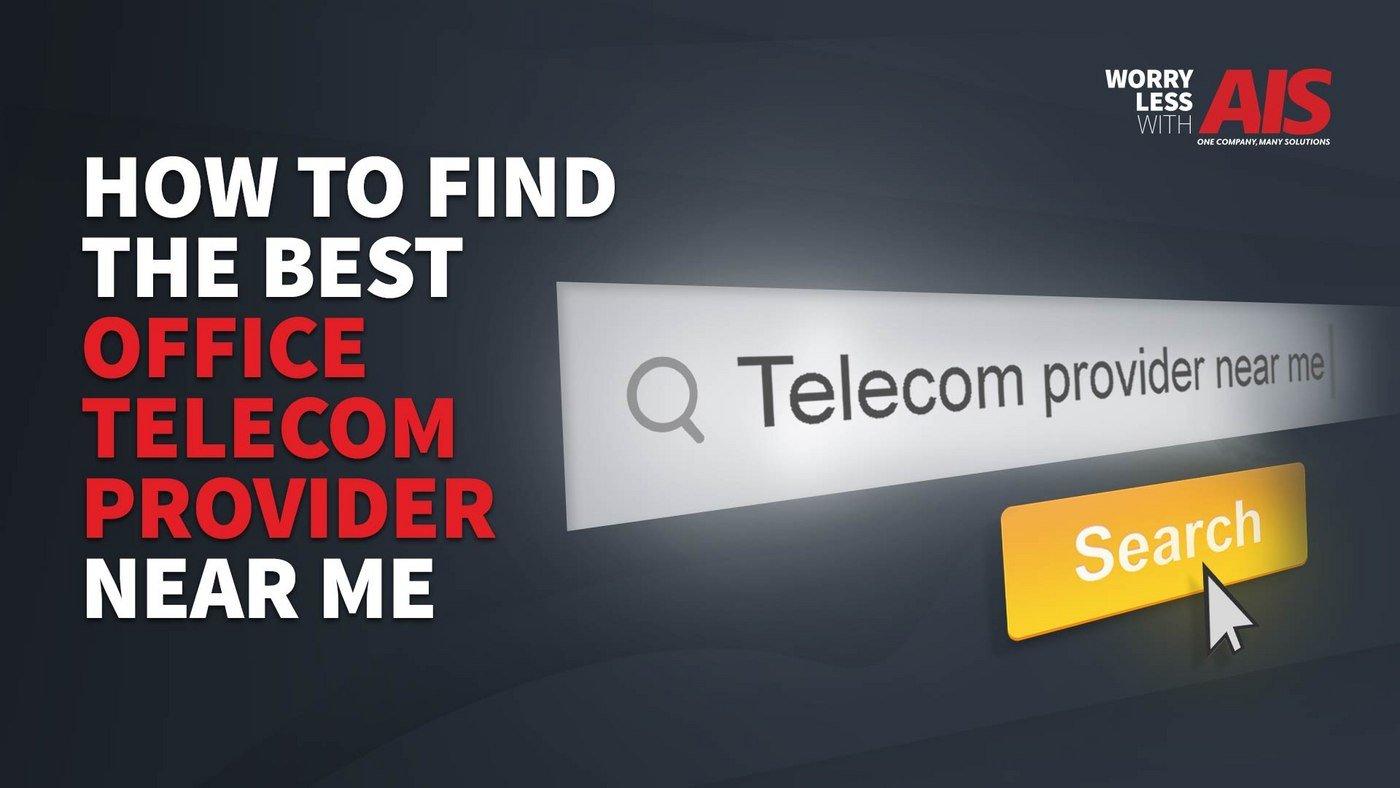 READ TIME: 5 MINS.
Whether your business is growing tremendously or you're looking for new ways to support your remote workers, you need a telecom team to back you up.
Maybe your current phone system provider can't offer an adaptable system, or their services are outdated. It may seem that you are in a dilemma on where to find the best office telecom provider near you.
However, don't panic; we got a solution for you. We understand the tedious process of finding the right telecom provider and happy to offer your organization and employees practical solutions.
Finding The Best Office Phone Systems Provider Near You
When hunting for the right telecom services provider, start by asking yourself the following questions:
Will the

new telecommunication team

integrate seamlessly with my infrastructure?
Is the service flexible to adapt to future business or clientele expansion?
Will the phone system provider's service enhance the productivity of my business?
What are the basic and advanced features included in the package?
Will the service give my business a competitive advantage?
Will our new telecom system complement my staffing needs?
If any of the above questions linger in your mind, you are on the right track! Below are some helpful considerations for a comprehensive analysis of the factors you should think about when selecting a telecom provider.
Select A Telecom Provider Who Offers Diversified Options
The right telecom team should offer a wide array of options for your business. Your organization's needs are dynamic and require an adaptable system with the capability of accommodating all your communication requirements.
One of the primary reasons for finding a new provider is probably because your current one offers static communications services, limiting your business's growth.
There are multiple features and add-ons you can select for your business through a well-versed telecom company. Some phone system providers have additional telecom applications that enable seamless integration with your desktop. In such a case, your desktop can work as a subsidiary phone.
Meaning, your employees can quickly receive and place phone calls straight from their desktops without an actual phone system at their desk.
Ensure The Telecom Services Integrate With Your Current Infrastructure
How does the telecom service provider strategize to integrate the system with your infrastructure? When approaching the provider, gauge their capabilities of incorporating their systems and platforms with your existing technology.
Reliable providers have a functional Application Program Interface (API), a software that enables a hassle-free process of applications communicating with each other.
If there is a proper integration process, you won't have to worry about downtime or disruptions.
Does The Telecom Services Provider Offer Dependable Support?
Technology isn't perfect, and issues with your phone systems may come up. However, your telecom provider should be proactive in offering support. A phone systems provider that does not take charge immediately when problems occur compromises your business's effectiveness, as well as employee productivity.

Although it is often impossible to measure, you can do a few things to get a better idea of a telecom provider's response times and customer service abilities.
Check For Online Reviews: A company with positive reviews is more credible and, in the long run, may provide vital support services.
Check Customers' Testimonials: What are other business owners saying about the provider? Depending on what they are commenting on, it is possible to estimate the company's effectiveness and if their current clients are pleased with the service they're receiving.
The Company's Reputation: Some local telecom providers may sound more familiar than others based on how long they've been in business. These companies have been offering unquestionable services for an extended period—so opt for these providers with a good reputation.
Can The Service Provider Supplement Your Staffing Needs?
When evaluating your staffing needs, you need to assess your current and future needs diligently. If your business expands, is the system capable of adjusting to those changes? Is the phone service provider sensitive to those business dynamics?
If you select a static provider, you will incur higher costs in the future when you decide to expand your system. It would be best if you were open-minded to look beyond competitive prices or high-quality audio.
Select a functional design that upgrades your daily operations that can also easily adjust to your demands, based on your business growth.
Select A Service Provider That Enhances The Performance Of Your Business
A competitive edge in your business is paramount to increase visibility and profitability. The service provider you select needs to offer efficient services that improve your performance daily.
As you probably know, having metrics that can track your business's productivity is quite beneficial for any company.
For example, a great telecom provider can offer a tool that tracks the call data within your organization—allowing you to quickly see the number of calls during a specific period at a macro level, or breakdown the calls for each user at a micro level. These types of features gives you the visibility to enable you to streamline your daily business processes while increasing your competitiveness.
Be bold to inquire what the service provider is offering and how it will benefit your company. You can check on the list of products and services each telecom provider offers and assess the most beneficial ones for your specific requirements.
When choosing the best telecom service provider near you, here are a few essential communication capabilities to evaluate:
Offers Cloud-Based Services: Cloud-based services provide so much to your team members, such as allowing them to place and receive calls remotely. If your system is bound to on-premise phone lines, it means you will have to invest in another system for employees working from home (WFH).

Related:

A Telecom Lesson: The Work From Home (WFH) Migration

.
Hybrid Solutions: Hybrid solutions are versatile but mainly include instant messaging capabilities and audio and video conferencing. Such communication capabilities will increase efficiency in the business environment. You can conveniently communicate with clients and employees and record messages or meetings for future reference.
Screen Sharing: Screen sharing enables easy sharing of the screen-in-use, making online presentations more collaborative and inclusive.
Your Next Steps To Finding The Best Office Telecom Provider
Selecting a telecom provider near you should involve a comprehensive analysis of available products, features, and services. So, what are your next steps?
Start by listing down the major issues you want to address and what your current phone systems and service provider is not offering. An ideal telecom provider will understand your business's needs and provide amicable solutions that solve current and future issues.
Learn the costs of a phone system by reading our article,

How Much Does a Cloud Phone System Cost?
AIS offers resources that aim at providing insights concerning the best telecom services for your business. Make sure to reach out to us to speak with one of our office technology consultants to help you select the best telecom solution for your business. We're here to give you peace of mind to help you win more business.