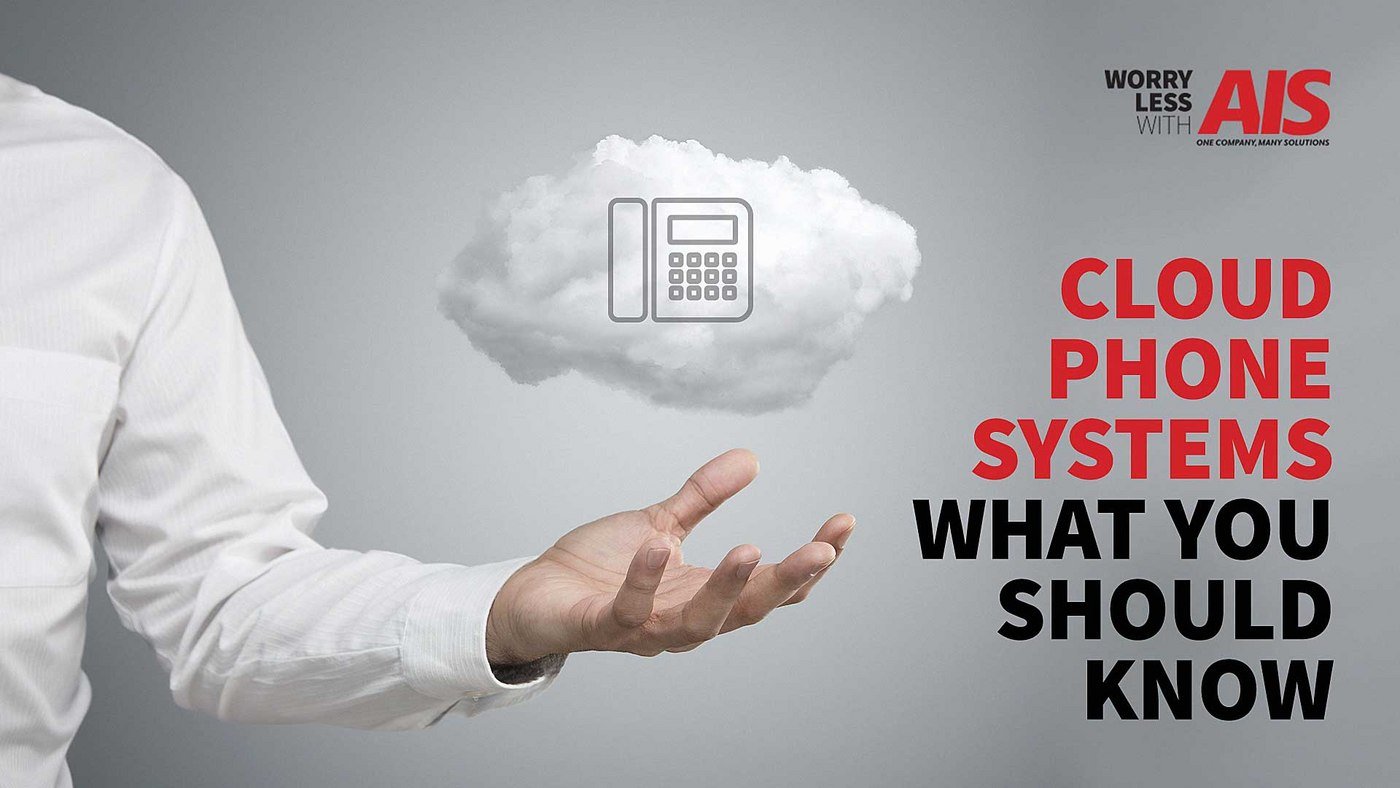 Read Time: 5.5 mins.
Every business requires a unified communication system for effective and reliable communication. The cloud phone system, also known as Voice Over Internet Protocol (VoIP), is one of the most popular systems. It allows users to make calls over the internet, and you can use it over various devices, including smartphone apps, traditional landlines, and computer software.
With a phone system, you can have extensions on your main phone number to reach employees. You only need to install telephony software on your server and connect the phones to the server over your IP network.


As a small or medium-sized business, you will require a stable IT infrastructure, such as SIP trunking service, for custom configuration and connecting your phone system to the Public Switched Telephone Network.

The cloud phone system alleviates the need for businesses to invest in IT overhead, among other benefits. Here is everything you need to know about cloud phone systems.
Difference Between a Cloud-Based Phone System and a Traditional PBX
A traditional PBX is a private branch exchange that connects your phone system to the public network. It relies on a public switch telephone network or Integrated Services Digital Network (ISDN)for making phone calls. In a modern setup, it operates through VoIP, which runs telephone lines through the internet.

A traditional PBX requires manual installation and regular inspection and maintenance. However, the system lacks the high-tech features of the modern phone system.
On the other hand, cloud phone systems are software-based and rely on your existing internet infrastructure. It requires minimal maintenance and offers the benefits of the latest technology, including online resources, flexible networks, and diverse connectivity.

This system is cheaper than the traditional one since you can bundle it with other cloud-based services.


Understanding How a Cloud-Based Phone Systems Works
Cloud-based phone systems work by routing calls and messages through the internet. This means you do not need to install software on your computers or phones for them to work.

Instead, you simply log into your account anytime from anywhere worldwide, and you can start using your cloud phone system immediately.
Here's how the system works:
You subscribe to the service and sign up for the cloud-based phone service through your computer or mobile device. Once you are signed up, you can use any device to make or receive calls on your account.
You connect your devices with the service to work correctly with the system. This includes computers, tablets, smartphones, and more, depending on which features you want to use with your account.
You set up users for each device on your account so they can access their voicemail box from their device when needed. This makes it easier for users at different locations within an organization to maintain contact with each other without having to go through a receptionist or secretary first when making essential calls or leaving messages for co-workers who aren't available at the moment.

How to Determine If You Should Upgrade to a Cloud-Based Phone System
Cloud-based phone systems are lightweight and affordable compared to traditional methods. However, they need to be compatible with your business. The following factors should help you determine whether a cloud-based phone system is the right choice for your business or not:
Internet reliability: As earlier mentioned, cloud phone systems rely on the existing internet infrastructure. Before buying this system, ensure your internet connection is reliable and consistent.
Infrastructure: A cloud phone system requires minimum infrastructure, either desktop or mobile. It might also use your existing traditional phone system infrastructure, but you must confirm compatibility with modern cloud systems first.
Costs: Cloud-based phone systems are a great option if you want to cut installation and maintenance costs associated with the traditional system. They also offer a wide variety of modern technology services, such as video conferencing, but you need to pay extra fees to access any additional services.
Data management:

When you sign up for cloud phone systems, a third party will store and manage all your data. While this is good for businesses with dedicated IT resources, it might not be a good idea if you want complete data control.

Benefits of Cloud Phone Systems
A fully hosted cloud phone system means you don't need to purchase hardware or software. Instead, your business will get access to a web-based app that gives you the same functionality as an on-premises PBX.
In addition to offering a lower cost than traditional phone systems, cloud phone systems have many other benefits:
Easy to Set Up and Maintain
You only need an internet connection and a web browser to get started; no need for IT support or expensive equipment purchases. And if you're already using an Office 365 subscription, the transition to a cloud phone system is even easier because Office 365 users already have access to Skype for Business Online.
Easy to Use
Cloud systems are designed for users of all levels, so even if you're not an IT expert, you'll be able to manage and customize your new phone system.
Scalable and Reliable
You can expand cloud-based systems as your business grows and shrinks over time without worrying about upgrading equipment when your workforce changes. Plus, they're backed up 24/7 in multiple locations, so there's no chance of losing data if something goes wrong with one host center.
Secure and Private
Cloud phones are hosted on servers at data centers instead of in your office building. Therefore, only authorized employees can access them through secure passwords, firewalls, and other security measures designed to keep unauthorized people out of your system without affecting its performance or availability for authorized users.
Remote Accessibility
Cloud PBX providers offer remote access features that allow users anywhere in the world with an internet connection to access their phone system. This makes it easy for employees who travel frequently or are constantly on the go to stay connected with no additional hardware required.
Drawbacks of Using Cloud Phone Systems
Cloud phone systems have their share of drawbacks, which include:
Dependent on Connectivity
The most obvious downside to using a cloud phone system is that you are tied to the service provider. If you have an issue with your internet connection, your business will not be able to make or receive calls. If you need to change the system, this could mean waiting for tech support to resolve it.
Extra Costs
Another issue with a cloud phone system is that it can be expensive if you need to know what you're doing. While paying less upfront may seem like a good idea, it's essential to consider how much time will be spent managing the system and whether it will save you money in the long run. In addition, other costs associated with using a cloud phone system are sometimes apparent at first glance, such as data storage fees and potential fines for exceeding bandwidth limits.
The Final Say: What to Know About Cloud Phone Systems
Whether a small business or a large enterprise, a cloud phone system offers more functionality and flexibility than traditional PBX systems, it can even save you money by reducing the amount of time you spend on the phone.
At AIS, we strive to handle all your phone and office technology needs. Make sure to contact us today if you are looking for cloud phone systems, on-premise systems, or any other business communication service. We're here to give you peace of mind to help you win more business.