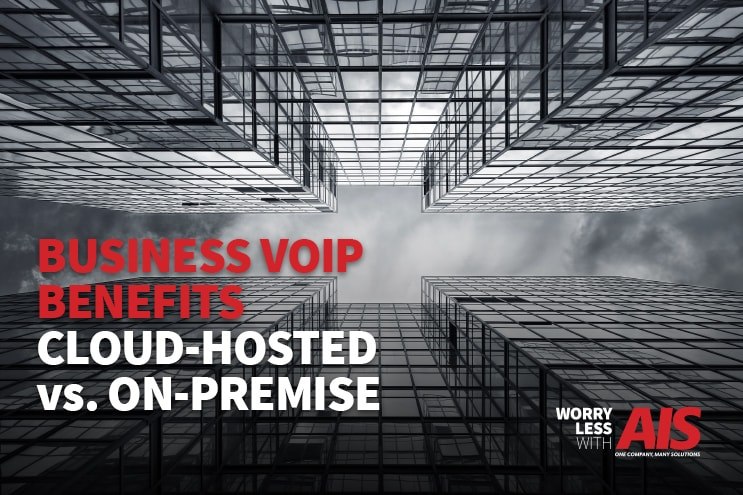 READ TIME: 5 MINS.
Recently, more and more companies are jumping on-board and exploring the many different business VoIP benefits and how these solutions can bring significant advantages to their organization.
The adoption of VoIP technology is still seen as a new concept to many, and deciding how to implement these solutions typically brings challenges to business owners. It's clear there are business VoIP benefits, but what about cloud-hosted vs. on-premise services?
Before getting into the advantages of both, let's make sure we're on the same page about the meaning and significance of VoIP. VoIP stands for Voice over Internet Protocol, which describes the capability of having voice transmitted over an IP data network.
A common misconception is that a VoIP phone system requires an Internet connection to function. That is certainly true of some VoIP systems, but it is also possible to use VoIP with no Internet connection at all.
The high-quality attributes and reliability of VoIP customer services are appealing to most businesses because of the range in features, as well as flexibility.
Today, businesses have various options when implementing VoIP and can choose from an extensive collection of telecom service providers, carriers, equipment, and cloud-based or on-premise software.
Having options is always a good thing, right? Well, it can feel overwhelming when it comes to the number of business VoIP options. How do you know which feature or service to choose? Which VoIP benefits gives your business the most significant advantages?
Stick around as we dive into the benefits of cloud-hosted and on-premise VoIP for business so you can make a more informed decision for your business, customers, and employees.
If you're unsure if VoIP is right for your business, read an article we recently published, What is Business VoIP And Is It Right For You?
Business VoIP: Choosing Cloud-Based or On-Premise Services
As you probably already know, there are many different ways to operate and utilize the same piece of technology nowadays. When it comes to VoIP, there isn't necessarily a wrong answer for implementation; it more so depends on the specifics of your business.
If you're not sure of the specifics of your business when relating to VoIP, it's helpful to ask yourself some of these questions before deciding on the certain service offerings:
What are my business objectives?
What are my preferences in terms of employee and customer support?
Do I prefer to consume technology on a subscription basis, or to purchase and own it?
How many employees and locations does my phone systems need to support?
Can my technology team handle phone system support?
Even if you haven't made the switch to VoIP yet, it's critical to learn a little about the actual design of these services. Meaning what is the best fit for your business, cloud-hosted or on-premise?
The Basic Difference Between Cloud-Hosted and On-Premise
One of the main differences between these two is in the name, right? The on-premise for VoIP model entails the equipment, software, and support is physically installed at the business' locations.
On-premise VoIP can be managed by employees within the company's IT department. However, some on-premise business VoIP solutions are managed by a third-party provider.
In a cloud-hosted VOIP model, the telecom systems (other than the physical phones), are provided virtually by hardware and software that's hosted elsewhere, typically in service provider data centers.
This leads us to our next differentiator: installation and maintenance.
Installation and Maintenance: Cloud-Hosted VoIP vs. On-Premise VoIP
Cloud-based VoIP means that all necessary software and hardware are hosted and maintained by a VoIP service provider. Besides your physical phones, all the services are managed and monitored remotely. A cloud based system nearly always includes unlimited technical support, included with your monthly subscription fee.
In this instance, the advantage of cloud-based means you and your employees won't be bothered by expensive upfront costs, and there won't be a need for an in-house VoIP expert to manage your phone systems.
On the other hand, on-premise VoIP phone systems are often physically installed at your office locations (or data center) and usually managed and maintained by your staff in-house. As mentioned earlier, you can hire a third-party service provider to manage your phone systems.
Curious about the costs of VoIP? Read our article, Business VoIP: How Much Does a Digital Phone System Cost?
When it comes to maintenance and installation of your VoIP phone systems, it's really up to personal preference.
Associated Costs: "What Will Save My Business Money?"
It's always about the money, isn't it? When learning about any technology services your business needs to function efficiently, costs and pricing are typically at the top of every decision maker's list. And, rightfully so!
Before business VoIP was a thing, larger companies used a standard telecom interface, Primary Rate Interface, known as ISDN Primary Rate Interface (PRI), which consisted of 23 channels or voice paths. PRI was a common standard for providing the features a business desired, such as direct dial phone numbers and Caller ID services.
The problem with PRI was how expensive it was, particularly for businesses that had a minimal number of employees. Regardless of your business size, PRI meant you'd have to pay for a 23-channel interface, even if you didn't have 23 employees using the phone lines all at once.
When it comes to VoIP cloud-housed or on-premise, you've got some more attractive cost solutions. However, it's important to note there's a big difference between the two when it comes to saving money.
Ok, bear with us for just a second, we promise this next part will make sense once we can explain a little!
If you're using cloud-hosted VoIP services, you're using an internet connection to facilitate your voice calls. This means you aren't using any traditional dial tone offerings through Session Initiation Protocol, or SIP trunking.
When using cloud-hosted VoIP, you can virtually eliminate your existing telecom services. Your phone bill quite literally goes away because all your calls are placed and received through your cloud service provider, which you connect to via an Internet connection.
Cloud is sometimes more appealing when looking to cut costs because it's removing the need for traditional phone services altogether. This is where the cost differentiator between cloud-hosted and on-premise is most notable.
Which VoIP Model is Most Secure?
The security of your office technology should always be a priority at the very top of your list. Your business financials, strategies, and employee information are just a few aspects you should always focus on protecting. So which model is best for this?
It might seem like a no brainer that when thinking of security, the clear choice is the on-premise method. However, this is a common thought. However, security is a primary reason companies are moving their phone systems to the cloud.
Cloud providers have large security budgets and expertise on staff to monitor for security threats 24x7. Businesses that communicate highly sensitive information are increasingly moving to the cloud as a fast track to comply with industry regulations, including HIPAA, SOC, and PCI.
How Do You Wish To Utilize VoIP Features?
Another essential piece of business VoIP benefits to consider is how you plan to control the requirements your business needs for growth. Your business needs are continually changing, and so are the phone features provided by VoIP service providers.
As we've mentioned before, on-premise VoIP systems allow you to rely on your in-house staff or third-party company for your phone system needs. When speaking of features, your internal team is responsible for providing system software upgrades to add specific features to accommodate your growing demands.
If you choose the cloud-based model, you have access to an entire team of technicians at your service so that any desired features can easily be added or removed per your request or the request of your authorized employees.
If your business needs the flexibility to grow quickly in size or system features, a cloud-hosted services team is probably the better option.
Learn more about the features VoIP can provide to your business, such as call routing on mobile devices, by reading an article published by FitSmallBusiness.com, VoIP Business Phone Features: Description, Costs & Providers.
What's Next With The Benefits of Cloud-Hosted v. On-Premise Business VoIP
Understanding VoIP business solutions isn't the easiest thing to do—so don't feel overwhelmed if this article seems confusing. The technology of your business is continually evolving, which is why it's critical to stay informed as your business continues growing.
Choosing between cloud-housed or on-premise VoIP for business phone services for your business is a crucial decision to make—so take some time and weigh your options. Making the most informed technology decision for your company pays off, and the benefits of VoIP might actually surprise you!
AIS is a business technology company that is always looking for the best ways to keep our current customers and readers informed. Providing insightful business strategies, we're here to support your short term and long term business goals so that you can continue on your path of growth and success. To learn more about business VoIP benefits or any of the other products and services we offer, reach out to us, here. We're here to give you peace of mind to help you win more business.