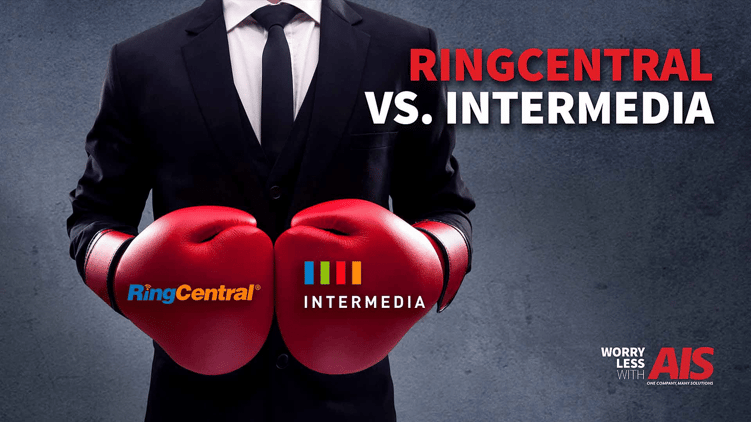 READ TIME: 4.5 MINS.
RingCentral vs. Intermediate Unite; which one is better? If you can't make up your mind, you're not alone. Both VoIP solutions are pretty popular, and each packs a string of excellent features, so it's no surprise that most people have a hard time picking one.
To nudge you in the right direction, we highlighted the features each solution brings to the table and the differences below.
RingCentral: The Overview
RingCentral is a cloud-hosted, Voice Over Internet Protocol (VoIP) software solution for small or large businesses. The platform was established in 2003 and has evolved over the years to become one of the most powerful platforms globally, offering countless call, text, video conferencing, and collaboration features to its users.
Its features fall into four main categories as highlighted below:
1. Calling and Mobility
Although we're currently in one of the most digitally advanced eras, traditional voice calls are still significant.
To keep businesses on top of their customer calls, RingCentral offers highly flexible and powerful cloud phone system features, including:
Local numbers
Toll-free phone numbers
Extensions
Call delegation
Call screening
Call flipping
Paging
Forwarding
Intercom
Internet fax
Ring-out
2. Administration
RingCentral also offers excellent administrative and analytical tools such as:
Cloud PBX
Music-on-hold
Call monitoring
Multi-level IVR
Audit trail
Hot desking
Multi-Site management
Automatic call recording
Directory listing
User templates
3. Videos
RingCentral offers unlimited video conferencing calls to over 5000 people. Users also get audio conferencing functions and create audio conferences with up to 1000 participants.

RingCentral's video functions also include cloud-telepresence, meaning you can instantly start, manage, or join meetings.
4. International
With coverage in over 40-countries, RingCentral enables businesses to connect multiple office locations in different parts of the world. Some of the features offered include:
Global MVP
International calling through free extension calling
Inbound numbers to more than 70 countries
RingCentral Subscription Plans
RingCentral offers a free trial supporting up to 20 users allowing those looking for quality communication and collaboration software to test whether it's for them. The platform also provides four main pricing plans, as shown below:
1. Essentials
This is the most basic plan. It starts at $29.99 per month or $19.99 monthly if billed annually. It supports up to twenty users and offers up to 100 toll-free minutes. It's essentially geared to small and medium-sized businesses that mainly need VoIP functions.
2. Standard
The standard plan starts at $49.00 if billed monthly or $34.99 per month annually.
The plan also includes local phone numbers from more than 100 countries, supports video meetings with 100 participants, and has 1000 toll-free minutes. Additionally, users can integrate it with platforms like Office 365, G-Suite, and even Slack.
3. Premium
Monthly pricing for RingCentral's premium subscription is $59.99, but you get to save and pay $49.99 for the annual plan. It offers 2500 toll-free minutes, supports 200 participants, and includes real-time analytics. With this plan, you can even connect and manage multiple office sites.
4. Ultimate
RingCentral's Ultimate plan starts at $69.99 per month or $59.99 annually. It includes 10,000 toll-free minutes, supports unlimited users, internet fax, multisite administration, and management to visual voicemail.

This plan is best suited for medium to large-scale enterprises that need a comprehensive VoIP system.
Intermedia Unite: An Overview
Intermedia Unite is a cloud-hosting communications and collaborations solution for businesses offering VoIP, video conferencing, and file management.

Like RingCentral, the platform is accessible via individual smartphones or desktops via an app designed for each. It's used by over 124,000 businesses and has about 1.4 million users globally.
Some of the main features include:
Cloud-based PBX
Call analytics
Browser-based, HD to built-in video conferencing
Screen sharing and annotation
Bring your phone support
Virtual voicemail management
Inbound and outbound calls management
File backup and collaboration
Team chat

Pricing and Subscription Plans
Similar to RingCentral, Intermedia Unite also offers a free trial. However, users get to choose between two main plans:
1. Unite Pro
This plan starts at $27.99 and includes a free phone or device like the Poly Sync 20BT speaker. Users also get unlimited calling, mobile app access, call transfer, 3-way calling, music on hold, paging, and up to 10GB file backup, sync, and share.

The Unite Pro plan also supports 100 video conferencing and screen sharing participants and 200 audio conferencing participants.
2. Unite Enterprise
For only $32.99, users get multiple third-party platform integrations, presence detection, team messaging, web fax, Salesforce, NetSuite and MS Dynamics, supervisor functions, and an exchange mailbox.
Additionally, the Unite Enterprise plan supports 200 participants for video conferencing, audio conferencing, and screen sharing and allows users to backup, sync, or share up to 10GB.
RingCentral vs. Intermedia Unite
Even though both solutions share many similar functions, they have several definite differences. RingCentral vs. Intermedia Unite is generally different in terms of:
Call Monitoring Functions
With RingCentral, only the Essential subscription users get limited call functions. All other plans feature unlimited internet fax and even audio conferencing functions. On the other hand, Intermedia has limited call monitoring functions across all plans.
Integrations
RingCentral offers more integrations than Intermedia Unite. While the former only allows integration with Chrome, G-Suite, Outlook, Slack, Office 365, generic CRM, Salesforce, Service Now, NetSuite, and MS Dynamics, RingCentral supports integrations with multiple business sales and support and even cloud and storage services integrations.
Pricing and Subscription Plans
Another notable difference between RingCentral vs. Intermedia Unite is pricing and subscription plans. RingCentral offers three plans, with the most basic starting at $19.99, while Intermedia Unite only features two subscription plans, with the basic one starting at $27.99, meaning it's more expensive.
Target Industries
When it comes to target industries, RingCentral vs. Intermedia Unite have different areas of focus. RingCentral mainly targets computer software, Information Technology and services, and Marketing and advertising industries. On the other hand, Intermedia Unite targets industries like hospital & healthcare, financial services, and marketing and advertising.
Our Verdict: The Final Say on RingCentral vs. Intermedia
While RingCentral vs. Intermedia Unite is both robust solutions, it's safe to say RingCentral has more to offer its users than the latter. Also, RingCentral offers packages geared towards all users, including small businesses that just got started with VoIP to established entities.
So, if you're just getting started, you might want to check out RingCentral's Essential plan, and how it suits your business. On the other hand, Intermedia Unite provides more comprehensive plans, making it better suited for companies familiar with VoIP solutions.
At AIS, we are an office technology solutions company. We're here to help maximize your productivity and increase your revenue each day. Make sure to contact us today to learn about the phone system that would be best for your business or organization. We're here to give you peace of mind to help you win more business.