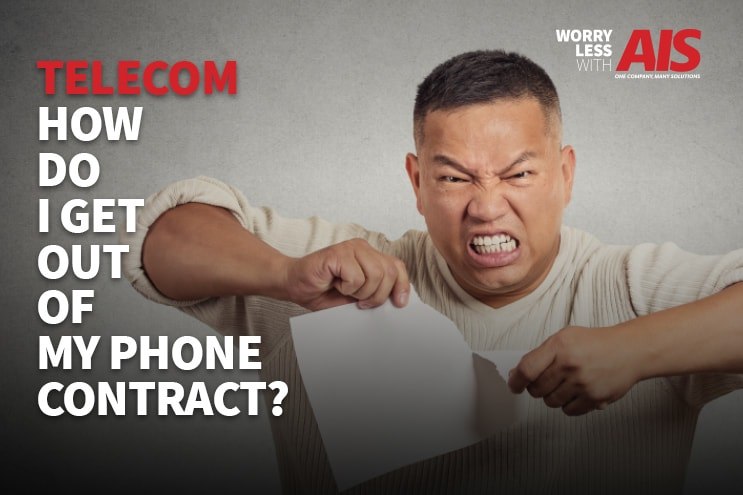 READ TIME: 4.5 MINS.
Your telecom provider is failing to provide you with the tools and support your business needs. This could be because its feature set is outdated, a need for upgrades, or maybe you've just outgrown it.
Unfortunately, you're completely stuck in your phone contract, and there's no way to get your business out. Does this sound familiar?
We'd be lying if we didn't say that business phone contracts can be a total pain and trying to get out of them can be really difficult. What's worse is when your telecom provider isn't supporting your company and employees in the ways they promised when you first entered the partnership.
So, where do you go from here? There's got to be a way to get around the terms of your agreement, right?
Before I get into some of the ins and outs of telecom contracts, let me ask you this:
"Have you read the terms of your business phone contract?"
Oh, and I'm not talking about doing a quick glance or skim. I know you don't want to hear this, but you've got to go through and thoroughly read every sentence of that contract. We get that sometimes legal speak may not be easily understood, but if you don't understand something have someone explain it to you.
Reading your agreement might seem like a brutal job that you don't have time for. But, if you're serious about finding a better office phone solution for your business, you'll need to know the terms that are binding you down.
There are a few things that might be holding you back from ending your contract with your current telecom provider, and we're here to give you the scoop on helpful ways to find more success through your office technology.
Escape Your Business Phone Contract: Is It Possible?
Let's face it; the word "contract" is something most of us prefer not to hear. Doesn't a contract give you the feeling of being stuck or limited?
What happens when you sign a contract, and you don't read it over as much as you should? What if you accidentally overlook a section? How can you be sure that you have an understanding of those complicated terms, anyways?
Look For "Out Clauses"
If you're nodding your head to any of those questions above, it's because we all do it. We all skim over long contracts and sign on the dotted line.
The issue with this is that when you're in a bind and need to get out of your contract, you might find that you can't. Fortunately, we have some good news for you. If you find yourself stuck, now is an excellent time to begin reading every single line of your current contract.
By reading through your contract, you might come across specific terms that could allow you to end your services with your telecom provider, such as "termination without penalty." These types of conditions are called "out clauses" and can vary depending on the company or the specific services your utilizing.
Now, just because your contract includes these clauses doesn't mean you're free to break your agreement. But, they might give you some leverage when negotiating services or fees with your telecom partner.
Learn more about out clauses by reading an article published by Investopedia, Market Out Clause.
Review Your Service Level Agreement
Hopefully, you received a service level agreement (SLA) when you signed your contract with your business phone company.
Reviewing your SLA is paramount because it backs up your contract. In many ways, an SLA holds the provider accountable. An SLA ensures that the provider delivers the promised services and products agreed upon.
If you're a little unfamiliar with an SLA and would like to learn more, read our article, 8 Tips and Tenets for Service Level Agreements.
In the instance where your telecom team isn't performing in the ways you both agreed upon, you might have an easy out through your SLA. Meaning that if the terms of your SLA aren't being met, you have the upper hand in contract termination.
Consider All Channels of Your Telecom Contract
Many small business phone services and contracts cover a multitude of service channels, such as phone lines and internet services. It's beneficial first to review the current channels your business is using and paying for.
You may find that some of these channels aren't ones you thought you needed when you first signed your contract.
If you can't terminate your lease altogether, an alternative solution is to negotiate parts of a specific channel. Maybe you don't need the highest internet speed like you might have originally thought you needed.
It's common for your technology needs to change as your business grows, which can impact how you use your business phone systems and technology channels.
Speak to a Managed IT Services Company
Another great resource to utilize when looking to get out of your business phone contract is contacting a managed IT services company. Just like you're the expert in your field, a managed IT team can assist you with your telecom needs.
A managed IT services company can review your current telecom bill with you and offer you cost-saving and productivity suggestions. A great managed IT team can even find you cost savings through a telecom bundle deal.
You might even find that just by speaking with a knowledgeable IT expert, the services you're currently using are ones your business doesn't really need.
A managed IT team could find you better telecom service plans with the existing services so that you don't have to worry about breaking your contact and paying pricy termination fees.
If you've never heard of managed IT services, read our article to learn more, What is Managed IT Services? How to Tell If You Need Them.
Breaking Your Business Phone Contact: What's Next?
Like we mentioned earlier, breaking your business phone contract isn't always an option and could become a bigger challenge than you have time for. However, you do have options, especially if your telecom needs aren't being met.
Make sure to take some time to review your current services and bill, and speak with your telecom provider on how they can better assist your business and employees.
At AIS, we understand the struggles you might face with your business technology. We're here to guide you and give you the resources you need to make the best purchasing decisions for your company. To learn more about your business phone contract or any of the other products or customer services we sell, reach out to us here. Also, check out our video channel on YouTube, The Copier Channel. We're here to give you peace of mind to help you win more business.