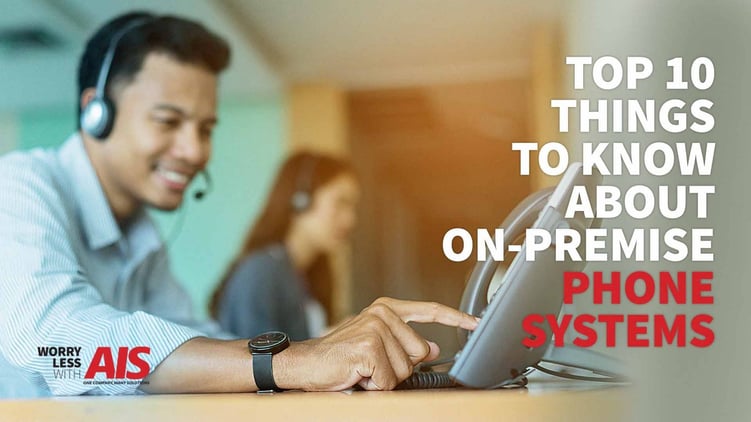 Read Time: 5.5 mins.
Chances are your business is currently using a traditional phone system. Further, you may wonder whether your business has the technological infrastructure to transition to more modern solutions.
If you are considering an update or upgrade of your business phone systems, then you need to be well-versed in the available phone systems.
An On-Premise Phone System and Your Business
Whether your phone system is through the cloud or on-premise, it's essential to know the best way to ensure robust and efficient communication between your employees and customers. Here's a breakdown of the top 10 things about on-premise phone systems.


1. What is an on-premise phone system?
An on-premise phone system is a closed-off network of phones within the business with all equipment on-site. All wiring and hardware, including the PBX server, are located within your business premises.
Traditional on-premise phone systems can either router through the traditional copper lines. Equally, these can be Voice over Internet Protocol (VoIP) enabled.
With the on-premise telephone systems, your business can manage the system by itself or contract a managed service provider. The latter would be required to offer support and maintenance.

2. What are the differences between on-premise and cloud phone systems?
A cloud phone system is a virtual system hosted on the cloud. This phone system doesn't require equipment on-site except for VoIP phones—a single third party hosts all the hardware and outbound lines. Your business then pays out a monthly fee for the hosting services.
On the other hand, an on-premise phone system is a closed-off network of phones within your business with all the equipment within the company.

3. What equipment is needed to run an on-premise phone system?
As mentioned, the traditional on-premise phone system ran over analog phone lines or ISDNs. However, with advancements, on-premise phone systems are now IP-enabled which translates to them being 100% NBN-ready.
At their tenet, on-premise phone systems are made up of two main components. Think of the first as the brain of the system, which is the box that will physically be erected at the office and connects all the phones. The other components are the handsets themselves.
4. How are on-premise phone systems managed?
Seeing as what could best be described as the brain of the system is on-site, the maintenance and upkeep of your on-premise phone system are up to you. If you want to make changes to your programming, you can have these phoned in by a remote technician, but you will still require a skilled IT professional, like AIS, or a phone technician on-site to make the changes to the system.
5. How do you know that an on-premise phone system is right for your business?
Your business needs are supposed to guide you on which phone system is best. If you need absolute control of your phone system and seek more customization of its integration with specialized applications, then an on-premise phone system is best.
Other than your business needs, there are additional considerations to be made.
The first is financing. If you have the upfront investment, then an on-premise solution could suffice. You've also got to consider whether you have the necessary resources. For instance, do you have the tools to ensure top-level security? Further, do you have the in-house internal resources to manage the phone system?

Finally, you've got to consider your technological capabilities. Specifically, you've got to question whether you have access to the latest functionality and compatibility updates, what features you might need to add on, and their recurrent fees.
6. What are the benefits of on-premise phone systems?
Right off the bat, keeping your phone system on-site gives you more control. More control means greater flexibility, as you can choose between the available network carriers.
Moreover, on-premise phone systems offer greater mobility. There are several mobile applications available for a small number of phone systems. Granted, these applications have limited functionality, but they go a long way toward providing the business with greater mobility.
Further, by design, you can keep network carriers the same when purchasing or upgrading to a new on-site phone system. This means more straightforward setups.
Customer service is another benefit of on-premise phone systems. If well-designed, these systems allow your business to offer a more robust customer-facing service experience.
In hindsight, on-premise phone systems deliver better ROI. Even though the up-front costs of the system are significant, the system lasts longer and is overall a worthwhile investment.
7. What are the challenges with on-premise phone systems?
On-premise installation is often quite expensive, especially since the hardware must be purchased or leased. On average, a small company will incur between $800 and $1000 per employee for an on-premise phone system installation. Note that the larger the organization, the more complexity, which means that the initial costs might reach hundreds of thousands of dollars.
Further, on-premise phone systems do not provide users with remote access. Their networks are designed to function only where the equipment and wiring are located. This can be particularly challenging in today's work ecosystem, where much of the workforce is working remotely.
Additionally, scalability can be pretty tricky with on-premise phone systems. Even with the most minor expansion, you will require specialized PBX techs. Further, regardless of the scope of expansion, the cost can quickly plummet.
Finally, while on-premise phone systems facilitate better customer service, adjustment to call routing can be significantly slower compared to a hosted phone system.
8. What features are a must-have for your on-premise phone system?
Most of the on-premise phone systems available in the market are feature-rich. These can transform your communication, make your business sound more professional, and operate more efficiently.
Most popular features are already built into the hardware as a standard inclusion. However, there are additional features that you might consider adding on. These include:
Transferring calls
Hold functionality
Voicemail to email
Auto attendant
Conference calls
Cordless phone compatibility
User-friendly handsets
9. Do on-premise phone systems require training and certification?
Whichever on-premise phone system you purchase, you will need employees who can deploy and manage it. These employees need to be certified in the system's hardware and software.

This will require that you organize training programs at the initial rollout. Additionally, you will be required to carry out ongoing training to ensure proper system maintenance. This forms a part of the hidden costs of your office phone system.
10. Can you combine on-premise phone systems and cloud phone systems for added flexibility?
With the current work environment, consider a hybrid model that combines on-site phone systems with cloud systems. This provides added flexibility and works best for businesses with more than one force location.
The Final Say: What to Know About On-Premise Phone Systems
On-premise phone systems are a powerful business tool with significantly better ROI than the cloud alternative. The overall cost over the system's lifetime makes it an even better solution for businesses looking to have a phone system over an extended period. Besides, an on-premise solution should be significantly more secure and give you more control.
At AIS, we step in to help you manage your communications better. We work with your communications team to ensure better phone system management. If you are looking for more information on on-premise phone systems and how you can leverage these better, contact us today! We're here to give you peace of mind to help you win more business.