How to Find The Best Business VoIP Provider Near Me
September 5th, 2019 | 6 min. read
By John Taylor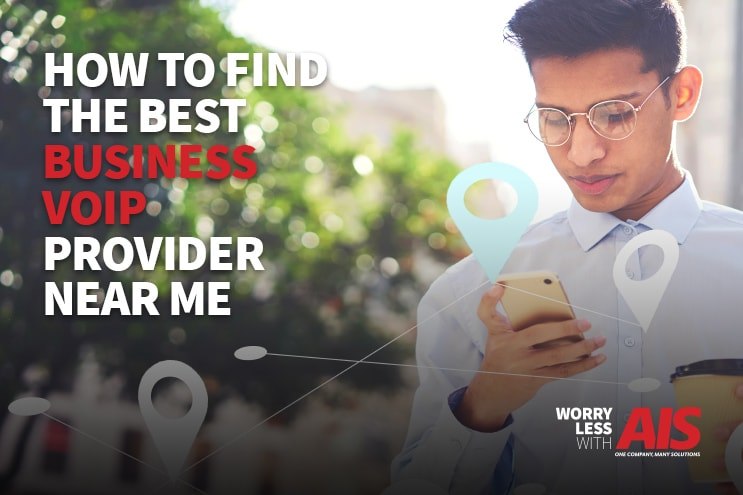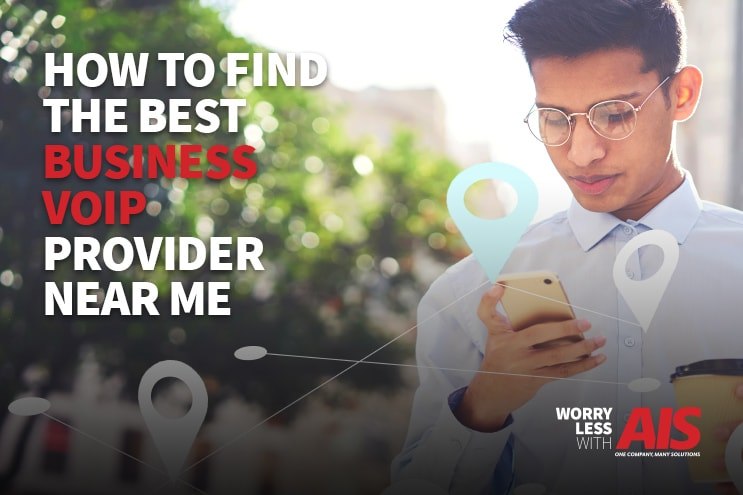 READ TIME: 5.5 MINS.
The office technology strategies and services of your business are essential when it comes to reaching your business goals, especially when communicating with current or future customers. Do you know how to find the best business VoIP (Voice over Internet Protocol) provider near you?
If you do, when it comes to your phone systems, what are you doing to make sure you're taking advantage of the latest digital phone technology and continually placing high-quality phone calls?
Have you ever heard of business VoIP or companies that specialize in managing your communications through phone systems? VoIP might sound like an unfamiliar or complicated term, but it's a great technology to implement within your business structure and if done right, can even make you more profitable.
The challenge that many small businesses tend to face when it comes to searching for a great phone systems provider is weeding out the good from the bad ones in your area. How can you be so sure that a company does what they say? How do you know what specifications to search for within a provider?
Before deciding on the best phone solutions, it's critical to have a healthy understanding of what business VoIP is and what it can do for your business, while also providing great customer service.
Business VoIP is a cloud-based phone system that delivers calls over an IP data network. VoIP calling differs from traditional phone calls because, with VoIP, phone calls can now be made over the same IP data network that your computer or mobile device leverages information from, such as web browsing and email. In simpler terms, VoIP is a phone service delivered over an internet connection.
It's important to understand when a company utilizes VoIP services, they're combining enterprise phone system features with productivity-boosting apps and integrations.
Many phone system providers advertise their VoIP services are the best in town, but unfortunately, lack the basic tools or services you need to achieve business growth through your office technology.
Follow along as we dive into the best ways to find a business phone services provider near you and some helpful questions to ask potential candidates. The more you research upfront, the more informed purchasing decisions you'll make, and the more satisfied you'll be with your telecom services.
If you're unsure of the ways your business can utilize a service such as VoIP, read our article, What is Business VoIP and Is It Right For You?
Choosing The Best Business VoIP Phone System Provider
Once you've established that your business should consider partnering with a phone services team, it's time to begin searching for credible partners in your area.
Business VoIP Means Options
One of the biggest pieces of advice we can give you when it comes to choosing the best business VoIP provider is to look for companies who don't limit you. A company who can give you options can provide more value to your business.
In the telecom industry, there's so many different add-ons and features to choose from, and you deserve to have choices on what works best for your business. A great telecom services provider won't pigeon hole you into selecting just one brand of services. It's helpful to utilize multiple brands to match the different phone needs of your company.
It's also essential to look for a company who has direct contact with multiple phone system vendors. You'll depend heavily on your VoIP partner, and it's their job to have reliable and sustainable relationships with the vendors your business is using. This way you can get a solution customized to meet your needs using the best manufacturers product and services.
For instance, if your telecom partner is implementing a new system that must work with multiple programs or software, such as SalesForce, Microsoft Office, and Zoom, make sure they have a working relationships or integrations with these tools so that when and if a problem occurs, you won't have to wait long for resolutions.
The last thing you want is downtime because your telecom team isn't capable or have the technical experience with implementations like yours.
Unified Communications and Your Phone Systems
Analyzed data performed by Strategy Analytics show that by 2020, 42% of all workers will be mobile or using mobile apps. That's a pretty significant number! Fewer and fewer phone calls are made over landlines because of the significant benefits of VoIP and cellular communications.
Because of the high demand for communicative tools, your business needs reliable and high call quality and tools. Reaching your customers and co-workers is the core of business success, and if you're not equipped with the resources to do so, your competition will.
It's critical to find a phone services provider who gives you flexibility for all your telephone solutions, instead of a generic "one-size-fits-all" solution. Make sure to look for a provider who offers cloud-based, on-premise (on site), or hybrid solutions.
If you're still uncertain if business VoIP is right for you, try asking yourself some of these questions:
What efforts are you taking to update your legacy phone system?
Have you recently or are you planning on expanding or adding a new office or location?
Has your business grown in the last 5 years?
If you had to rate the user-friendliness of your current phone system, how would you rate it?
What phone issues are constantly slowing down the productivity of you or your employees?
What office technology strategies do you have in place that support long-term success, especially when it comes to your phone systems?
If you answered yes to one or more of these questions, then you should be considering a business VoIP solution and provider.
VoIP Collaboration is Key
It would be extremely problematic if your phone systems were unable to integrate with the other technologies your employees are currently using. A great way to tell if a phone services provider is best for your business is how they plan to integrate your phone system with your existing infrastructure.
A great telecom services team can quickly and accurately calibrate your new phone system with your current technology by utilizing Application Programming Interfaces (APIs). APIs are toolsets that programmers can use to help them create software.
The utilization of APIs is a great way to deliver quick and robust business VoIP solutions in a timely matter. As you meet with different phone providers, ask them about their APIs. Let them explain how they've successfully integrated new phone systems within a company who's already using other pieces of technology. An API is a great way to provide transparency to your customers while providing flexibility to your staff.
It's even helpful to ask a potential provider for real examples of their integration process. This gives you a better idea of how they could help your business. Plus, the more details they give, the more credible they are.
Also, did you know a great business VoIP provider can improve collaboration by going beyond voice? With a single solution, there's no need anymore to manage, support, or integrate multiple applications.
When searching for a provider near you, pay close attention to the ones who can extend communication capabilities in the following ways:
Instant Messaging: This gives you the ability to get quick answers without the need for meetings or email.
Video and Audio Conferencing: Some of the best ways to collaborate is by video or audio conferencing. More businesses are integrating these tools internally or when speaking with customers. These types of conferences go beyond a standard conference call.
Screen Sharing: Getting everyone on the same page, and looking at the same screen, makes presentations easier to view and participate.
Mobility: With just one click, remote workers can easily join a meeting from their laptop, tablet, or smartphone. You need to make sure you provide this access to your staff.
Final Thoughts
As you can tell, there's a lot that goes into business VoIP phone systems and the questions you should ask when searching for the best partner for your business near you. We barely scratched the surface here, but technology advancements can be challenging to understand.
Make sure you start by making a list of the pain points you're currently experiencing with your phone systems, and how frequently you run into these issues. The first step in finding the best telecom provider near you is understanding the issues your business is facing.
Once you've identified your problems, you'll have an easier time identifying the VoIP provider who can truly assist your business, employees, and customers.
At AIS, we continue to invest in resources and tools your business needs for growth. We strive to give you the knowledge and expertise on all things related to office technology devices and services so that you have options when you're looking for new solutions. If you're interested in learning more about business VoIP phone systems, or any of the other products and services we offer, reach out to one of our business technology consultants, here. Also, check out our channel on YouTube, The Copier Channel. We're here to give you peace of mind to help you win more business.
As our Senior Technology Consultant, John Taylor has been in the business technology industry for over 20 years.