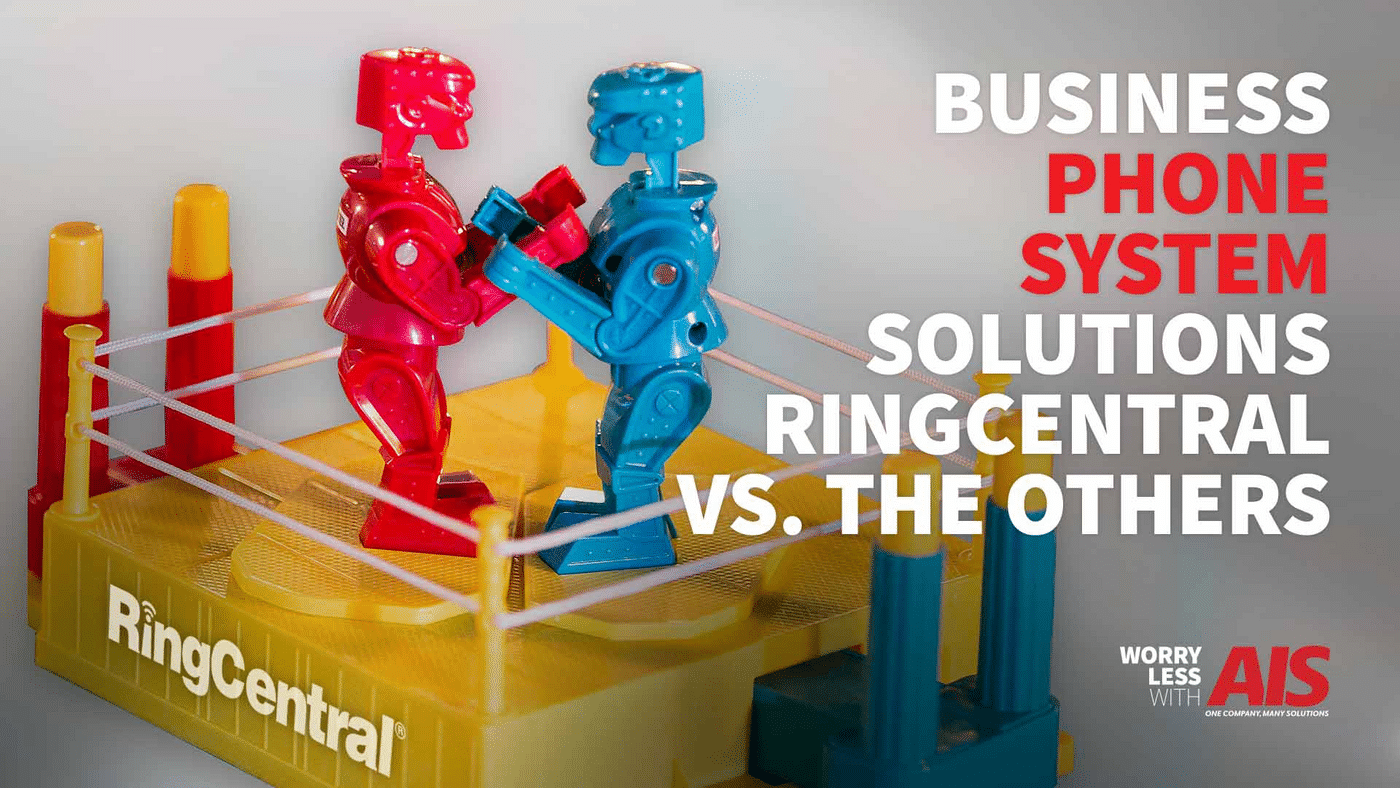 Read Time: 4.5 mins.
Every business requires proper communication to keep everyone connected, right? Thankfully, there are many means of communication, including chat services, email, and phone systems.
Out of them all, phone calls bring the most satisfaction and clarification, and that's why Voice over the Internet Technology (VoIP) or cloud-based phone services has become popular.
During your search for the best cloud-based phone system, you have probably come across RingCentral™. RingCentral is a cloud-based phone solution and comes with multiple features which make it the most popular system on the market today.
Entrepreneurs and businesses of all kinds use it for online phone communications, online meetings, conferences, and so much more. But is RingCentral the only great phone system solution out there? Of course not; other close competitors make great alternatives to RingCentral, too.
Here at AIS, we want you to choose the best phone solution for your budget and preferences, and that's why we're focusing on a few different phone systems in this article. Read on to learn more about RingCentral and its alternatives.
What Makes RingCentral Better Than Most Options?
RingCentral has been the leading cloud-based phone provider for more than 20 years. Over the past two decades, the company has had enough time to study the market needs and customize different phone solutions based on the size of the business and specific user demands.
Even though RingCentral is based in the United States, it also supports many countries worldwide. Typically, the pricing package ranges from $19.99 to $34.99, and each package comes with unique features specific to your business needs.
Below are some of the most notable features of RingCentral:
An auto-receptionist feature that enhances auto call forwarding and recording
Cloud PBX reduces the costly storage and maintenance requirements
Greeting and voicemail features
Multi-level Interactive Voice Response (IVR)
Good call quality and video features make it easier for online conferencing.
Optimized uptime in case of emergencies or low internet connection
Directory listing
RingCentral comes with an easy-to-use app for both the end-users and the administrators. Apart from the web-based access, you can access the RingCentral app through Windows, Mac, iPhone/iPad, and Android.
What Are The Main Alternatives To RingCentral?
Here are some other business phone system options that you can consider as RingCentral alternatives:
1. Grasshopper
Grasshopper has fewer features than RingCentral and other VoIP solutions; hence, it's ideal for small and mid-sized businesses that need light features. With Grasshopper, you can make and receive calls and set personalized messages or auto- calls.
One of the main differences between Grasshopper and RingCentral is that RingCentral focuses on businesses of all sizes, while Grasshopper focuses primarily on smaller organizations.
The pricing for Grasshopper packages starts at around $26 to $80 per month. On the downside, the solution does not include international calls or video conferencing.
2. 8×8
8×8 is an excellent option if you make many international calls at your organization. The system conveniently allows you to communicate well to more than 47 countries and offer real-time analytics for the same.
The pricing starts at around $12 to $44 per user every month, which is slightly expensive compared to RingCentral.
This phone solution offers similar features to RingCentral, but it does not provide live or chat services. Also, you might find the interface a little bit messy, and the setup process may not be the easiest. Nevertheless, it's still another alternative business phone system to consider.
3. Phone.com
Phone.com is the best option for you if you only need to use a few simple features. Users get the chance to choose the features they use most according to the size and nature of their business.
For instance, you can choose to use 2,000 messages and 1,000 calls monthly and pay for only that. The monthly subscription payment starts from $10.39 to $23.99.
Most features are similar to some of the RingCentral features, but Phone.com prices can rise quickly when choosing from the different features they offer. Also, the video conferencing feature becomes available only when you select the higher-tier plans.
4. Vonage
Vonage allows users to make and receive calls virtually through any device. Like RingCentral, Vonage comes with multiple desktops and mobile apps which will enable you to control everything through your machine. You can also easily integrate these apps with your current apps and programs, such as Salesforce, Slack, and Google Workspace.
The notable downsides for Vonage are that it does not have built-in video conferencing features; you must use third-party providers such as Amazon Chime Pro Tier whenever you need to make a video call. Also, the customer service is not available 24/7.
5. Nextiva
Nextiva is typically the second most popular name that often pops up after RingCentral. It has been around since 2006, and more than 150,000 firms of all sizes use it. One of the most notable features of Nextiva is collaboration.
There are many team collaboration features, from the business communication suite to the customer collaboration suite. Therefore, you can rely on Nextiva if you have remote employees whom you need to collaborate with more often.
The cheapest plan starts from $19.95 per user per month. The other features are pretty similar to RingCentral. One of the most noticeable drawbacks for Nextiva is the high cost if you need to use many features.
The Final Say: Which is The Best Alternative To RingCentral?
As you can tell, the cloud-based phone system (or virtual phone system) industry is highly competitive. From the old solutions like Nextiva to modern ones, you can always get a business phone solution for your needs. But before you choose, we advise you to understand your business needs first to get the best.
Also, you should come up with a budget and then start reviewing the available solutions. Other vital things to consider when choosing a phone system include customer service, reliability, and ease of use. Don't hesitate to seek professional help and guidance to select the best.
AIS offers reliable cloud-based phone systems, along with our other office technology solutions. We store our cloud phone systems in secure data centers, and we monitor them 24/7. Also, our phone systems have a monthly subscription, fax systems, and almost all the features you would wish for your small or growing business. Make sure to contact us today for advice regarding the best cloud-based phone system solution for your business. We're here to give you peace of mind to help you win more business.