How Much Does a Cloud Phone System Cost?
June 17th, 2020 | 5 min. read
By John Taylor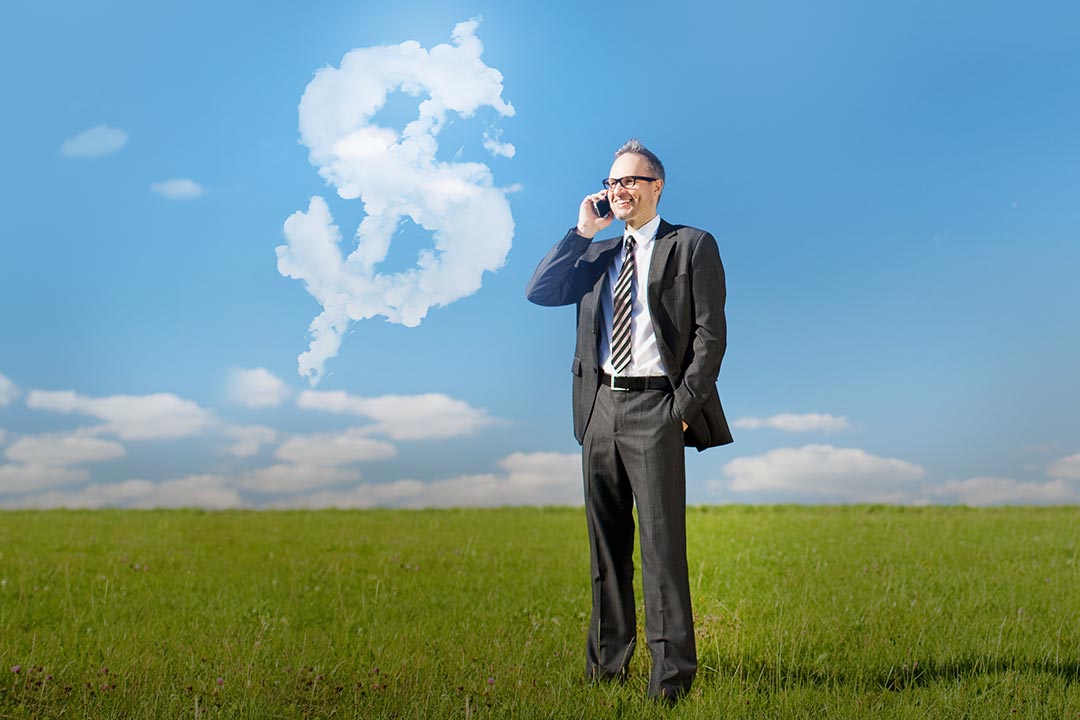 READ TIME: 5.5 MINS.
Now more than ever, more companies are learning the benefits of cloud solutions and the impact it can have on their communication and collaboration platforms.
As many of us think about making the switch to a cloud-based phone system, some of us are asking, "How much does a cloud phone system cost?"
Before we get into the details on the cost, it's important to know the pricing varies based on a multitude of factors. Let's first briefly go over what a cloud phone system is.
A cloud phone system (or Cloud PBX) is a VoIP (Voice over Internet Protocol) telephone system, rooted on the Internet. Traditionally, phone systems were housed in equipment on-premises.
Cloud phone systems greatly reduce or eliminate capital investment, bringing big business phone system features to any size organization.
One of the great things about a cloud phone system is that it replaces conventional business telephone equipment. This makes it much easier to communicate with employees and customers from anywhere using PC, Mac, and mobile phone apps, not just from your desk phone at work. If you love a physical phone, a cloud system will also let you have a desk phone at home.
Ok, now it's time to dive in as we go over how much a cloud phone system costs and some of the benefits.
Cloud Phone Systems: Costs and Pricing Analyzed
I mentioned earlier that the cost of a business cloud-based phone system (just like any other office technology solution) varies, depending on many factors. It's essential you initially ask yourself some of these questions to help give you a better idea of your costs:
How many users need access to your phone system?


How many of your extensions are in common areas, such as conference rooms? (service for common area phones often costs less)


Are you looking to integrate with any of your business applications, such as Salesforce.com, Zendesk, G-Suite, and Office 365?


Do you prefer to purchase phones with a one-time charge, or rent phones for a small fee per month?


Do you require advanced capabilities such as video conference rooms, webinars, or contact centers?
Typically, the pricing for a cloud service phone system ranges from $15 to $50 per user, depending on the features or services your company requires. If you are willing to sign up for a longer term, such as 36 or 60 months, you'll get a lower per-user price.
There may also be additional discounts if you are willing to pay annually, instead of monthly. If contact center functions are needed, plan for an additional $80-$150 per user per month.
It can become challenging to determine the types of features you think your business needs, as there's a lot to choose from. Not to mention, some of these features may be ones you're unfamiliar with or unsure of the impact they'll have on your day-to-day business tasks.
So, let's dive into some of these features.
Cloud Phone System Features Explained: The Cost Factors
When partnering with an experienced business telecom provider, like AIS, there will typically be standard features included in your phone system bundle.
Some of these features could include unlimited calling to the US and Canada, mobile apps, conference calling, and video calling.
Speaking of video calling, this is where our meetings are going, now more than ever. As we continue to work remotely in times of this COVID-19 pandemic, having an effective video conferencing solution is extremely necessary for business sustainability and growth.
Learn more about remote technology solutions and offerings by reading our article, Working From Home (WFH): Office Technology You Never Knew You Needed.
It's critical to keep in mind that some of these phone system offerings and features could add to your overall monthly price. So, make sure you spend some time to review the service options carefully.
A great office telecom provider will be able to walk you through the specific features your business truly needs while letting you know of the features that aren't as necessary based on your business demands.
Cloud-Based Installation
Another factor to consider as you crunch numbers is the cost of installing your cloud-based phone system. Just like the features mentioned above, the cost of installation can vary as well.
Unfortunately, the installation costs of your cloud-based phone system isn't always a cost you can control. There are factors, such as the current wiring within your company's building, that impact the price of installation.
The vendors you bring in to quote phone, video, and collaboration for your organization should be asking lots of questions. If they aren't, you should be concerned about the quality of installation that the vendor can deliver.
Phone System Pricing Based On Location
Many businesses are unaware that the location of your phone system and the location of the recipient on the other end of the phone plays a role in the cost.
Where are your customers geographically located? Do your employees spend a lot of time on the phone with customers out of state or even out of the country?
Long-distance calls to the US and Canada are typically included at no additional charge with most cloud vendors, and international calls are often charged by the minute based on the destination country.
When determining the cost based on the locations you communicate with, it's great to consult with an experienced and knowledgeable telecom team to learn your options. The more you know in the beginning about upfront costs, the better understanding you'll have each month when you receive your telephone bill.
Bandwidth and Phone Use
The last factor that we focus on when reviewing the associated costs of a cloud-based phone system is bandwidth. We know bandwidth as the maximum speed per our Internet connection.
Are you thinking, 'Do I have enough bandwidth for a new cloud phone system?' you're not asking the right question. Phone calls use a very small amount of bandwidth. Chances are, you have much more bandwidth than you need for cloud phones.
The question to ask is, "Is my network set up to protect and prioritize voice and video calls?' A thorough assessment of your network is critical to a successful cloud system deployment.
If you're unsure about this, ask your current telecom provider.
The Cost Of A Business Cloud-Based Phone System: The Final Say
As you continue to explore the costs associated with a cloud-based phone system, it's essential to think of the big picture. The big picture is that the phone system you choose now will support your business, employees, and customers for years to come.
The more time you spend on understanding your phone system needs now, the more satisfied you'll be in the future.
At AIS, we're always looking for ways to inform and educate our readers and customers. Your business technology needs will continue to grow and change, and it's important to us that you know your options. To learn more about the costs associated with a cloud phone system or any of the products and services we offer, reach out to us. We're here to give you peace of mind to help you win more business.
As our Senior Technology Consultant, John Taylor has been in the business technology industry for over 20 years.