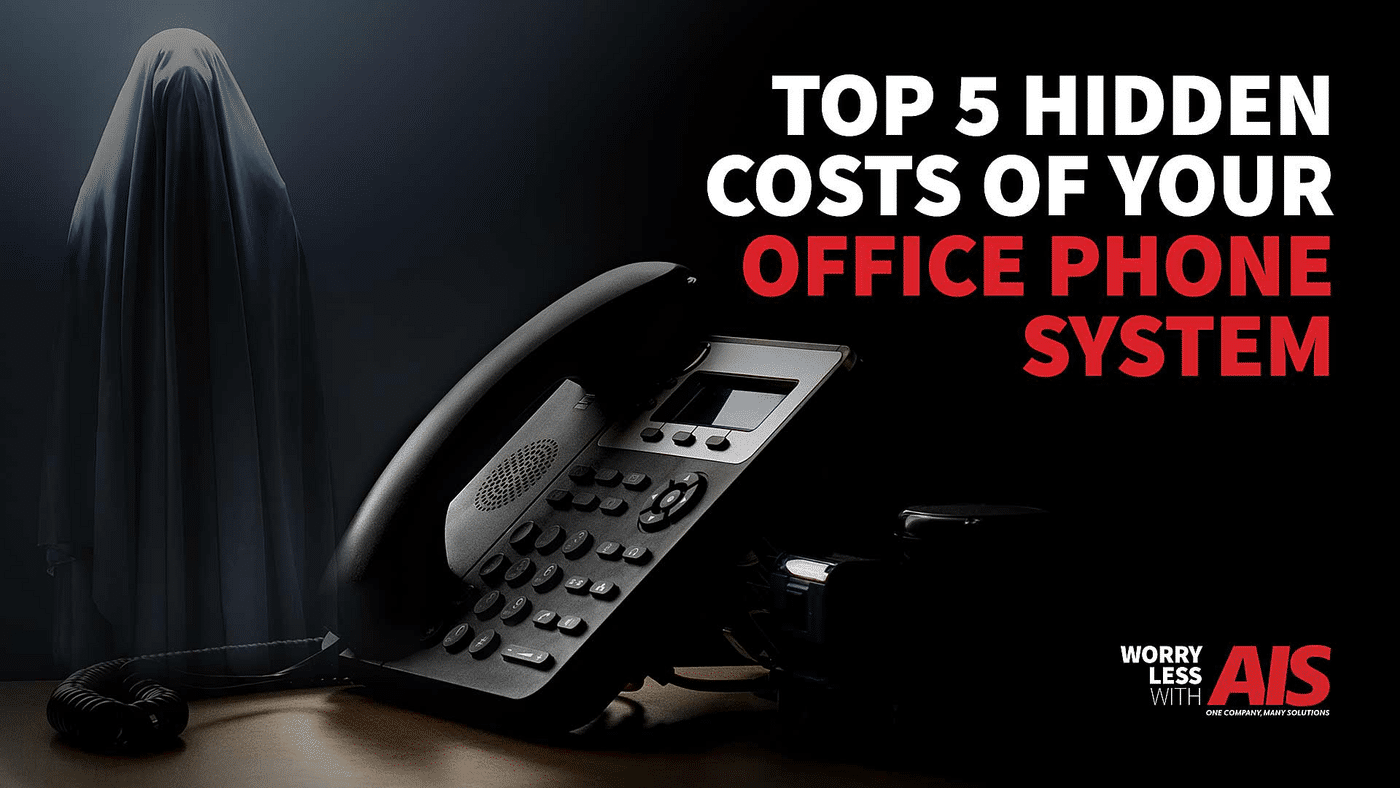 READ TIME: 5 MINS.
You might easily overlook the need for a reliable phone system, but it's key to the success of any business.
When you have a good phone system, you can communicate effectively with your employees, which ensures that the daily operations go on as planned. This also ensures that you establish a link between your other company branches.
While looking for the most efficient office phone system, you will mostly have to decide between moving your communication to the cloud or sticking with an on-premise phone system. You will have to assess a variety of factors before deciding on a final answer.
Top 5 Hidden Costs Of Office Phone Systems
Although you may opt for an on-premise phone system because it is highly customizable and complex, you'll also have to deal with the drawbacks in its hardware and the phones connecting to it.
Also, acquiring a new on-premise phone system will cost you a considerable amount of money. The costs can reach thousands of dollars in cases where you need multiple pieces of hardware to support more network upgrades like digital switches and the hardware needed to support branch satellite locations.
Still, when you take time to look beneath the surface, you will be surprised by the many hidden costs of your office phone system.
These costs make your total cost of ownership more than what you initially expected. In some cases, these costs might be higher than the initial capital you spent on the basic hardware.
Here are the top hidden costs you need to watch out for:
1. Office Phone Systems Require Maintenance, Trained Resources, and Upgrades
Once you purchase your office phone system, you'll have to factor in the installation, license fees, separate building wiring, and network upgrades. These expenses can rapidly add up to a surprisingly large figure.
Still, the current phone systems come with additional functionality and more technologies that require highly trained individuals to maintain the system use and hardware and software.
The roll-out system upgrade will also come as an extra expense to your business. Also, although you have the right to get software updates from the manufacturer due to the software subscription plan or software assurance, these fees are sometimes included in the initial year only and rarely in the subsequent years.
Although you may agree to an annual maintenance plan with the manufacturer, you may have to pay the installer an extra fee to perform software upgrades on your traditional phone system. Again, this is sometimes included in the initial year but rarely included in subsequent years.
Depending on the plan you select, the contract will mostly offer lower rates for the changes that your installer might perform in a specific year. In most cases, it doesn't cover all the fees or even the extra hours of labor, so you'll have to pay from your pocket. If an installer makes any software upgrade past the usual working hours, you'll also have to pay more.
Apart from these cost implications, you have to keep in mind the time spent on hardware maintenance, which can end up wasting valuable business hours or days.
Sometimes, the server hardware of the PBX phone system can also fail due to overheating or spikes in the power supply. And as the system gets older, the maintenance costs of the phone system hardware and software may increase, which means more expenses and more time lost.
2. Integration Costs
The cost of integrating an office phone system with the other software you use in your business also adds up more expenses. Integration costs can range from installation, training, project management, and programming.
These are the elements necessary to enable the software from a given manufacturer X to work with that of a different manufacturer Y. You may have to incur a considerable amount, especially if you've never tested manufacturer X with manufacturer Y.
You should find out if your Customer Relationship Management (CRM) system, Enterprise Resource Planning (ERP) system, and accounting are already integrated with your office phone system that you are considering for your business.
If you want a PBX system, the most common integration requirement is the CRM system. By the way, a PBX phone system has copper phone lines that connect to the on-premises phone system and then connect to the PBX box within an office or business site. The PBX box then uses telephony switches to enable incoming calls to be directed to phones within the premises.
You will need a system integrator to perform the integration, which can be a somewhat complex task, meaning that it also comes at a cost.
Your phone system should also have Microsoft integration, voicemail to email, and more. All these features require an installer, so you'll incur another expense.
3. Connecting Locations Adds Costs
Today, a majority of businesses have their offices spread out on various sites in multiple locations. As a result, it's necessary to have PSTN, MPLS, among other business exchange lines, to ensure that they meet the demand for bandwidth-intensive communication on the various sites.
However, this is a complex issue that causes headaches for IT teams and increases your operation costs.
For larger businesses with many locations, you'll need additional IT resources to cater to the demand. This includes not only managing the connectivity but also the other phone system hardware. Even if you may not have different locations, you might have a dispersed workforce that you must serve.
4. Stand-alone Services Have Accumulative Charges
Office phone systems are short of offering a unified business communication solution that encompasses team messaging, web meetings, video calling, conference calling, and more. You'll have to get these additional phone services from third-party vendors, which adds up to significant line items.
Also, you may find other expenses for services like online fax that managers, employees, or small business units may have signed up for overtime. Note that these charges are usually applied per minute, making it difficult to budget for such bills.
5. Telecoms Costs Can Strain Your IT Budget
Once you've installed the office phone systems, you'll also need trunk lines to enable your phone's connectivity to the local telecom provider. You'll also need long 800 calling and line items for local. While some of these costs may seem a bit straightforward, the hidden fees come from the overprovision of phone lines and the fact that you'll have to continue paying for them.

Related Article: What Is a SIP Trunk and PBX Trunking?
The Final Say: The Hidden Costs Of Your Office Phone System
From what you read above, it's clear that the costs of your office phone system are more than just the installation expenses. You'll have to factor in all these hidden costs while choosing a phone system for your business to avoid overstraining your IT resources.
At AIS, we're more than just a company that sells phone systems—we are an office technology solutions provider. We want to see your business grow and succeed and are here to help you with your technology needs every step of the way. To learn more about how we can help your organization, reach out to us today. We're here to give you peace of mind to help you win more business.