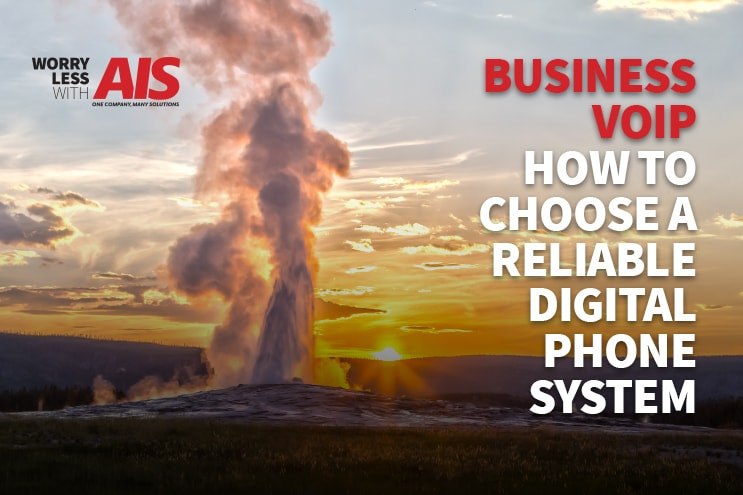 READ TIME: 5.5 MINS.
Your business, large or small, needs a reliable digital phone system, right? Whether you have customers to call or employees to collaborate with, it's vital your office phone system gets the job done, even if that means switching to business VoIP (Voice over Internet Protocol).
But, what is business VoIP, and how can you be so sure that it's the best option for your business, customers, and employees? You might be a little unfamiliar with phone systems in general, making it challenging to choose the right one.
And since most of them have gone digital, this may be a little more intimidating since you know even less about these types of VoIP systems.
Before we get into the different options of digital phone systems for your office, let's make sure we're on the same page when it comes to the importance of telecommunications within your organization.
Your phone system adds a layer of reliability, convenience, and privacy to your business. You'd be surprised how much you could improve employee productivity just by having access to a more dependable and versatile phone system.
Like we mentioned earlier, there are many phone system options to choose from. To help make this decision easier, we're answering some common questions you might be asking yourself, such as:
What are the benefits of using a VoIP phone system compared to a traditional landline?
Should I invest in a digital phone system that comes with my desktop computer hardware or use virtual phone lines that work on any computing device?
If I do choose VoIP, is Cloud-Based or On-Premise (on-site hosted) better?
What's a healthy budget for a digital phone system depending on my employee count, office locations, and customer base?
The best telecom decision you can make for your small business comes with the understanding and knowledge of the specific technology on the market. The more you know, the more pleased you'll be with your purchase.
Landlines vs. Business VoIP: Which Is Better?
Times are changing, especially when talking about technology in the workplace. If you aren't growing with the many changes in technology, you might miss out on significant revenue opportunities.
Even though landline calling might sound more familiar than business VoIP, it's certainly not as relevant or new-age. Take a look at some of our insight into understanding what exactly VoIP is.
VoIP:
Transmits sound as data (your phone calls) through an online network or internet connection
Typically involves a flat monthly fee, charged by a telecom or VoIP services provider
Learn more about the costs associated with VoIP by reading our article, Business VoIP: How Much Does a Digital Phone System Cost?
Is as stable or reliable as your internet connection is
Allows the user to make phone calls from anywhere by simply enabling an app
Gives you the ability for upgraded landline service, such as video conferencing, chat, and mobile apps
As you explore different telecom service providers, you'll want to make sure you're asking yourself the right questions that pertain specifically to your business needs and goals. Some of these questions include:
Does my organization depend heavily on voice calls and call quality?
What telecom plans do I have in place for growth?
How can we integrate our new digital phone system with my current office technology and tools?
Digital Phone Systems: Features to Look For
Choosing a reliable digital phone system doesn't just mean picking the way you want to transmit your voice calls. This decision has a lot to do with the specific features relevant to your business.
How much can you afford to spend on your phone system for all of your employees? Do you have employees that work remotely and need access to their phones from anywhere in the country? Are you more comfortable with hands-on customer support from your phone system provider, or do you prefer to manage most of your technology on your own?
Take a look below at some of the most common phone system features most businesses are interested in and think about how these can apply to your organization.
Costs and Pricing. Whether you're the purchasing decision-maker or just an employee relaying the message, I think we can all agree that any of your office technology costs are one of the most critical factors to look at.
The good news about VoIP or even a traditional landline service is that these options typically come with bundle deals or pricing so that you don't have to worry about going out of budget for a reliable phone system.
However, if you don't currently have a phone system in place, we recommend choosing a VoIP phone system for your business. Typically, VoIP won't cost as much as a traditional landline in terms of setup, maintenance, and even long-distance calling. Make sure to ask all potential telecom service providers the pricing for each option for easy comparison.
Learn more about cost savings through business VoIP by reading an article published by TEchiexpert, Cloud-Based Phone System for Business.
Dependability. It's virtually impossible to successfully run your business if your office technology isn't up to par. The more problems your phone systems give you, the harder time you and you're employees will have winning deals and keeping your customers happy.
For your business to succeed, you must make sure that all communication channels between your vendors, partners, customers, and employees are accessible and dependable. The progression of your business will become weak if your phone systems are unreliable.
Security. What security measures is your organization taking to make sure your IT network and infrastructure are secure? Do you have SPAM filters on your employee email accounts? What about password protection on your servers?
Well, the same goes for your phone systems. Unfortunately, the security of your technology is a huge concern nowadays, and in our opinion, you can never be too protected.

Your business phone system should be adequately secured to prevent security breaches such as fraud, malware, and phishing from online hackers. And since your going digital this magnifies the importance of your network's security measures.
If we can stress any feature the most, security is it. Think about how much data is transmitted through your phone lines every day that would be devastating to end up in the wrong hands. Your business could (and will) be at significant risk without a secure phone system.
It's vital to partner with a telecom provider who can back up their statements on securing your phone lines, such as encryption and voicemail authentication.
Mobility. It's so common for businesses to have remote employees or employees who are always traveling. With business phone services such as VoIP, you have options to make sure all your employees, in-house or out in the field, are taken care of when it comes to their communication needs— and that they are all connected.

VoIP allows your team members to make and receive calls from anywhere, so you don't have to be at your desk phone to get the job done. How nice is that?

Make sure to look for a phone system that can provide your employees with apps for desktop and mobile devices so that you and your team can stay connected, even if it's across the country.
Collaboration. Speaking of staying connected, a reliable office phone system also gives you helpful collaboration tools, such as three-way calling and call recording between your employees or customers.

Have you noticed the increase in video production and video calling between businesses? Video conferencing is at an all-time high, and with VoIP, you're able to do just this.

You can even video chat with an unlimited (limited mainly by your bandwidth) number of people over a video conference, which is a great way to collaborate if your team is spread out around the country.
What's Next? It's Time to Choose Your Digital Phone System
We know we just threw a lot of information at you, so it's ok if you feel a little overwhelmed. The funny thing is is that we barely scratched the surface!

Choosing the right digital phone system for your business isn't the easiest thing. However, it's an essential piece of technology your organization needs for growth and success.
To learn more about choosing a reliable office phone system, read an article we recently published, How to Find The Best Business VoIP Provider Near Me.

At AIS, we are your go-to source for relevant information on office technology solutions for your business. One of our primary goals is to provide you with the best knowledge you need to make the most informed purchasing decisions. If you'd like to learn more about business VoIP, or any of the other products and services we offer, reach out to one of our business technology consultants, here. Also, check out our video channel on YouTube, The Copier Channel. We're here to give you peace of mind to help you win more business.