Business VoIP: How Much Does a Digital Phone System Cost?
September 9th, 2019 | 6 min. read
By John Taylor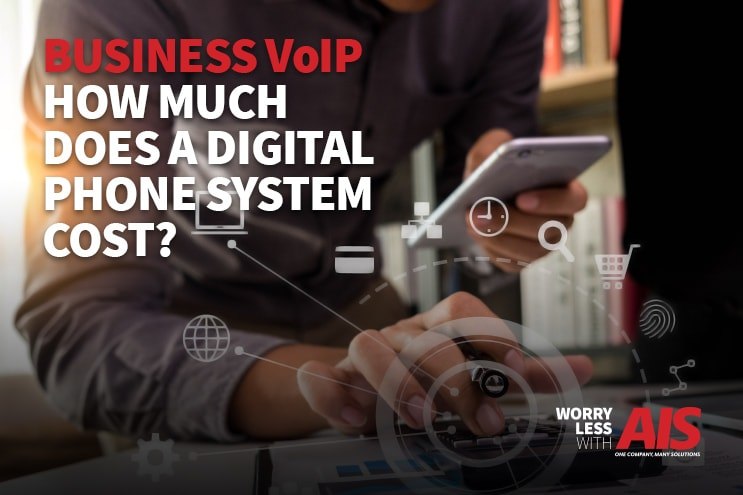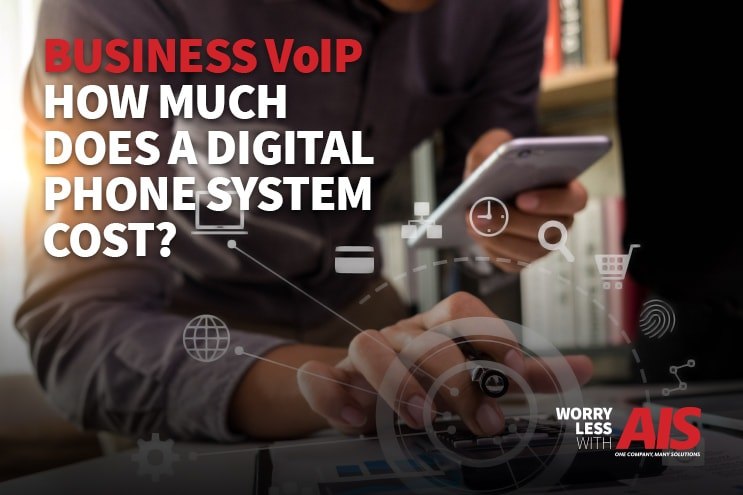 READ TIME: 4.5 MINS.
Your office technology devices, such as phone systems, are continually evolving to keep up with new and emerging software, like business VoIP solutions. Have you ever heard of VoIP for business? Maybe you're not exactly sure what it means.
Before we discuss how much a digital phone system costs using business VoIP, we're first going to give you some background on business VoIP. Learning the benefits of VoIP is a significant step in technology you can take in furthering the success within your organization.
VoIP stands for Voice over Internet Protocol, or Voice over IP. Think of VoIP as a conversion tool that allows your business to make phone calls directly from a computer, a VoIP phone, or other data-driven devices.
Business VoIP is not your traditional phone service. VoIP gives you access to advanced applications, allowing you to take advantage of a wide variety of additional features. These features can increase productivity and call quality.
Business VoIP solutions cater to evolving businesses, who utilize all forms of communication, such as telephone calls, faxes, voicemail, email, web and video conferencing or meetings, and so much more.
VoIP for business is the digitization of old phone systems and solutions. Regardless of your industry or business type, it's all about keeping up with the times. Whether you're ready or not, the demand for more advanced and evolving technology isn't going anywhere.
So now that you (hopefully) have a better understanding of business VoIP, let's dive into the costs of digital phone systems for your business needs.
To learn even more about VoIP for business, read our article, What is Business VoIP and Is It Right For You?
VoIP For Business: Associated Costs
Like we mentioned earlier, business VoIP is a modern-day phone system. Because of this, the implementation of VoIP encourages cost savings for your business money when compared to older or traditional phone systems.
Just like any information technology services, the costs of business VoIP can vary depending on individual specifications and needs of your employees and customers. When considering VoIP services, there are some significant factors to take a look at when choosing a VoIP provider.
Some of these factors include:
The background and expertise of the company
Whether you'll receive exceptional customer service or a great customer experience.
Do you know the difference between customer service and the customer experience? Read our article to learn more, Customer Experience: How to Achieve SMB Growth and Slay the Giants.
The ease of implementation and use of new technology
The main features and benefits of their services and products that specifically pertain to your requests
The cost comparison of the phone systems you currently have and the new phone systems being offered
The costs associated with VoIP phone systems can certainly seem intimidating. However, don't let the costs scare you. With the right phone services team, your business can end up saving money and have more functioning phone systems. You just need to learn how to navigate the pricing for a better understanding.
How Much Does Business VoIP Cost?
As we've mentioned earlier, the costs associated with business phone services vary depending on the provider you choose and the services your business requires. Typically, most digital phone system providers offer two types of costs:
A monthly line rental fee
Costs for your usage
These costs mean that you'll pay a monthly fee for the phone services from your provider, as well as additional charges for outbound calls you make. Make sure to do your research because some VoIP phone providers also include call packages, which might help out with overall costs.
Some phone providers also offer VoIP "per-user" costs, which might be a better option for your business. Here's a brief description on a VoIP per-user plan:
VoIP per-user plans are calculated by the number of lines you need open or available at a given time. So, if twenty of your employees will be using their phone systems at the same time, you'll need twenty users for your phone lines.
If a user has their line "live" and are online with two physical phones or handsets, it still counts as one user.
The costs are lower when you have a lower user-count.
Like we've said earlier, the cost of business VoIP systems range in price, depending on your needs and employees, the feature set, the integration costs, and the cost of equipment. However, the average cost of VoIP services ranges around $15–$50 per user.
Keep in mind that the more users you have, the more affordable VoIP services are. Don't forget that these costs don't include any equipment you might purchase or lease from the provider.
Add-Ons and Special Features of Business VoIP
Just like your other office technology devices, special features and add-ons of VoIP also determine the costs. A great phone system provider gives you options depending on the specific features you're interested in or you can take advantage.
Even though add-ons might seem like unnecessary features, there are a few that are a must if you truly want the best VoIP experience. You should require the following from any VoIP phone system provider your interested in:
Calling from any device. Everyone places and receives calls in different ways, and it's essential that your employees have choices. Find a phone services provider who gives you the flexibility to add users to a choice of either hard and softphones, as well as any apps for mobile devices used to make calls.
Simple user and system management. It would be problematic if monitoring your digital phone systems was complex or confusing, right? Your business VoIP phone systems should be easy to monitor and manage users, numbers, and call activity by accessing a user-friendly online portal.
Customer support and experience. We spoke earlier on customer experience and finding a provider who is dedicated to your individualized needs. A great business VoIP provider has an in-house team that assists with customer care requests, including a support line, call center, or help desk.
Speaking of customers and VoIP phone solutions, read an article by AZ Big Media, How VoIP is Changing Customer Interactions in 2019.
Other features that your business might be interested in include:
Voicemail to text: If you don't have the time to call someone back once receiving a voicemail, voicemail to text is for you. This features allows you to respond in the form of a text message originated from a cell phone.
Virtual extensions: A virtual extension (or a virtual number) is a phone number that forwards to another phone number.
Call recording: Call recording software enables you to record phone conversations using VoIP in a digital audio file format.
Web integration: Web integration connects all the outputs of all activities and components essential for carrying out a web project as a whole. The web integrator is a partner who provides a guarantee to a customer that the project will comply within agreed specifications.
Final Words on Business VoIP
It might seem a little confusing, but that's ok! It's not always an easy concept to understand. However, VoIP is an essential and substantial improvement in technology, and it's critical to learn the ways it can help your business grow.
Make sure to take some time and do your research on the best business VoIP companies in your area.
One of our purposes at AIS is to inform our customers and our readers on new and emerging technology for your business. The more knowledgeable and educated you are on office technology solutions, the better purchasing decisions you'll make. If you still have questions, want to learn more about VoIP, or about any of the other products and services we offer, reach out to us, here. We're here to give you peace of mind to help you win more business.
As our Senior Technology Consultant, John Taylor has been in the business technology industry for over 20 years.