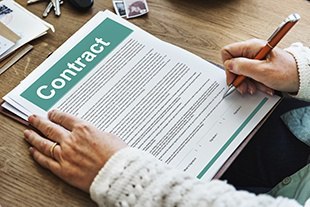 Business contracts aren't just created so that lawyers have something to do, they govern our relationships. Service level agreements are the promises two parties make to each other in support of a business contract or relationship.
Even in our personal lives, we can't get away from SLAs. Parents set up chore schedules for their children. When those terms aren't met, privileges are taken away (no phone for the thirteen year old – the HORROR!). Strip away the romance, and wedding vows are an example of a service level agreement – for better for worse, for richer for poorer, through sickness and health, etc.
And for anyone with a pre-nup contract, that's an extreme marriage SLA!
Service Level Agreement – The Definition
This is TechTarget's definition:
"A contract between a network service provider and a customer that specifies, usually in measurable terms, what services the network service provider will furnish. Many Internet service providers provide their customers with an SLA. More recently, IS departments in major enterprises have adopted the idea of writing a service level agreement so that services for their customers (users in other departments within the enterprise) can be measured, justified, and perhaps compared with those of outsourcing network providers."
The SLA lays out the provider and customer responsibilities and obligations to each other.
4 Tenets
While the specifics of managed IT services SLAs will be different, there are four core principals that I think all SLAs should adhere too.
Brevity. Don't over-complicate the relationship. Create and negotiate the service levels you need and focus on measurables that matter. It's easier for a partner to focus on a smaller, well-thought out set of metrics that directly equate to success than have to scroll through a long checklist of unimportant items.
Measure. Identify the service levels that matter (you probably don't actually need a 24x7 rapid response time – nor do you want to pay for that level of service). Once you know what matters, create metrics that measure success.
Crystal Clear. No jargon. No legalese. Use easy-to-understand language to describe the service levels and how they'll be measured. You don't want loose language that can be interpreted multiple ways.
Comprehensive. Don't be too brief. Be sure to include all of the service levels that are meaningful to you. Also include all of the responsible parties involved in delivering a service to you. While one-throat-to-choke is a great goal; don't focus on that if there really are "two necks to throttle."
4 Tips
With those four core tenets in mind, here are a few additional tips to help you think about creating SLAs that actually work.
SLAs First. SLAs in a business relationship shouldn't be an afterthought, but negotiated prior to signing a contract for services. They set expectations and while the contract probably won't last as long as "til death do you part," you'll know what you can expect from each other until the relationship does end.
Grow and Adapt. Businesses outgrow contracts and SLAs. An SLA negotiated for a business that operates in nine to five world could need updating if that business expands to a different time zone, increases the number of employees, or begins flexible work with employees working after hours and on the weekends.
Contract Length. Always know when your contract ends and what the renewal terms are. Do you need to provide notice to opt-out of the contract? Does the contract auto-renew? What is the auto-renewal price? Know your options so you don't end up legally obligated to pay for a year of services that you no longer want or that no longer fit your needs.
Don't Set Unrealistic Expectations. Service levels can vary. As a customer, you shouldn't expect 100% always-on response for every single question – unless you're paying for that level of service (which is never needed for everything). Service providers need to be careful not to over-promise what they can deliver. They need to know their capabilities and what they can and can't do. If either party enters a relationship with unrealistically high expectations; it will never succeed. Much like sometimes you need to realize that even your marriage partner isn't 100% perfect all the time.
If you keep these four principals in mind as you create service level agreements with partners, you won't go wrong.