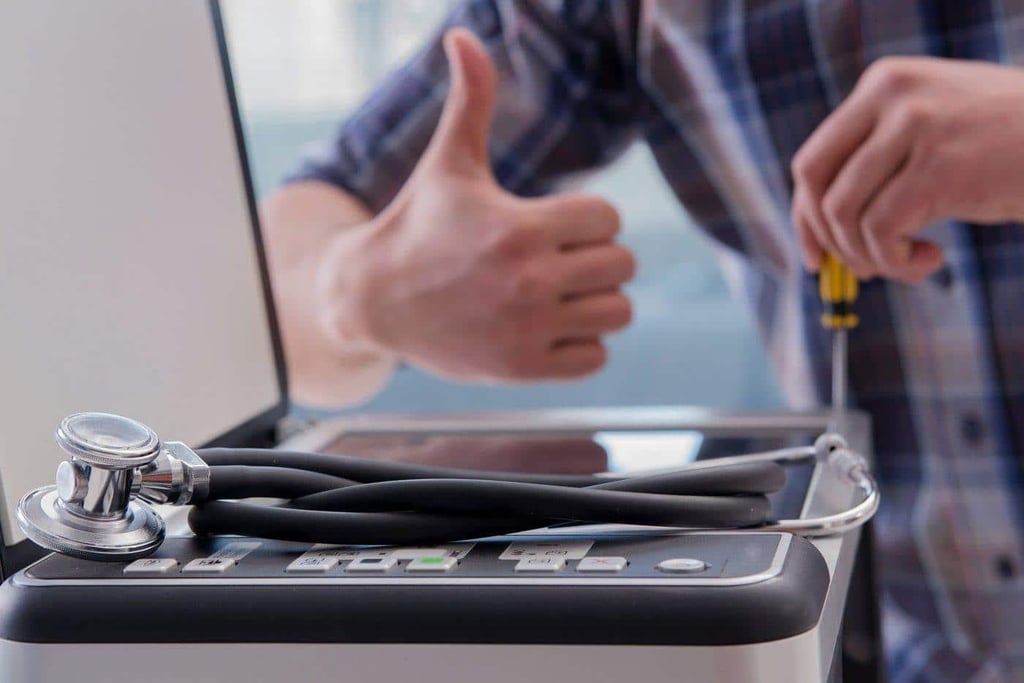 It's a fact, eventually your copier or printer (multi-function printer or "MFP") will break down and need repair. It's just a matter of time. If you own it, it's out of warranty, or you just neglected to purchase a service contract, you're going to need to contact a repair service.
So how do you go about finding the right company to service your copier or printer equipment—when you need it most?
There are plenty of options to choose from. For example, there's:
manufacturers
local authorized dealers
the company you originally purchased the copier from
even companies in your area that specialize servicing copiers and printers
So how do decide which one to use? We look at it this way, in order for our clients to make the best purchasing decision or partner with the best service organization, we inform them of all of their options. A well informed and educated client is a happy client.
Let's take a look at each of your options when choosing the best copier or printer repair service.
The Manufacturer
This is the right company if you have the time and the money. They are the direct source to go to since they are one of the most knowledgeable sources for your copier or printer. They should be able to troubleshoot or do a quick diagnostic of your machine, find the parts and get it fixed in a timely manner. But there are a few things you should watch out for.
Sometimes, the manufacturer has hired a third-party service organization to be responsible for all of their copier or printer repairs over a geographical territory. This could be more economical for their business, but if they aren't watching their service performance or monitoring customer feedback closely, this can quickly become a problem. Also, if you've purchased a low end model, or small or single device, you may be considered a "small fish" to their organization and may not get the attention you need or expect.
Local Authorized Dealer
These companies are mainly focused on service and support. They are good to go to if they are authorized to work on your manufactured device. They have great relationships with the manufacturers so they usually have an inventory of parts. Their staff is well trained on the device, so they can usually repair your copier or printer quickly and some carry a large inventory of parts for your benefit.
In order for them to be an "authorized dealer" they have to meet certain requirements by each manufacturer including purchasing volumes, support resources, training requirements, customer service levels, etc.
They can also be aggressive on pricing since they have lower overhead and work on different margins so they can pass these benefits on to you. Make sure you research your area to see who all of the authorized dealers are for your specific equipment (See our article: "Best Copier Repair Service in Las Vegas").
Copier and Printer Repair Business
These businesses typically fix many types of office equipment. They may be quick to service you and are great at many simple repairs. Most of the time they have general knowledge of many different types of equipment, but are not experts on each of device. Knowledge does matter. Another item to consider is that they will need to go back to the manufacturer to order parts, this can take more time and cost you more money than the other options for repair or service.
You may opt for service from the company you originally purchased it from, but this could be any of these companies above or a retail store or even a third-party. Whatever the case your best bet is to use one of the options reviewed above as these will save you headaches, time and money.
Additional items to consider:
Keeping your copier in good working order. A little preventative maintenance can go a long way. By taking the time to make sure you operating it properly, supplying it with the right consumables (printer and toner) or even giving it a good cleaning every once in a while can ensure your copier is working to its full potential. For more tips on keeping your copier in shape click here.
Copier or printer repair maybe right in front of you. Who did you purchase the device from? Did they leave a sticker on the front of the device? Getting repair on your device may be as simple as looking at your copier or printer service label and contacting their service personnel.
Do they have an experienced service team? How many service technicians are on their service team? Are they trained? Tested on a regular basis. Do they receive training updates on a regular basis?
How experienced are they with your specific device? Do they service this type of copier or printer on a regular basis? If so, they probably keep many of their parts in inventory, which results in you getting faster service.
Ask for their average service response time. This will tell you if they are aware of this statistic and keep track of this number. Next, it will demonstrate if they have enough service technicians in your service area. Then follow up by asking what their average response time was last year. This will provide insight if they are focused on improving service calls for their customer base, or it could be signs of expansion, growth, overage, etc.
Do-it-yourself (DIY) fixes. There are many websites, videos and online content that discuss repairs for your copier or printer. These are not recommended for anything more than fixing paper jams, replacing toner cartridges or instructions on how to use the machine or its software properly. Anything more and you could be voiding your warranty—and the potential of doing more damage to your machine.
At AIS, we are constantly monitoring our service personnel and requesting feedback from our clients each and every service call. We do this so we can learn the best way to service their copier, printer, or their business needs.
The information gathered by our organization provides a vital role to ensure our service personnel are properly trained, have enough inventory on each of their vehicles to resolve hardware issues the first time and the efficient distribution of our service personnel throughout their service area. In 2016, we were able to solve 92% of our service calls in one visit with our clients. This saves our customers time and money when their copier and printer are down. See why service can make such a big difference.
When you're looking for that next copier or printer and want to save a few dollars…
Don't forget, these copier and printer repair companies are also a great source for reconditioned or refurbished copiers or printers. When it's time to shop for a new copier or printer, ask to see a price list of their current inventory or ask for a quote on a used piece of equipment. And don't forget to ask for a service contract—remember, you're going to need it!
Visit our Office Copy Machine Ultimate Resource Page for additional info on service & repair, and just about anything else copy machine related.