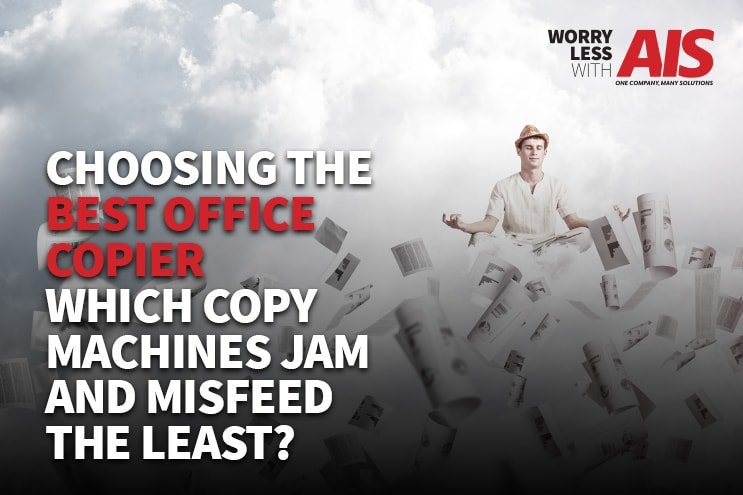 READ TIME: 5.5 MINS.
Why does it always seem like your office copier jams, misfeeds, and breaks down at the most inopportune time? Wouldn't it be nice to feel a little more in control of your copy machine, so that a simple malfunction doesn't leave you scrambling for a quick solution? So, how do you go about choosing the best office copier?
We hate to say it, but as frustrating as a copier break is, your office equipment will inevitably fail or malfunction from time to time. As you know, there's no piece of technology that's perfect. It's up to you to make a well-educated decision when purchasing a new piece of equipment, like an office copier.
However, before choosing the best office copier, you should first learn and understand the needs of your business, employees, and customers. It's important to analyze all components of your office technology systems and your current infrastructures.
We're going to let you in on a little secret. While understanding the needs of your business is critical in your search for the perfect office copier, finding a team of experts (such as an office copier repair company) is paramount for growth and success.
Most businesses fail to see that the partnership between you and a qualified office technology company is a significant way to alleviate the downtime you and your employees could face when a problem occurs, while also boosting productivity.
Follow along as we outline some of the easiest ways to find a well-qualified business solutions company, the best questions to ask them before signing a contract, and the benefits of outsourcing your office technology needs.
Best Office Copier Solutions: What's Important To You?
Understanding the key differentiators that make up an office copier repair company helps you prioritize specific requirements most relevant to your printing or copying needs. For starters, begin by asking yourself these questions:
"What services or features are most important to my business and customers when it comes to an office copier repair company?" Some of these features could include:

Compatibility for high printing volumes
Black and white or color copying
"Am I mostly interested in a repair company who's closely located to my business?"
"How long am I willing to wait for a service technician to fix my copier once I place a service call?"
"Does the service technician have a variety of inventory and parts while they're out in the field?"
"Will an office copier repair company be able to fix my issue within one call or visit?"
"Does the office copier company have positive reviews on their services, products, and response times?"
Can my system be maintained and serviced remotely, without a technician coming to my place of business?
"I don't have time to deal with billing issues or mistakes, what is the invoice accuracy of the company?"
Speaking of invoice accuracy, read an article we recently published on the significance of accurate billing, Invoice Accuracy: Why it's Important to Your Small Business (SMB).
Now that we have you thinking about the specific elements most important to your business, we'll share how to successfully measure business solutions companies, and if they're right for you.
Instant Response Times and Communication
How long does it typically take for your current service technician to contact you once you've placed a service call? A great technician should be contacting you within 30 minutes or less of your original request, following an on-site visit within two hours or less, no matter what. Their job is to serve you and the needs of your machines.
As you've probably experienced, dealing with a broken or malfunctioning copy machine can significantly delay work productivity. A great service technician will provide you with instant communication; the second a problem occurs.
Reading customer reviews is probably the easiest way to learn how quick a company's response time is. Each dealer should be monitoring, and improving, their response times continually. If they're not, that should tell you something.
Proactive Upkeep Of Parts and Machines
We mentioned earlier that there's no perfect piece of technology— and just like people, copiers and printers need upkeep, too. Depending on the terms of your contract, your service provider should regularly visit and check on the maintenance of your machines. Like most things in life, it's more beneficial to be proactive rather than reactive.
Your service technician may also leave extra supplies for your machine when they visit, such as toner. Having supplies in-house is a huge time saver, preventing you from waiting on an order when you run out. To see what you have access to, check the terms of your contract on maintenance upkeep.
Easy Access To Your Company Account
It should be effortless for you or your office manager to manage, track, maintain and update your machine inventory and parts. The most effective way to do so is through an online portal, where you can easily place service calls, supply orders, and enter meter readers.
Having an online portal provides you access to everything you need, all in one place. Can you text, call, email, or web-chat with them? A great copier services company will have an endless amount of communicative tools so that accessing your account is simple.
Remember, you're the customer. If you're paying for outsourcing services, you deserve the highest level of satisfaction. Learn more about the benefits of outsourcing by reading an article published by The New York Times, The Benefits of Outsourcing for Small Businesses.
Multi-skilled and Experienced Technicians
During the frantic moments when your copier machine breaks down, your main goal is to get the machine back up and running as soon as possible. It's critical your service technician is certified and skilled to fix a variety of problems at that a specific time. It's a huge waste of time to have a service tech come out to realize he isn't equipped to repair the machine on his own.
When searching around for providers, make it a point to find out how much inventory they carry with them while they're out in the field. Do they have multiple locations where inventory is stored? An excellent copier repair company will invest in parts and supplies to ensure they can repair your equipment the first time they visit.
Also, you'll benefit most from a company whose technicians are friendly and welcoming to work with. There's a difference between customer service and customer experience—and you deserve the ultimate customer experience. Read more about it, here.
Reliable Support and Solutions
Speaking of qualified service technicians, one of the most essential qualifications to look into when searching for a new copier or printer repair service provider is that their technicians are trained troubleshooters.
The service technician should be willing and able to reset any software on your office copier, as well as having the skills to reprogram error messages that continue to pop up. Great service teams may also be able to assist your copier issues remotely or over the phone, saving you time and eliminating an on-site appointment. How nice is that?
Final Thoughts
Remember, the relationship between you and any company you outsource with is a partnership. It's also important to remember that not all printing and copy machine service repair companies are the best fit for your business. Your company is unlike any other company, and your needs are specific and individualized.
If you'd like even more resources on office copiers, business technology solutions, and everything in between check out our Office Copier Resources Page.
At AIS, we're dedicated to giving our customers and readers the most useful tools they need to make the best purchasing decisions for their office. The long term and short term goals of your business are important to us. We continually strive to be a business technology powerhouse to you, your employees, and customers. We want your business to continue on the path of growth and success. To learn more about choosing the best office copier or any of the products and services we sell, reach out to us here. Also, check out our video channel on YouTube, The Copier Channel. We're here to give you peace of mind to help you win more business.