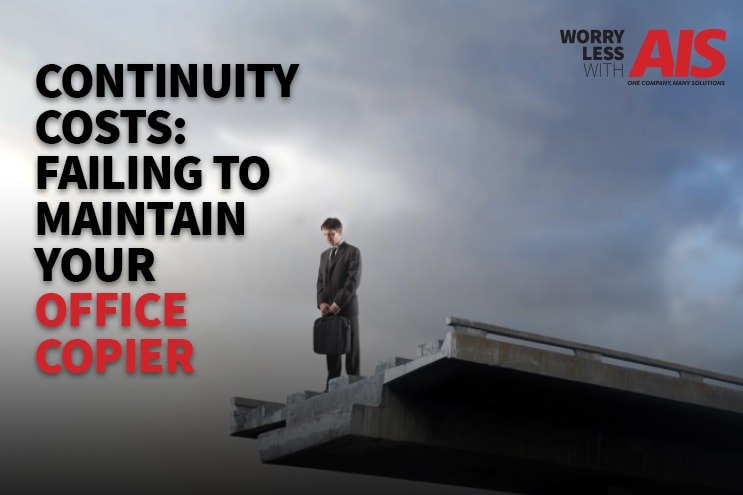 READ TIME: MINS.
If you watched the film Office Space, you probably remember how it dramatizes printer frustrations for a good laugh. However, if you have experienced a broken copier machine in the office when you need it the most, you know there is no humor in the real breakdown. Sometimes, continuity costs can be directly related to failing to maintain your office copier.
Copier machines play a crucial role in organizational processes, but their failure can result in increased printing overheads. The most common cases of a copier breakdown include paper jams, cartridge and toner inconsistencies, wrinkled pages, and spots or lines on the sheets.
These problems increase the cost per print and other printing related costs in your organization. Uncontrolled printing expenses can add up to between 1-3% of the organization's total revenue.
If your organization fails to track printing costs, you might be missing out on significant savings associated with print costs and environment management.
Four Easy Steps to Calculate your Printing Costs
Calculating your current cost per print provides the basis of determining the total printing costs in your organization per quarter. The easiest way to track the printing costs is to work with a print provider or install software on your network to track the number of prints per day.
With all relevant information gathered, it is time to calculate the actual print costs your organization incurs per day. Below are four easy ways to do the calculations:
Determine Manufacturer and Model Numbers. Cost per print calculations will vary based on the specific copy machine and manufacturer. The information is readily available on your copier, within the manual, or control panel of your computer.
Determine the Yield per Cartridge. If you purchased your copier from a reliable manufacturer, the page yield figures will be available on their website or on the side of their cartridge pack. Different page yield figures are provided for both black and white printing and color printing.
Determine the Price of Each Toner Cartridge. To get the exact costs per print, you will need to identify the cost of each cartridge you are using. This information is available from the manufacturer or your office supplier. Determine the cost of each toner separately for accuracy purposes.
Calculate the Cost per Print. Once you have gathered all the information above, you will be able to calculate the cost per print. For black and white costs, the formula below will apply:
Cost per print = Toner Cost Cartridge/Page yield
For color, the formula will be different since you will need to consider the black, yellow, cyan, and magenta toners.
Cost per print = (Cartridge cost for one toner/page yield of one color toner)*no of toners) + black and white cost per print
Factors That Impact Printing Costs
On the face value, you may think that printing expense is obvious for your organization since the only actual expenses considered are costs of copier, supplies, and service. Although these costs are relevant to printing costs, they represent a part of the overall costs.
True printing costs also include soft costs such as the life-cycle of the copiers and employee burden rate.
Equipment and Supplies
The base price of your office copy machines is the basic cost that constitutes true printing costs in your organization. This expense includes costs such as the initial purchase price or lease payment for the copier.
Soft costs constituting of power, paper, and cartridges add to the equipment cost, thus increasing the print expenses. The depletion of print suppliers may result from a faulty copier that produces stained or wrinkled papers.
Service and Maintenance
One of the major causes of increased print expenses in your organization is outdated copiers with decreased functionality. A single breakdown can create a bottleneck in your company delaying projects and stalling processes that generate income for the company.
Old copiers increase your repairs and maintenance costs hence prompting you to acquire new multi-function printers. Regardless, some level of repairs and maintenance is inevitable, and your true printer costs should be all inclusive.
The technicality of the problem determines the level of expertise needed to perform the repair. You need to remember that each situation has a cost implication, ranging from employee time while fixing, rescheduling maintenance, or hiring a service contractor.
Implementing Cost-Saving Print Strategies
Schedule Routine Maintenance
The lifespan of your office copier machines determines the efficiency of your machine in reducing printer problems. You can determine its lifespan and reschedule for maintenance or replacement by knowing the number of pages you print per month.
With routine maintenance, you will be able to determine which parts of the machine impact its inefficiency and when to replace the parts or the entire machine. With scheduled maintenance, you will know when evolution technology needs to be replaced.
Identify the Print Needs in Your Organization
Saving on printing costs requires an in-depth analysis of how you use your copier. This will require you to have a list of the most important documents that need to be printed, such as invoices, payment vouchers, and reports.
Identifying your needs will help you when purchasing an office copier since you will find multi-function printers more cost-effective.
Eliminate the Number of Personal Copiers
Personal copiers encourage employees to print documents without evaluating their importance. Having a multi-function printer to serve different departments will help you reduce printing costs, as employees will always question the need to print documents unnecessarily.
Initiate a Managed Printer Service Program
Managed Printer Service Programs are print services offered by companies to manage all aspects of your business printing devices and needs. The optimization of the printing devices enables businesses to reduce their printing costs, thus increasing the efficiency of the devices.
Services that have proved helpful include optimizing green messages on emails demanding recipients to print only if necessary and installing software that prompts the user to input a user code while retrieving their prints.
What's Next?
Printing costs will have a great impact on your income statement when proliferated on an annual basis. Containing these costs will require you to take charge of the true costs and conduct routine maintenance on your copiers to increase their lifespan and efficiency.
To learn even more about printing or copying costs, visit our Office Copier Ultimate Resource Page.
At AIS, we're dedicated to informing and educating you on the best ways to grow your business through your everyday technology. Knowledge is power and the more you know about the best technology businesses practices, the better off your business, and your employees will be. If you're interested in learning more about copiers and printers, or any of the other technology services we provide, speak with one of our business technology consultants, here. Don't forget to check out our channel on YouTube, The Copier Channel. We're here to give you peace of mind to help you win more business.