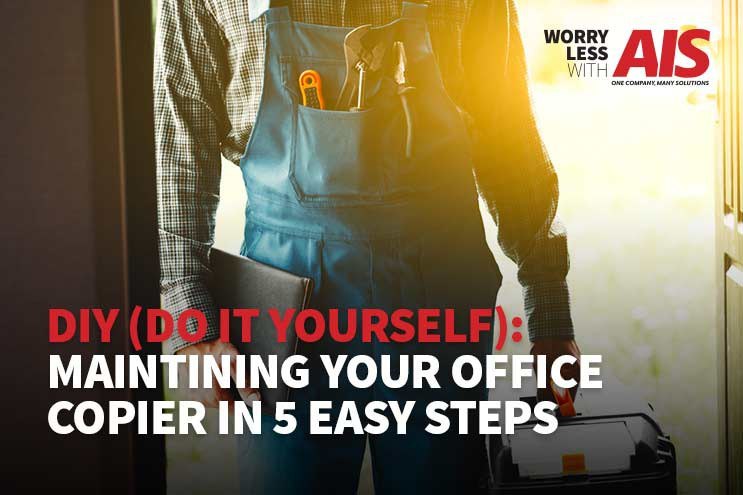 READ TIME: 6 MINS.


Maintaining your office copier is as easy as one, two, three. A little tweak here, a little cleaning there ensures your copier stays in good shape, right? Wait a second, when was the last time you did some routine maintenance on your copy machine?
If you're having trouble answering that question, you've come to the right place. Just like any other piece of technology you use, your office copier requires upkeep and maintenance as it gets older, especially if your business experiences frequently high print volumes.
Just like taking care of yourself, your home, or your car, your office copier needs attention too. Every copier does three things— copies, misfeeds, and jams. Your copy machine is an essential part of your business and if there are a few things you can do to prevent it from breaking down, wouldn't you want to learn how?
Of course like any other piece of office technology, there's going to be instances when your office copier gives you a problem too big or complex to fix on your own. However, there are some great steps you can take as preventative measures to keep your office copier performing at its best.
Like anything else in life, the better you treat your office technology, the better they treat you. Follow along as we share our top 5 steps in maintaining your office copier to help your business grow using reliable office solutions.
DIY: 5 Easy Steps to Take to Keep Your Office Copier Running Smoothly
1. What are you feeding your copier?
The type of copier paper you're putting into your machine, as well as the ways you insert the paper, has a lot to do with the functionality of your office copier. Using the cheapest printing paper available isn't the best solution for long-term use out of your copier.
When in doubt, make sure to refer to the copier's operating manual for the manufacturer's paper guidelines. Here are some additional suggestions to follow when it comes to proper use of copier paper:
Stop filling the paper to the brim. When your office copier or multifunction printer (MFP) is out of paper, it's unnecessary to refill the paper trays all the way to the top. Most commercial copiers typically have a "fill line" indicator somewhere inside the paper trays, signifying the paper should not rest over the line.
Fan your paper. Have you ever heard of fanning your printing paper before inserting it into your machine? Sometimes it helps to fan your stack of paper from one corner to help put a little air in between the pages. Fanning your pages helps prevent the paper from sticking together, which can potentially cause paper jams.
Store your paper in a clean and organized space. It's essential to store your paper in a clean, dry, and organized area, helping to prevent any unwanted dust or material from damaging your paper. Crinkled paper also plays a part in paper jams, and sometimes this happens because of the weather. Storing your paper in a dry (as opposed to humid) space helps keep your paper flat, preventing low-quality color or black and white prints.
2. The proper ways to clean your copier
One of the easiest things you can do to keep your office printer or copier running in great shape is by properly cleaning it regularly, such as wiping off the machine's exterior as well as the bypass and exit trays.
It's important to remember to wipe away from the entry areas of the copy machine so that dirt and debris aren't falling into the paper path. Most copiers come with a cleaning cloth to wipe the glass platen as well. To learn how to properly wipe down your office copier, watch our video, How to Maintain Your Office Copier: 5 Easy Tips.
To ensure high print quality, always check the copy glass before making copies or scans as loose dirt will inevitably show up on your future documents.
It's also important that whenever you're clearing a paper jam, you retrieve all parts of the jammed page or pages. Even the tiniest scrap of paper left inside the paper path can cause significant damage during your next copy run. Also, don't use all your force when you're cleaning out the jammed paper. Take your time, and use gentle force, so that you don't damage the internal parts of the copy machine.
3. Stay proactive and schedule regular maintenance and service calls
Another great idea to consider when looking for ways to maintain your office copier is by scheduling routine maintenance with your service provider. Whether you're buying or leasing, most manufacturers and service technicians recommend regular service on your machine.
Speaking of buying or leasing an office copier, learn about the best time to purchase a new office copier by reading our article, When Is The Best Time To Buy An Office Copier?
The frequency of these periodic service calls may vary depending on your machine and usage, and some leases might even include proactive maintenance—so be sure to look over the contract you signed when you leased your office copier.
However, even if proactive maintenance is included in your contract, it's still a good idea to contact your services provider to set up a service inspection. Research the maintenance recommendation for your equipment and set automated reminders so that you remember to request the service you need. It's always better to be proactive and ahead of the game, instead of playing catch up when your copier malfunctions.
4. Communicate with your repair services team
If you're continually struggling with repair issues on your office copier, request assistance from your repair technician or business technology consultant.
A great service provider will make recommendations specific to the issues you're having, such as the need for an upgrade, or different supplies that better fit the model copy machine you have.
Following the advice of a qualified and trained professional can significantly benefit your business, employees, and customers. Don't be afraid to ask for some direction; they're there to help you understand your business technology so that you can spend your time on more pressing and important tasks, worry less, and attend to your business.
To learn more about the benefits of communicating with your office technology provider, or if you're unsure how to find a provider that will best suit your needs, read our article, How to Choose The Best Printer Repair Service.
5. Choosing a copier specific for your business
In many cases, we see many businesses having trouble with their office copiers because the device doesn't match the demand of the company. Office copiers or multifunction printers can easily break down when they're not well-suited for the needs employees place on it, such as high volumes of printing.
If you have an office copier that continues to break down, overuse could be the reason. Unfortunately, many office copier companies are more interested in advertising prices for cheaper copiers, but they don't always tell you that the machine is low in quality. Beware that a smaller model or low-end machine will most likely cost you more in lost downtime, repairs, and productivity, in the long run.
However, it's important we play devil's advocate and stress the significance of not "over-buying" your office copiers either. Some copier machines are designed to be used almost non-stop throughout the day and to function in high-use environments. Under-using those types of copiers can also lead to more maintenance than required.
Business 2 Community published an article on print solutions for small businesses you might find interesting, Can a Managed Print and Copy Solution Benefit Your Business?
We know office equipment can be tricky, and when it comes to maintaining your office copier, it's important you learn as much as you can to preserve your copy machine and to increase productivity and workflow.
To learn even more on office copiers, visit our Office Copier Machine Ultimate Resource Page for additional info on pricing & costs, and just about anything else copy machine related.
AIS continues to strive for it's new and existing customers, making your printing and copying needs easy and stress-free. We know your busy work days are filled with meetings and appointments, making it almost impossible to focus on something like maintaining your office copier— which is where we step in. Whether it's informing you of ways to choose the best printer repair service, or guiding you to purchase a printer or copier that best suits your individualized needs, we won't let you down. To learn more, reach out to one of our business technology consultants, here. We're here to give you peace of mind to help you win more business.