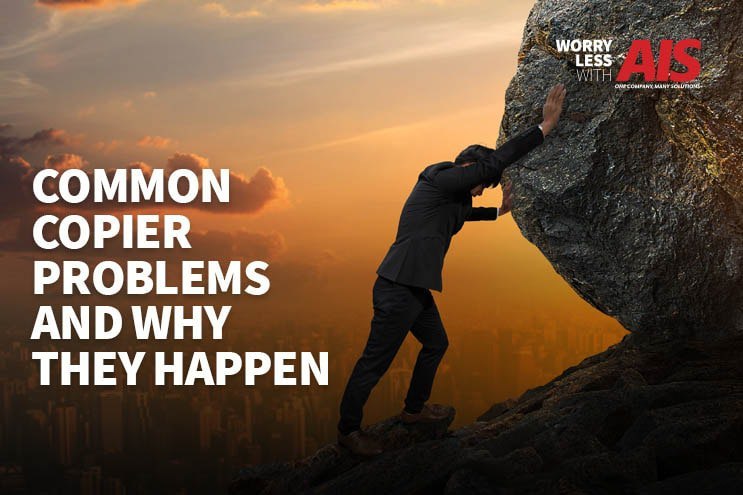 READ TIME: 4.5 MINS
Do you ever feel like your office copier only gives you problems when you're on a deadline or in a hurry to print something? It might seem like you're always the one having to deal with a broken office copier, or unsure of the problems that continue to show up.
If it makes you feel any better, there are many people in your shoes, continually trying to troubleshoot copy machine problems, and most of the time, not having much luck. One of the most frustrating things about a copy machine is that sometimes, the difficulties that appear are out of your control. Sometimes, things just happen!
In fact, we had one of our customers name their previous copier (manufacturer purposely withheld) "Bob Marley" (after the famous Reggae singer). When asked why they said…"Cuz it always be jammin'!"
Aside from any troubleshooting problems that occur, have you ever thought that your office copier isn't a good fit in general, for your office and employees?
Before we can analyze the specific issues of your office copier, it's important first to assess your current printing demands, and the type of work your business sends to your copier each day.
Speaking of specific issues your business might be having with your office technology, take a look at an article published by Forbes, Can The Right Office Equipment Improve Our Legal Culture?
Below are a few questions we've come up with that helps evaluate the current use of your office copier:
How many documents do you print, scan, copy, and fax each week?
Are your documents shared internally, externally, or both?
Do you have confidential documents that only certain employees in your office can see? (Such as patient or legal information)
Does it take you a long time to scan a report or a group of documents?
Have you noticed your copier is lacking functions that you think will make your copying jobs easier?
If you're unsure how to answer some of these questions, you've certainly come to the right place. We've got your back!
It might also be a good time to consider a print assessment if you've been having some copier issues you can't seem to resolve. Or, if you're interested in cutting back on some of your printing or copying expenses. What's a print assessment? Read our article, The Print Assessment: The First Step to Saving Money on Printing Costs.
Everyday Struggles Of An Office Copier
1. Too High of Print Volumes
As we mentioned earlier, it's necessary to learn the printing volume of your office to accurately assess which office copier is the right fit for your business.
Many businesses fail to realize that the reason their office copier isn't working properly is not because of the copier itself, but because of high printing volumes.
If your business only has a couple of small office copy machines but prints an excess amount of documents every day, you're probably overworking the machine. Printing over the average amount of certain copier limits causes it to become tired. This might sound funny but think of your office copier as a human. When we feel overworked, we tend to make mistakes.
The more overworked your copy machine is, the more issues you'll see, such as faded graphics or text, poor picture quality, wrinkled pages, paper jams, or a delay in printing speed. If your small business has recently increased the number of pages they print or copy, it might be time to upgrade your copier. Remember, your office technology has to grow and evolve with your business.
2. Lack of Functions or Add-Ons
Because your office copier is a multifunction printer (MFP), you might notice that it has certain features you need for your specific office duties.
Just as a recap, an MFP is electronic hardware designed to copy, scan, print, or fax black and white or color paper. MFPs typically use laser printing technology with a drum and toner, but some devices may use ink-jet technology.
Some MFPs have built-in staplers so that as documents are printing, they can assemble as well, taking away manual labor from you.
However, when talking about additional functions or add-ons you might be missing from your office copier, it's important to revert to the questions we asked at the beginning of this article.
What type of work does your business do, and what kinds of content do your employees produce? What extra features do you feel your office copier is lacking that you think would make your copying jobs easier?
Or, maybe you're a doctors office and need more private printing options, such as pull printing. Read our article to learn more, Keep Documents From Prying Eyes With Pull Printing.
3. Shortage of Supplies or Resources
Toners vary in their viscosity and quality. If you don't use the right toner or ink cartridges for your copy machine, you can cause serious damage that will require a costly repair and even worse, you could potentially void your warranty.
However, what happens if your office copier repair company has poor customer service, isn't always accessible, or you can't even seem to get the supplies you need on time? This is why finding the best office copier repair company for your business is so important. Read about it, here, Who Provides The Best Copier or Printer Repair Service?
Also, here's a tip that we find ourselves telling a lot of the customer's we work with: If you find a bottle lying around that looks like it still has toner inside, don't attempt to top off another bottle you may have.
Toner bottles are designed to release their contents only when placed in a machine for a reason. Checking with your copy machine services team to ensure you are ordering the right supplies is imperative, as well as making sure everyone in your office is using the right product for the right job.
Final Thoughts
Business technology is evolving quicker each day, and it's our job to keep up, so your business can perform at its best and reach the goals you've set in place. The more educated you are about your office technology, the better your business will perform and operate.
To learn even more on office copiers, visit our Office Copier Ultimate Resource Page for additional info on pricing & costs, and just about anything else copy machine-related.
At AIS, we're not just a business technology company trying to sell you on our products and services. Our number one goal is to educate you and provide you with the best possible information when it comes to the needs of your business, employees, and customers. Business technology is evolving quicker each day, and it's our job to keep up, so your business can perform at its best and reach the goals you've set in place. If you'd like to learn more about office copiers, or any of the products or services we offer, reach out to one of our business technology consultants, here. Don't forget to check out our video channel on YouTube, The Copier Channel. We're here to give you peace of mind to help you win more business.