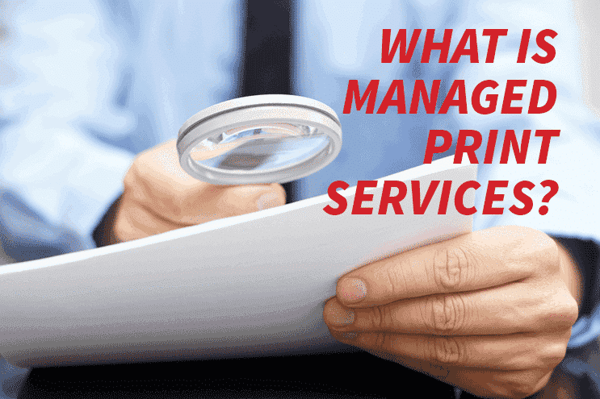 If you are like any other business, from time to time, one of your employees may have a large print or copy job that may tie up your copier for many hours.
Ever heard these words:
"I am so tired of marketing tying up our printer for those damn brochures."
"Can't they print them some other time?"
"We're trying to get some business done here!"
Not only is this a nuisance, but it may not be the most cost-effective solution for your company.
Have you ever heard of, Managed Print Services (MPS)? If not, maybe it's time you did. Managed Print Services is something to consider. Why? In a few words, it's a service provided by many copier and printer providers to assess, monitor and manage your printing needs by a third-party to provide you better efficiency in your document printing.
It's not just for enterprise businesses either. Allowing experts and technology to manage your printing services can create efficiencies in security, and costs, while also helping maximize productivity. Here are some added benefits Managed Print Services can provide your business.
The Benefits of Using a Managed Print Service
Ever hear the expression: "You don't know what you don't know?" Well, it's true in this case. You may not know what type of printing is going on in your business because you aren't in front of every copier or printer at all times. There may be big print jobs being run on desktop office printers by convenience or due to the inherent difficulty in using a larger printer, and the maintenance problems that can crop up. Managed print services can fix all of these issues and more. By using a print service, companies receive several benefits they may not have access to otherwise including:
Analyzing Printer Usage: By taking a careful and overall look at your printing usage, paper flow, and the costs of each area in your business printing, you can optimize and create more efficiency.


Modify Printer Placement:

Did you know that by adjusting the physical placement of your copiers or printers you can make your office be more productive and run more effectively? Interested in learning more? Read:

The Location of This One Device in Your Office Can Suck Away Productivity.




Picking the Right Printer for the Right Job:

You may be eating profits or adding undue expenses to your business by using printers that have higher overall operating costs. A well run managed print service will make sure this doesn't happen. In some cases, they can make recommendations for upgrading equipment or replacing legacy equipment to increase productivity and lower costs. There are so many printers to pick from, you can even find one that matches your particular budget. See our post about,

The Best Kyocera Copier For Any Budget.




Staff Training That Won't Burden Your IT Team: MPS providers can provide additional training when needed on your printing devices, especially when new devices are added for use, so your IT personnel can stay focused on their projects. Another area that they don't have to worry about or manage.


Reporting: Your MPS provider can design customized reports that you can review at regular intervals for transparency and visibility of your printing needs.


Automated Delivery of Supplies: This may seem like a trivial benefit, by having your managed print service provider automate delivery of toner or other supplies, this can ensure your machine has minimal downtime. Also, by working closely with your MPS, you can identify potential volume spikes over the year so you can stay ahead with supplies.


Remote Printing Management:

Today, more staff carry and use their mobile devices, even for printing. Your MPS can help you set up and train staff how to print from their smartphones and tablets, even when they are away from the office.

What to Expect: On Your Way to Becoming an MPS Business
Not every business is ready for Managed Print Services, but when you are, or if you think it's time to take a good long look at improving efficiency and/or you believe your printing costs are getting out of control. Then it's time to speak to your authorized multi-function printer or copier dealer. Here's what you can expect.
Analyzing your business: The first thing an MPS provider will do is to analyze all of your printing. This includes your printing and document workflow (printing, scanning, distribution of documents and even faxing), review all of your printing devices (local, desktop and networked), your printer placement, security for your devices, mobile printing, and all supply costs. If you don't have all of this information, they may even place some monitoring tools on your network for a short period of time so they can get a complete picture of your printing usage and needs.


Developing a plan: Once they have a good overall picture of your needs, they will create a plan that will streamline printer placement, set print and workflow recommendations for routing to specific devices, identify the replacement of any legacy devices with upgrades to more efficient hardware, endorse the addition and accessibility of remote and mobile printing, while identifying cost savings by automating tasks and the delivery of supplies. They may also propose that some of your documents be moved to off-site printing companies for additional savings. Their plan and proposal will include the cost of their service so there should be fully aware of what savings they can provide your organization now (including their fees) and what you can expect in the future.


Implementation and Ongoing Monitoring:

After your review and approval of their plan, recommendations, timeline, and proposal, your Managed Print Service provider will begin implementation of their program. Be prepared, this may include new processes, vendors, tools, and suppliers. But if you welcome these changes, you should be much better off and much more informed about your business' printing costs. They may also want to train your staff on new hardware and software. You should also expect to receive and review monthly reporting on the printing "health" of your business so you can be better prepared in the future while also seeing the return on your managed print services.




By becoming a managed print service business by using an outside service to keep costs down while keeping your efficiencies and productivity high in relation to your office printing, you will begin seeing returns in your annual profits. If you want to learn even more ways managed print services can help your business, then read our article: How Managed Print Services Can Help Manage Print Costs
At AIS, we believe that our clients should be fully aware and well informed of what costs are associated with their office technology, especially when it comes to business copying, printing, and document workflow. If you want more visibility or think you printing costs are beginning to get out of control, contact one of our technology consultants today, and let's start a conversation about how office technology can give you peace of mind and help you win more business. Also, check out our video channel on YouTube, The Copier Channel, for more resources on office technology and solutions.