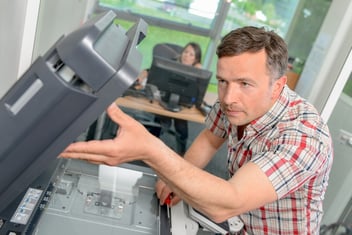 Who is the best copier repair service and how do I find the right one in Las Vegas? These are questions that you need answers to yesterday, especially if your copier or multi-function printer needs servicing now.
First of all, do you know how to recognize a copier problem before it gets worse? We have compiled a list of The 5 Most Common Copier Problems and How to Avoid Them, and hopefully, this will prolong the life of your copier until you've done your research and found the best copier repair service.
Why would we recommend other companies in Las Vegas?
It's simple, if we can do one thing for potential customers, it would be to educate them on all of the other copier repair service providers in Las Vegas. And in return, if we could ask them to do one thing, it would be for them to review all of our competitors before coming to see us. We are sure they will see a major difference.
What makes a good copier repair service in Las Vegas?
For starters, you want a service technician to respond to your needs quickly right? So it's important for a service provider to not only have enough technicians in the Las Vegas metropolitan area, but there should be a good ratio of how many technicians they have on staff to how many customers they are responsible for servicing. And how do you check this? Well, it's easy. Ask them what their average service response time is. Every good copier repair service should know this stat and they should be managing to it.
What does that mean?
The industry average service response time for a copier is 4 hours. That seems like a long time, especially if that's just for them to contact you. You will still need them to diagnose the problem and then fix it. If you are a small business and rely on one device to do all your printing, scanning, and copying this amount of downtime may be hard to swallow. So if they are a good copier repair service, have enough skilled technicians distributed throughout Las Vegas, and the right amount of replacement part inventory, they should be able to beat this industry average.
Every copier repair service will tell you that they provide their customers "exceptional" or "quality" service. So what does this mean? Have them explain it to you. Can they back up what they are saying to you with a testimonial or a reference? How about how they measure their "exceptional" service. By finding out how they define this, you can find out if this is real or just some bull$%*! They tell everyone.
Now that they've satisfied you of their ability to provide you an adequate response time, what about their ability to actually fix your copier or printer? Are they authorized to fix your brand and model of machine? Watch out for those repair companies that are "experts" on all machines, but masters of none! They may tell you that they can fix your machine, but if their service personnel isn't certified to work on it, this is going to rack up time or more problems which will always affect the cost of repair. Don't be afraid to ask for their service personnel's credentials. When you go to an emergency room, you expect to see a doctor, not a plumber. Their service technicians should be trained and certified on your brand machine and receive annual training and updates on the latest hardware, firmware, and software.
You should also ask if they have the ability to perform remote diagnostics. Some of the best companies in the repair business have technology that can provide them with updates on the performance of your copier or printer and many times can identify problems and fix them before they become a major issue or will send out their service technician to check the machine for a potential problem—that's a great benefit to most businesses.
What about price?
If there's one thing we all know about copiers it's that they will eventually break down. This could be due to normal wear and tear or improper use by your own office staff. The new multi-function printers and copiers today are made to last. We have many machines in the field over 12 years old and they are still functioning properly. But as they age they are going to need cleaning, preventative maintenance, and service. So instead of waiting for them to break down and paying each time they do, weigh the pros and cons of a regular service contract once you've decided on the best copier repair service in Las Vegas.
You can always read more here on How to Choose Reliable Copier Repair Companies.
Copier Repair Service Companies in Las Vegas, Nevada
Copier Solutions
Located in the city of Henderson, Nevada just south of Las Vegas, Copier Solutions guarantees a 4 hour response time (if you have a service contract with them) and provides service for Toshiba and Sharp products. Ron Welter, the owner began as a service technician for copiers in Orange County California. They also accept all major credit cards.
IBS Copiers
Sell online refurbished PCs and Mac products, provide PC and Mac service and software, perform mobile device repair, and sell and service MFPs and printers.
Las Vegas Copiers, Inc.
Las Vegas Copiers provides service on most major brands of copiers and printers. They are an authorized Lexmark partner. They also rent and sell new and reconditioned equipment.
Sunrise Office Systems
They specialize in service and repair of all Xerox and Lexmark branded copiers and printers. They have both trained technicians and apprentices that work on both modern and vintage analog and digital copiers, but only as long as the parts are still available. They provide both preventive maintenance and emergency services.
The Copier Exchange
Specializes in servicing Toshiba copiers and is certified in many other major brands. They offer a few different maintenance plans and they provide both leasing and rentals for their copiers.
There's always the manufacturer too…
Don't forget, you can always call the guys that made your copier. Most of the major manufacturers have offices in Las Vegas, and depending on their schedule, they can send a service technician out to fix your copier or multi-function printer. If they don't have an office then you may have to find a local authorized dealer or use the information we have provided to choose the best copier repair service.
At AIS we have the stats to back up the quality levels of the service we provide our customers. In 2016, our service technicians made over 24,000 service calls and this number increases year after year. So while the total number of calls has increased, we have also managed to increase the overall percentage of "first call resolutions" (92% in 2016) while increasing the number of calls we resolved in 2 hours or less (over 12,000 in 2016). For any successful service-oriented business this is difficult to manage especially while growing your business.
Your copier is a vital part of your business. It manages the workflow of paper and electronic files and you're using it to present your customers with information about your products and services to generate revenue or manage the operations of your business. When it breaks down or is showing the signs of a breakdown, you need to know who to go to. If you're looking to identify the best copier repair service in Las Vegas, be ready to ask questions and research your options ahead of time—don't wait until it's too late…when it's broken down.