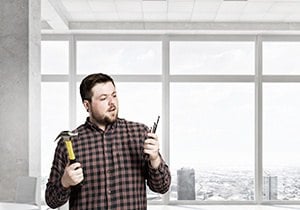 The brand(s) that your office equipment supplier partner provides has less to do with your businesses success than your partner's ability to provide excellent service for that equipment. We have five numbers on our website's homepage that represent our commitment to service – 30, 58, $10K, 120, and $3.8M.
Let me explain why these numbers are important.
First, I'm going to let you in on a not-so-secret secret: multifunction copiers, regardless of manufacturer, all do essentially the same thing.
Of course, there are differences. After all, you could say the same thing about cars – they all do the same thing. There are 4 wheels, an engine, seats, and a steering wheel to transport you from place to place. We all know that cars aren't the same – some get better gas mileage, you might need a minivan if you have a large family, and if you go camping then 4 wheel drive is a great thing to have.
Similarly, copiers vary in capabilities – speed, color or just black and white, a variety of extras (additional paper trays, folders, cutters, and more), different software, etc. Still, when you're looking to buy or lease office equipment, once you decide on the mix of equipment you need, there's an even more important consideration – the level of service you can expect from your copier service and maintenance or MPS (managed print strategy) partner.
You're probably thinking to yourself, "Who cares. It's just hardware, anyone can fix it."
If you are thinking that; you're wrong. Here's an article you might find interesting that discusses easily made mistakes when purchasing a copier, published by Medium, Top 4 Mistakes To Avoid When Buying A Copier Machine.
A Multitude of Manufacturers
Like cars, there are many copier manufacturers. And, while the equipment all performs the same task, the machines do differ. You wouldn't take your Ford to a Mazda repair shop – they wouldn't have the parts or expertise to do the best repair job possible.
Under the "hood," once you get beyond paper jams and cleaning the glass, troubleshooting for copiers is often manufacturer specific.
Read our article to learn more on copier manufacturers, Who Are the Best Copy Machine Companies — Mfrs. or Local Dealers?
Fast, Accurate Service
My point here is that you want a partner who is an expert at servicing the products that you buy and/or lease. Because here's another secret that's not a secret, copiers will break – they'll jam, they require regular maintenance, and software and network connectivity add an additional layer of complexity (and another playground for Murphy to mess things up for you).
Those five numbers are directly tied to our ability to deliver fast, accurate service to our customers.
The Value of Experience and Training – 30 and 58
We have 30 factory-trained service technicians with 58 (and sometimes more) factory certifications EACH. This is an investment we make that has a direct impact on your productivity.
When our technicians look "under the hood" of the equipment they service, they know exactly what they're doing.
When talking about your office equipment and your business, read our article on How Your Office Copier Helps Your Company Succeed.
Warehouses on Wheels – $10K, 120, and $3.2M
We stock $10,000 in parts and supplies in each tech vehicle, more in some of the larger vehicles. This means we have the parts on hand to fix your issue in a single visit.
Across our locations in Las Vegas, Palm Desert, O.C., San Diego, Los Angeles, and Riverside; we maintain 120 days of stock in our warehouses for a total of $3.2 million in equipment and supplies.
Here's why we make that investment – it means if your equipment breaks, we'll have one readily on hand for a quick replacement so that your business doesn't lose productivity. It means enough parts and supplies so that we can get your office operational again in hours or within a day rather than a few days or a week.
All of this comes together to create a great first call resolution rate for our customers (we come out and fix it in one visit). That means better productivity for you.
Visit our Office Copy Machine Ultimate Resource Page for additional info on pricing & costs, and just about anything else copy machine related.
AIS takes pride in not just the services we provide for our customers, but the knowledge and resources we continue to share with our community. Whether you're a customer of ours or not, we want you to be the most informed of any purchasing decision you make about your office technology. If you're interested in learning more about office copier repair companies, or any other services we provide, reach out to one of our business technology consultants, here. Also, check out our video channel on YouTube, The Copier Channel. We're here to give you peace of mind to help you win more business.