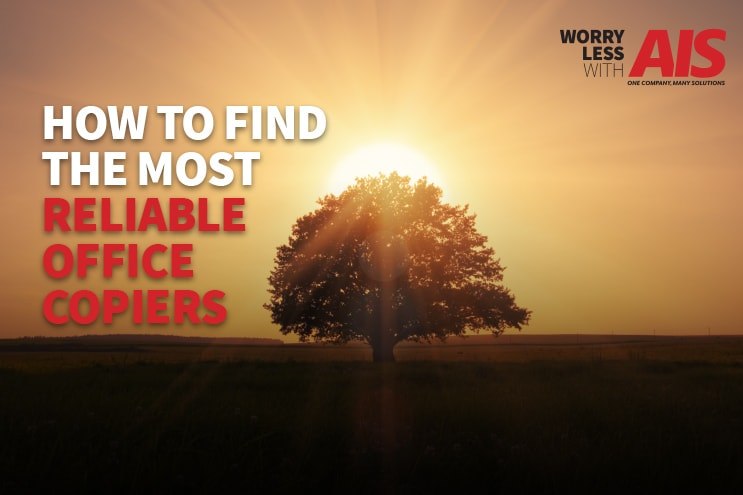 READ TIME: 5 MINS.
Reliable office equipment is essential to your company's success. But how do you find the most reliable office copiers or printers? Without a dependable copier machine, your ability to produce the work your business needs, such as printed invoices and marketing materials, will be severely limited. Also, your expertise to train your staff could be hindered without the ability to print content.
Have you asked yourself or your staff, "How do I find the most reliable office copier?" Fortunately, there are some simple measures you can take and how these steps can help you avoid certain office technology pitfalls.
It might seem challenging to find the best office copier for your business because there's so many options to choose from. It's important to first analyze what features you need and the specific types of content your business is printing, copying, scanning, and faxing.
One of the biggest mistakes you can make is purchasing an office copier that can't provide you the tools your business, employees, and customers need.
Follow along through our 5-Step Guide in finding the most reliable office copiers and how to determine which technology features support the growth of your business.
Finding The Most Reliable Office Copier: "What Steps Do I Take?"
Your office technology is one of the most essential moving parts to ensure your business operations are running smoothly and efficiently. When your copy machine breaks or malfunctions, how much downtime can your small business afford?
We can easily answer that for you and say that any downtime is not only inconvenient, but can also jeopardize sales or revenue.
So when it comes to purchasing a reliable office copier, how can you be so sure that you're choosing the best one? What features are essential for your business, employees, and customers? What are the costs associated with the printers and copiers you need?
If you've asked yourself any of those questions, it's a great time to learn a little more about finding the most reliable office copier and how these office products and technology can improve your business and operations.
Step One: Don't Get Stuck on Brand Names
It's significant to make a conscious effort to try and resist the urge to only look for a particular brand of office copiers. Today, most office-focused printers are digital and multi-functional. They can scan, copy, print, fax, download, and email—regardless of the brand.
Many well-known brands also offer extra features or add-ons that can cut costs and improve productivity. Some of these features include:
Wireless connectivity
Cloud printing
Image editing
Security features
Energy savings
One of the biggest mistakes people make when buying a copier is to go with a brand name they recognize. The truth is that most modern production brands perform the same tasks and possess similar features, regardless of the name.
Shopping for copiers based on brand name alone can lead to pitfalls:
Overspending on a leading brand copy machine that does not meet your needs
Frequent expenditures on costly parts that exhaust your budget
Lengthy downtime as you spend hours or days waiting for service or parts
Step Two: Make List For Prospective Office Copier Providers
Preparation is key when discussing your copier needs with prospective suppliers and a list of questions to ask them is a great way to achieve your office technology goals.
Your conversations with vendors will provide valuable insight into their approach to customer service and support.
Your time is valuable, so make sure you are prepared well in advance with a list of key questions to ask prospective copier suppliers. As you prepare your list, make sure to include the following critical topics:
Of all the current models you supply, which models are associated with the fewest problems and repair visits?
What features do I absolutely need that your products have, such as black and white or color printing? Do you have a copier machine that can handle a high volume of prints, or a machine that prints a certain number of pages per minute?
What is your average service response time when a problem happens with any of the copiers you sell?
Do you keep fundamental parts in stock for the top models you recommend?
Are you able to complete most of your service calls in a single visit?
Step Three: Keep Your Budget in Mind
It is always a good idea to touch base with your CFO, CEO, or purchasing manager to get an idea of your copier budget before you launch an exhaustive search.
Knowing what your company can afford to spend on a copy machine will help you narrow your search options, weeding out ones you know are out of budget.
When discussing budget with your purchasing decision-maker, it's important to consider any applicable installation costs, maintenance visits, and repair costs. Remember that no two vendors are precisely alike in terms of their pricing, fees, and service terms.
While some vendors include installation and maintenance costs within the total cost of the copier, others treat these as additional services that could come with a hefty price.
Step Four: Utilize References and Online Reviews
Before you settle on an office copier or multi-function printer, you should request references and check them carefully. Then, take some time to conduct an online review of the top models you are considering as well as the companies you're thinking of choosing.
Five-star reviews, reports of rapid service visits, and high levels of satisfaction with remote support are all convincing signs that you have found a reliable copier and office copier dealer.
Screening for red flags is just as important as keeping your eyes open for positive feedback. Frequent copier breakdowns, poor vendor responsiveness, and reports of sub-par support are all indications that you should strike a vendor or a prospective model from your list of options.
Also, make sure you always ask about adherence to promised warranties and follow through on guaranteed annual maintenance packages.
To learn more about the importance of reviews when purchasing an office copier, read our article, I Need a New Copier: How Do I Find The Best One?
Step Five: Visit Top Office Copier Suppliers
Once you've completed the steps above, your list of prospective copy machine vendors should be whittled down to just a few providers. Carve out some time in your schedule to pay a visit to each of your top three suppliers so you can assess their commitment to service and quality.
A face-to-face visit plays a key role in helping you finalize your selection and will provide an opportunity for you to establish a comfortable working partnership with a copy machine provider.
Here are some notable things to look for when you visit the top suppliers on your list:
A robust warehouse inventory: Look for providers that keep plenty of copiers, replacement parts, and consumables (such as toner cartridges) in stock.
Plenty of technicians delivering support: Technicians should be hard at work, providing onsite, remote support to customers.
An organized facility: A clean, well-organized, climate-controlled workplace typically reflects a commitment to a high level of quality control.
Multiple locations: A convenient location is essential to delivering swift support and service to customers.
Professional workers: Employees should be well-groomed, respectful, and helpful to you as you walk through their facilities.
The ability to touch and operate models: Top suppliers will offer you the chance to demo the copiers you are considering.
What's Next? Reliable Office Copiers

As outlined above, it's up to you to play an active role in finding a dependable multi-function or wide format printer for your office. The secret to achieving this goal lies in choosing the office copier that you can easily care for and regularly maintain.
The single best way to do this is to find a reputable copier provider that is known for delivering superb support and preventative maintenance. Even if you're happy with your current provider, it doesn't hurt to see what others can provide you or keep yours in check with their pricing.
To learn even more about everything associated with office copiers, check out our Ultimate Office Copier Resources Page.
Whether you are just embarking upon your search for a copy machine or have narrowed the field of suppliers to the cream of the crop, our team of office copier is ready to help you find the most reliable copier for your business, customers, and employees. We invite you to reach out to one of our business technology consultants, here, to receive the support you need to make an informed purchasing decision. Also, check out our video channel on YouTube, The Copier Channel. We're here to give you peace of mind to help you win more business.