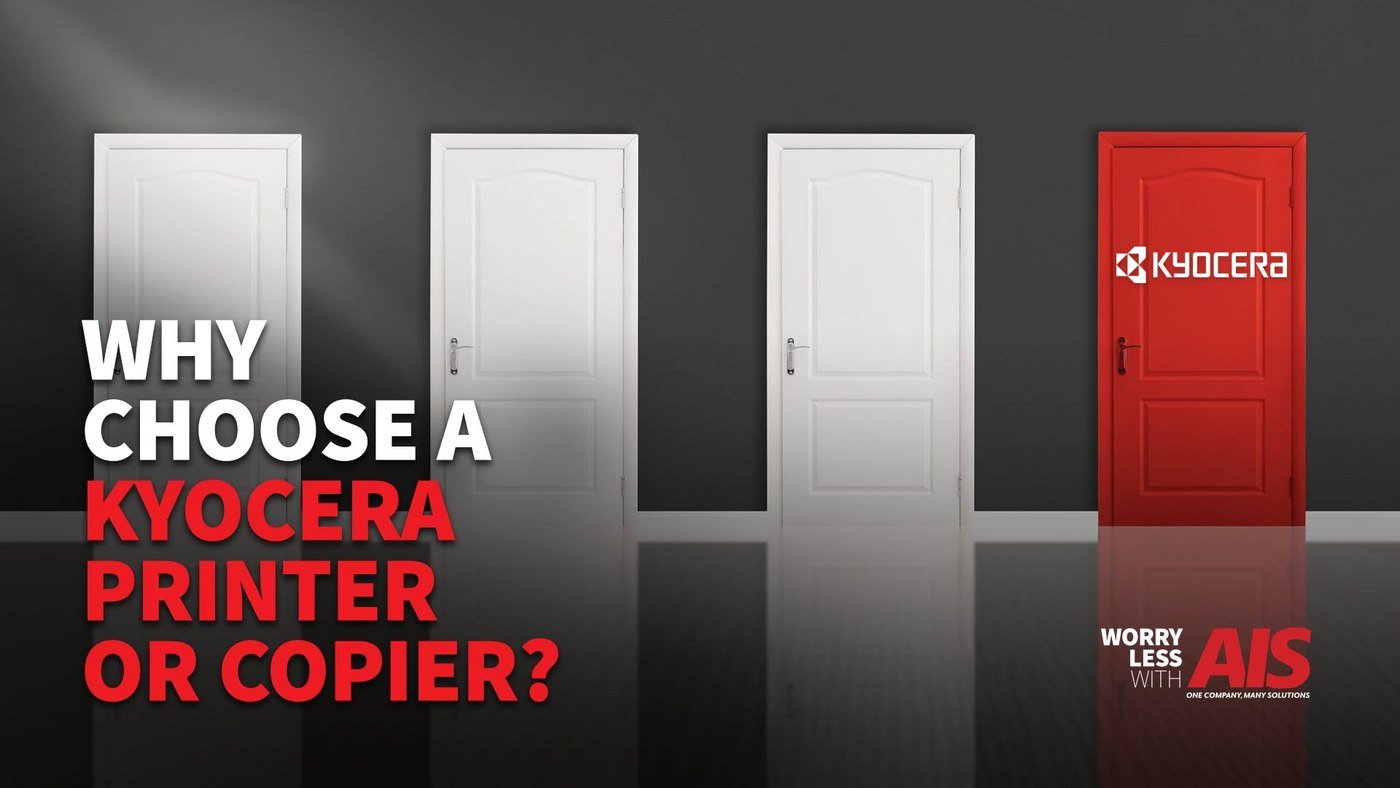 READ TIME: 4.5 MINS.
When you think of office copier brands, are there any names that come to mind? What about Kyocera? If you've never heard of Kyocera or it doesn't quite ring a bell, hear me out.
Maybe you stumbled upon this page because you need a new office copier and unsure which one to choose or which brand is best for your business and employees.
So, why choose a Kyocera printer or copier? Although there are many options to consider, Kyocera devices are great all-around machines for just about any organization.
We're here to provide you a summary of the benefits you'll notice when choosing a Kyocera copier or printer for your office and how they're unique from the others. Instead of comparing the brand to others, we want you to see the direct differentiators that help make your day-to-day operations run more smoothly.
Here's Why You Should Choose A Kyocera Printer or Copier
Kyocera's been in the office technology space for a while now (about 60 years), and here's a little background to better understand the brand. Kyocera is an award-winning printer and copier manufacturer and one of the top brands globally.
In its early days, the company focused solely on producing industrial ceramic products. But today, Kyocera has expanded into multiple markets, such as office technology (copiers and printers). Kyocera got into the printer business about 20 years ago and, ever since, has been a brand favorite for offices around the globe.
Like most top brands, Kyocera manufactures a wide variety of laser and multifunction printers (MFPs) that include faxing, scanning, copying, and printing. Overall, the printers have a reputation for being extremely reliable, easy-to-use, and proficient at delivering high-quality prints in large volumes.
So, what about the operating costs? Kyocera products have a novel advantage as their devices use something no other brand does: ceramic drums. These ceramic drums use less energy and heat, saving you money. This is a natural for Kyocera, because it relates to something they are experts in and are part of their core business—-ceramics.
Not to mention, ceramic particles are added to all toner supplies to clean their copier drums. Because of this excellent solution, Kyocera devices don't typically require as much servicing and their drums last longer than other popular brands since they require less electricity and heat.
Key Differentiators of a Kyocera Printer
There are so many differentiators that set Kyocera apart from all the others. But, we're listing a few of the most common ones below that apply to just about any size business looking for their next copier or printer.
Sustainability For The Environment
Kyocera's ECOSYS line of printers and copiers is intended to reduce environmental impact and minimize running costs. These office copiers are built to use as few consumables as possible, which means less maintenance, lower operating costs, and easier recycling of used components.
For example, when your toner cartridge runs out, you can recycle it! Drop it in any recycling bin in your office. Most other toners from other brands require you to send the toner back to the company for safe disposal.
Caring for our environment isn't something we tend to focus a lot on. But when partnering with a Kyocera manufacturer or local authorized Kyocera dealer, you're protecting the environment without having to do any extra work.
Continued Reliability
Each year, The Buyer's Lab recognizes and awards MFP (multifunction printers) manufacturers who demonstrate industry-leading technologies. BLI is known as the premier independent equipment review company.
Low and behold, Kyocera continues to win this award year after year based on their entire line of copiers and printers comparing, calculating misfeeds, reviewing service interventions, and testing total impressions.
Not to mention, Kyocera's TASKalfa line of high-production color copiers are also known for their above-average performance in image quality, speed, and multitasking capabilities.
Cost-Savings
Kyocera offers a low overall cost of ownership compared to most other brands, like Sharp or Canon. That's due in large part to the way its products are designed.
Typically, laser printers have imaging cartridges that integrate a drum, developer, and toner into one unit. This type of cartridge means it has to be replaced each time the toner runs out, which can be a total pain for high-volume producing machines.
As we mentioned earlier, the Kyocera ceramic drum is separate from the toner cartridge—designed to last the printer's life. This could mean up to ten years!
Using these innovative ceramic drums means less money is wasted when printing, copying, scanning, and faxing. These drums are also very durable, resistant to wear, and considered a value for the money spent.
Utilizing this toner and parts technology is viewed as a way to save costs overall. So, if you are still using an older machine, this is an area where a Kyocera printer can save you money on your overall print costs.
There are also savings on the software side too. Kyocera has a sophisticated application platform called HyPAS™ (Hybrid Platform for Advanced Solutions) that expands the capabilities of your office copier or printer. This type of platform not only streamlines your daily business processes but also improves workflows throughout all your departments.
Just like our smartphones, these apps allow total customization for your printer or copier, so your needs are perfectly met. How nice is that? Whether you require linking to your cloud storage or need scanned documents sent to an external network drive, Kyocera has an app and has you covered—-even industry specific apps for education, legal, healthcare, etc.
Next Steps For Buying Or Leasing a Kyocera Printer
To be honest, I could go on and on about the key differentiators that stand out when it comes to Kyocera products for your business. However, that's something you can easily discuss during your meeting with your local and authorized Kyocera dealer.
But how can you get to this point? It's easy! Reach out to your local copier dealer so that you can start on your technology solutions journey. It's as simple as doing a quick Google search of "Who's The Best Copier Company In Las Vegas?"
A well-qualified and experienced team of professionals will assess and create a technology plan that addresses your business, employees, and customers' specific needs.
At AIS, we want to help! We're a total office technology solutions provider dedicated to helping your business grow to new levels. There are so many products out there that it sometimes feels overwhelming to figure out which ones are best for your organization. Now is a great time to turn to us and design a technology roadmap so you can continue on your path of growth and success. Reach out to us today to learn more. We're here to give you peace of mind to help you win more business.