We often get asked this question on which copier is better. It usually depends on who you are talking to because everyone has an agenda, or information can be manipulated to skew one way or the other. So, are you talking to Sharp, an Authorized Sharp Dealer, or are you asking a response from someone that represents Kyocera? Isn't a better question, which is better for your business?
To answer the question which is better, Sharp copiers vs. Kyocera copiers, you need to review as much information as possible, then decide what is more important for your business.
Is it the company, the features, the cost, etc? You will then weigh these answers on how important they are to you and your organization, now and in the future. This is very much the same when buying a laser printer (Buying a Laser Printer – The Problem Might Be You).
Let's start at the beginning.
The History of Sharp
Sharp Corporation began in 1912, in Osaka, Japan with their founder inventing the snap belt buckle (no fastening holes in the belt). In 1925, they began mass producing the first crystal radio in Japan. In the early 50's Sharp produced the first Japanese manufactured television and began mass producing them in the early 60's. In 1961, they were the first Japanese company to develop a microwave oven.
In 1962, the company established its first overseas subsidiary (sales) as Sharp Electronics Corporation in New York City. After becoming a leading manufacturer of home appliances, Sharp began making microprocessors and calculators, and in the early 70's they entered the photocopier business.
In 1979, they opened their first overseas manufacturing facility in the U.S., located in Memphis Tennessee where they began making televisions and microwave ovens.
In the 1990's Sharp released the world's thinnest fax machine and a convection microwave oven. Sharp over the years has made many different types of consumer and industrial electronics including, TVs, VCRs, cd players, calculators, audio equipment, microwave ovens, home appliances, solar cells, mobile phones, fax machines, and more.
Sharp continues to be a world leader in manufacturing consumer electronics. Today, Sharp is well known as a leading manufacturer of televisions, microwave ovens, and copiers.
The History of Kyocera
Kyocera was founded in 1934, in the city of Kyoto, Japan. It was originally named Kyoto Ceramic Company, Limited. This is because it began making ceramic insulators for television picture tubes.
Kyocera has been an expert in working with and manufacturing products with ceramics since its inception. It manufactures everything from industrial ceramics, telecommunications equipment, electronic components, semiconductor packages, components for medical and dental implants, copiers, and printers.
It even makes consumer cooking items from ceramics like pots, pans, and many cutting devices like complete sets of knives. Hence the name Kyocera (Kyoto + Ceramics). Over the years, Kyocera has acquired many different manufacturing companies like Yashica, KLH, Cybernet Electronics Corporation, Mita, AVX Corporation, Sanyo Mobile, etc. that complimented their core business and allowed them to enter into new markets.
For example, they acquired Mita Industrial Company in 2000 to enter into the photocopier business and then reengineered the copier by manufacturing a ceramic drum (less energy and heat) and added ceramic particles in their toner (cleans the drum as it's used) resulting in a better marketable product.
Copiers Head to Head
Today, most copiers have similar functionality, so manufacturers have found other ways to make these devices add more value in the workplace.
We could just provide a checklist of all of the features of each of these copier manufacturers, which both Sharp and Kyocera are capable of, but even then this becomes even more difficult when you compare different models that have different speeds, costs, features, and optional accessories.
Instead, we are going to describe their key differentiators for their product lines.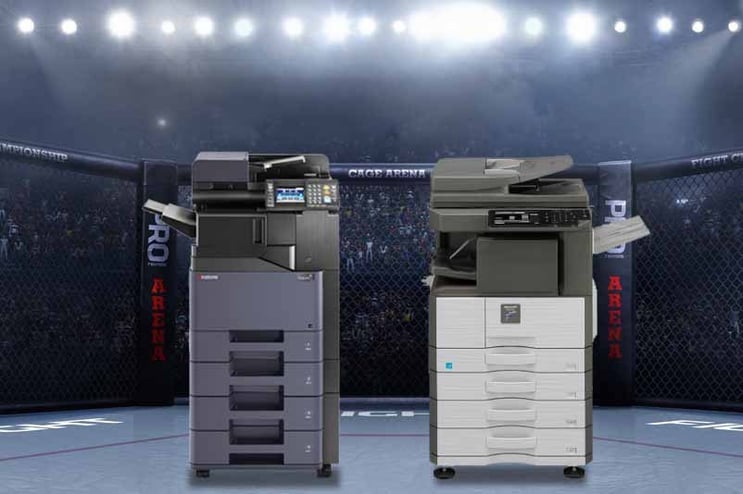 Are All Copiers Created Equal When it Comes to Hardware?
I know I mentioned that most copiers are much the same when it comes to hardware, but there are just a couple of differences when it comes to the hardware of Sharp Copiers vs. Kyocera Copiers.
Sharp copiers come with a fully integrated keyboard built into the machine. Sharp has made it easier for users to send documents via email, entering data, or configuring their systems by adding a full retractable keyboard.
Most of the other manufacturers provide this as an option, but Sharp has made this a staple of their copiers. More applications today ask you to enter metadata or content when scanning, storing, and distributing documents.
This keyboard makes it much easier and more accurate. By having an actual keyboard instead of typing on a touchscreen or using an optional keyboard that you may have to find a place for it to reside near or on your copier, this is a much better solution.
Kyocera has an advantage in hardware serviceability and costs based on their hardware technology. In fact, when compared to Sharp, they need to be serviced 1/3 as many times.
The Sharp copier's drums (black & white and color) and rollers need to be serviced or replaced at different time periods (copy or print intervals). Since their drums are made from ceramic material, it's a much tougher material, resulting in longer intervals between service.
On top of that, they add ceramic particles to their toner to clean their copier drums while they are working. These add to lowering the overall operating costs of Kyocera copiers over the lifetime of the equipment.
This is a hidden saving or cost depending on what brand and model copier you are looking at that most business buyers don't even consider when purchasing their next copier.
One last item about Kyocera copiers that sets them apart from Sharp copiers is that they have probably the most stringent sustainability program. They are as close as they come from a true "green" manufactured product.
From the "origami" like folded cardboard packing materials for every one of their devices to the ability to toss their used toner bottles right into your recycling containers.
Differences in software applications strategy and platforms
Sharp has created something called Sharp's Opened Systems Architecture or "OSA," that allows other third-party technology developers to design and integrate software applications with their Multi-function Printers (MFPs). MFP is just another name for a copier.
To learn why, read "What's the Difference Between a Copier and a Multi-function Printer."
Technically, this used to be a Java-based software which took more development and programming to integrate with, but has since been simplified to a web-based platform which even supports cloud-based applications that has opened it up to many developers.
The platform today is a lot like a small, private version of the AppStore for Sharp copiers. It has hundreds of developers and apps so that you can find just about any application you may need for your business.
Part of this strategy included Sharp providing a free of charge software development kit (SDK) to potential partners for companies to develop software they could market and sell to any of Sharp's customers.
The only downside for this "open" platform and the use of these types of applications, is that in human resources, financial, or medical offices requiring to meet HIPAA compliance standards for privacy, it's less secure.
Kyocera has a similar application platform. It's called HyPAS (Hybrid Platform for Advanced Solutions). The strategy is very much the same of Sharp's application platform where they have software applications that create more value in business applications.
However, there is one major difference. They allow apps to be created in the web-based, open architecture platform, but also allows applications to be created in a Java-based environment where more secure apps are needed to meet special security needs or to meet tight compliance requirements.
To make this easier to understand, when using low-level business applications to scan, share, or distribute documents across your network or even sharing information in the cloud, you would be using their HyPAS web-based applications.
Any application that is working with more sensitive data like your customer contact database, CRM, financial information, SAP and logistical data, etc. you would be using applications developed with their java based platform.
At AIS, we've done our homework so that our clients don't have to. We decided to partner with and represent the best copier manufacturer for any business. To find out how other copier brands compare, please contact one of our business technology consultants using the form on our homepage or just use the chat window.