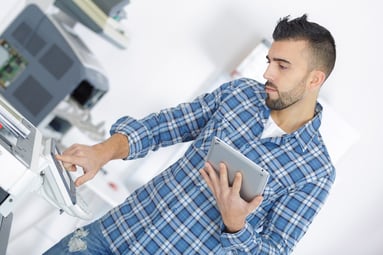 When you're looking for a new copier or multi-function printer in Las Vegas, you want to make sure to choose the best company. Whether you are going to purchase a copier or lease it, it's like buying a new car—you're going to be using this machine for years, and you want to make sure it's going to last.
Do you need a new copier or printer due to increase in business growth? Do you need more functionality like stapling, folding, etc.? Is the company that's servicing your copier not responding fast enough to meet your expectations? Or is the existing machine on its last leg and ready to be put out to pasture?
These questions are what brought you to this decision, but now you need to decide where you're going to purchase a new copier or printer from. If you want to get the lowest price, you're going to need to know who the players are and ask for multiple companies to bid for your business.
Researching the Right Company to Buy From: Who are the players?
In Las Vegas, you have two different types of companies where you can go to buy a new copier. First, there are the copier manufacturers. Each manufacturer has some type of business presence in Las Vegas.
Most of them have a sales office including installation and support personnel. Since we are in the business of selling and supporting copiers, all we ask is for a place at the table.
It's in our best interest to provide our clients and potential customers with honest and unbiased information to make them a more informed buyer.
Here's a list of some of the best copier manufacturers in Las Vegas and Clark County Nevada.
Copier Manufacturers:
Canon: A Japanese company with headquarters in the U.S. as Canon, USA. Canon was an early maker of copiers. They specialize in optical, imaging and camera products. They are one of the most popular brands in photocopying.
Xerox: A USA brand and company, with headquarters in Norwalk, Connecticut. They are a household brand synonymous with the name "copier." They have one of the widest range color copier models.
Ricoh: A Tokyo, Japan based company with regional headquarters in the US as Ricoh USA, Inc. for the last 50 years. They introduced the fastest digital color printer (15 pages per minute) in 1990.
Konica Minolta: Another Japanese company that began, and is well known, in the photo or camera imaging business. All of their photo copiers use a single platform called "Bizhub."
You will also find local authorized copier dealers in Las Vegas. These local companies may represent one or more different copier or multi-function printer brands of equipment and have built their business on servicing local businesses providing exceptional price and service.
Local Authorized Copier Dealers in Las Vegas
A-1 Office Solutions: A-1 Office Solutions provides copiers, printers, MFPs (multi-function printers), scanners, fax machines and shredders in the Las Vegas market and represent the Copystar and Xerox brands.
Alternative Office Systems (Office1): Alternative has been in Las Vegas since 1982. They are locally owned, operated and recently changed their name to Office1. They provide copiers, printers and other IT services.
Las Vegas Copiers, Inc.: Las Vegas Copiers is a locally owned and operated business. They represent brands such as Canon, Xerox, HP Sharp and Copystar. They provide copier products, services, printers, and shredders to the local market.
Les Olson Company: A Utah based company, has established an office in Las Vegas. They represent Sharp copiers and HP printers.
A recent study of hundreds of businesses detailing purchasing decisions for a new copier or multi-function printer found the perception was they could receive a better price from a manufacturer than their local dealer, and that just isn't true.
Authorized local dealers and manufacturers all receive the same wholesale price, and in most cases, you can achieve more competitive pricing from a dealer since they have lower overhead.
And when it comes to service, depending on the size of your business, you may find their overall service is better since you may be considered a small fish to the larger businesses in the city of Las Vegas.
To learn more about why you might consider purchasing from a local authorized dealer, check out this article. And don't forget to ask if they have a local showroom. I don't know about you, but I want to see what I am buying.
Questions to consider when considering the best copier business in Las Vegas:
How can you make sure you get the best price? Ensuring it's Apples to Apples and not an Apples to Kumquats comparison!
Do you have a list of all the features you are expecting your new copier to do? If multiple companies bid for your business (which is a great idea to get the best price), make sure you have them all bidding with the same features (speed, cost per copy, stapling, folding, etc.).
Some other important area to consider about price:
Do they offer both a lease or purchase price?
What's the total lease price or the total purchase price?
What can your business afford?
What's the length and the interest rate on the lease?
Is there a buyout at the end of your lease, or do you just keep the copier or printer?
All copiers do 3 things: Copy, mis-feed and jam. You're going to need a maintenance contract, so what's that going to cost?
With every purchase or lease of a copier, you are going to need to pay someone to maintain the hardware. So how do you decide on the best copier service company? Well, we have provided you some areas to consider?
What's the cost of the maintenance contract? How long does it last? And what does it cover?
What's the cost per copy? Also referred to as the "CPC."
Are there monthly volume limits? For copies (black & white and color).
How are your monthly volumes reconciled by the company?
Is there a charge for scanning? There usually is, since there are moving parts in the scanning mechanism of a copier and it's going to need maintenance over the life time of the copier.
Is there a warranty? What does it cover?
The current industry states a standard response time of 2 hours. How long does it take for the company to respond to their current service calls?
What's the fastest way to contact them when I need service? By phone, email, text message or fax? Do they have a chat feature on their website? How about after hours service?
Does the company have service metrics on the quality of the service they provide to their current customers and they are willing to share?
How many service technicians do they have to support Las Vegas and how are they trained?
How large is their inventory of parts and equipment?
What other services can a Local Authorized Dealer Provide Your Business?
Does the business provide any other services that you could take advantage of or maybe receive more affordable pricing by combining services? Some local authorized dealers offer other services like:
Phone systems (VOIP and Datacom)
Outsourced IT
Managed Network Services
Content Management and Security
Strategic Solutions Planning
Managed Document Solutions
So how do you find the best copier in the Las Vegas market?
Do your homework. Our customers at AIS have done just that. They ask questions about the price, how many customers and machines we service?
Don't be afraid to ask tough questions like:
What's the average time it took to respond to their customers last year? How accessible is their technical support staff? More specifically, how many different ways can you reach their support team when you have a problem?
How many technicians do they have to service your market and how skilled are they (how many certifications do each of them hold?)
How much inventory each of their service technicians carry on their vehicle at any given time—this is very important to provide you with a quick resolution, to minimize any down time.
Do they support other customers in your same industry? If so, how have they helped them and ask for some references (your competitors may not want you to know how good their copier company really is).
What other technology do they use to ensure they are providing you the highest levels of customer service? And what are they reinvesting in their business to support your business over the next 5 years (the normal length of a copier contract)?
Ask them what their "Net Promoter Score (NPS)" is. You know, it's how likely their customers are willing to refer them as a company. Most serious brands have one and companies like Netflix, Apple and Amazon all have scores between 68-70.
By taking a little time and doing your own research, you'll not only get a very competitive price on your next copier or multi-function printer, but you will find the best copier company in the Las Vegas market to support your business today and tomorrow which could actually add to the bottom line of your business.