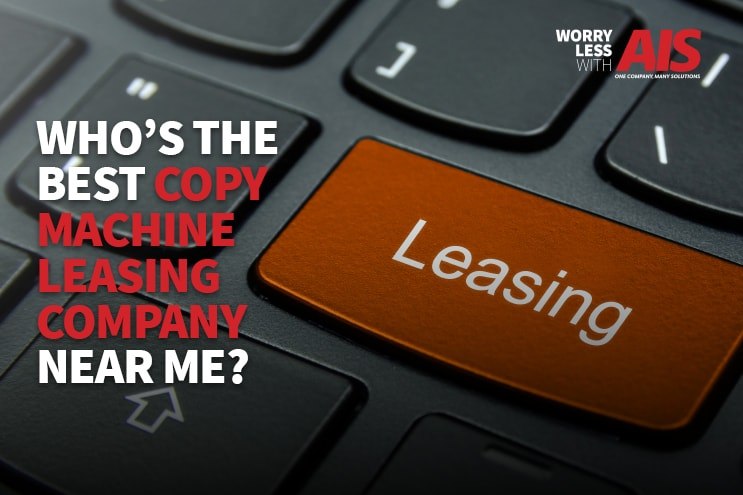 READ TIME: 5.5 MINS.
Enhancing your productivity and efficiency in the office can be achieved with the right tools, such as reliable office equipment. Because of this, maybe you've been asking yourself, "Who's the best copy machine leasing company near me?"
In our opinion, one of the greatest gifts you can give your business, employees, and customers is a trustworthy and technologically-advanced copy machine.
Today, a copy machine can copy, print, scan to email and the cloud, and fax. Yes, we said fax! Believe it or not, many businesses still utilize faxing. Modern models of office copiers are also energy-efficient and even have simple, user-friendly, touchscreen interfaces.
If you're in the market for a new copy machine, you're probably wondering where to begin when looking for the best one. And then you need to decide on your leasing options. Most businesses today lease their copiers due to the attractive monthly low rates.
But first, make sure you read up on the advantages of leasing. Once doing so, you'll now have to decide how to finance your new copier machine.
With several leasing companies and different options on the market, you need to find the best deal for your small business. Along with this article, Entrepreneur published an article on equipment leasing you might find helpful. You can read it here.
So, let's dive in! Follow along as we help guide you through the decision-making process when it comes to finding the best copy machine leasing companies near you.
The Best Copy Machine Leasing Companies
All equipment leasing companies provide different rates and services. Before signing up for a lease, you should find out the prices on various products and customer service.
We listed some equipment leasing companies who could help assess your leasing goals and provide you with the financial services you might need:
Great America.

Great America is a national provider of commercial and technological financing and equipment. Great America provides flexible financing programs. These include Fair Market Value (FMV), skip payments, and rental agreements. Great America works through partners who deliver their equipment directly to clients.


Learn more about Great America's take on the financial services of leasing by reading their article,

Office Equipment Leasing 101: An Introduction to Lease Financing

.



Wells Fargo.

Wells Fargo provides equipment leasing through vendors. Aside from submitting your details, Wells Fargo may also require details on your income, profits, and losses, and tax returns. However, once your application goes through, you can acquire financing for your copier machine.



Marlin.

Marlin Leasing Corporation is a subsidiary of Marlin Business Services Corp. It provides financing for commercial equipment to small businesses across the country. The company also owns a bank, the Marlin Business Bank, where they acquire funding for a variety of financial programs.



LEAF.

LEAF Commercial Capital Inc. provides financing, leasing, and note origination servicing. The People's United Bank acquired LEAF in 2017. LEAF offers flexible financing options for office products, medical, industrial, and technology equipment.
Most of these companies have current relationships with office technology companies (copy machine dealers) so you can access their financing rates, terms and plans.
How To Choose The Best Dealer to Lease a Copier
Now that you have an understanding of the companies who could help you lease a copy machine, it's time to explore how to choose the best copier leasing dealer.
Your business is different from any other business out there, right? Finding a company to partner with that can assist and cater to your specific needs is imperative for the success of your organization.
Take a look at some of the best ways we qualify a great copy machine leasing company, regardless of the industry or size of your business.
Flexible Leasing Solutions
It's necessary to find a dealer with flexible leasing options. The dealer should be able to work out a deal that meets your company's needs. Flexible financing options include flexible rates according to your financial status.
For example, you can pay low rates at the beginning and gradually increase the amount as time progresses. The dealer should also offer mid-term upgrades without early termination fees.
100% Financing Services
Paying for your copier or printer is only one part of the process. It would be best if you also considered regular maintenance and transportation costs to your business premises. It is essential to find a dealer that provides a full package so that you can make one monthly payment.
Local Point of Contact
Finding a local dealer for your lease ensures that you can reach out as soon as your machine breaks down or when it requires maintenance. If the dealer is located close to you, you will also enjoy quick responsive times from their staff.
Excellent Customer Service
Poor customer service will not only irritate you but also contribute to your daily business stresses. Finding a dealer with exceptional customer service and compelling responses is critical.

Customer service is essential, especially if your dealer does not have a local office. The last thing you need is regular trips to the dealer's office to file complaints.
Variety & Choice
Like we mentioned earlier, there are many copy machine manufacturers in the market, which gives you a variety of brands to choose from. Some of the most common and reliable copier brands are:
Xerox

Kyocera

Sharp

Brother

Canon

Konica Minolta
To find the best office copier, make sure to look through different brands to see what they offer in terms of solutions and prices.
Consider an In-house Leasing Program
If you don't reach the financial requirements of commercial-based programs, try consulting with your dealer for an in-house leasing program. Going for a lease program from a local company or manufacturer also helps you promote the local economy while acquiring a copy machine at a great price.
Choosing an in-house leasing program is helpful because those companies typically have a better understanding of the different financial needs of all their customers.
A great copy machine leasing company will do everything in their power to ensure your small business can access the latest copy machines at affordable rates.
Monthly Pricing Factors: What Determines The Cost of Your Copy Machine Lease?
What kind of add-ons are you interested in? How many machines will your office need to utilize? Several factors go into the calculation of a monthly lease payment, all depending on the needs of your business, customers, and employees.
The Type of Copy Machine You Choose:

The most significant price determinant is the type of machine that you choose. For instance, a multifunction printer (MFP) will cost more than a typical black and white printer. Maintenance issues and associated costs with an MFP could also range higher because of the complexity of the machine.
The Number of Devices You Are Leasing:

Leasing several printers may have a lower cost per unit rather than leasing a single printer. If you are a large company, it is wise to acquire a lease for different machines from the same dealer to enjoy better rates.
The Leasing Period:

If you lease your printer for a more extended period, you lower your monthly payments and improve cash flow. Standard durations include 36, 48, or 60 months.
Negotiations:

Just as most business deals, leasing also has room for negotiations. Your dealer may change your monthly payments depending on your financial situation. Some lessors allow a gradual increase in monthly lease payments to give your business space to grow.
Copy Machine Leasing Companies: The Takeaway
Copy machine leasing is a dense topic. It certainly takes time and research when trying to find the best leasing company for your business needs. It's essential to weigh all your options and have a list of questions to ask each company you feel might be right for your organization.
Remember, the more educated you are on office equipment brands, financing options, and specific qualities of a leasing company, the easier the decision will be in finding the best copy machine leasing company near you.
To learn more about copy machines and anything else related to your office technology, visit our Office Copier Ultimate Resources Page.

At AIS, we're always looking for ways to guide you through challenging purchasing decisions with your office technology. Our goal is to educate and inform you on the best ways to find solutions to the most challenging problems within your organization. If you are interested in learning more about our in-house leasing agreements, reach out to one of our business technology consultants here. For even more information on the products and services we sell, visit our video channel on YouTube, The Copier Channel. We're here to give you peace of mind to help you win more business.