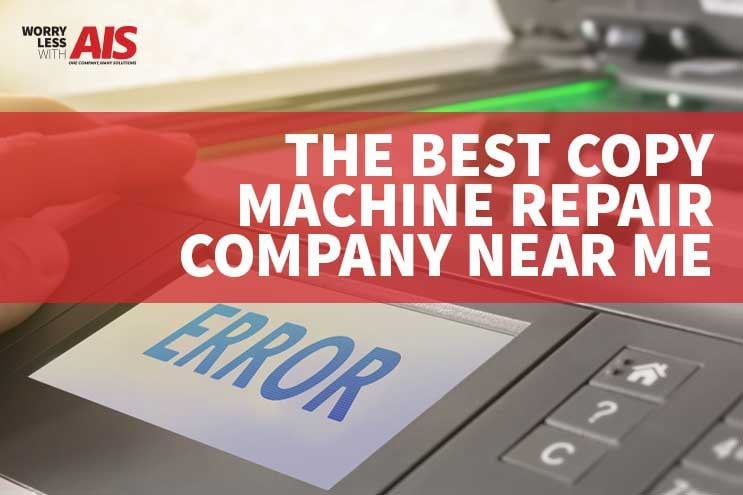 Uh oh… your copy machine broke, and you are yet again, looking for a copy machine repair company near you. We feel your frustration and as annoying as is it, it's inevitable that your copy machine is going to break. It's only a matter of time.
First things first, what kind of "break" is your copy machine experiencing? Is it a paper jam? Network issues? It simply won't turn on?
Before you decide which copy machine repair company is best for you, you've got to do a little assessment of the issue.
If you don't know how to recognize your copy machine issue when it first occurs, you'll want to read our article, The 5 Most Common Copier Problems and How to Avoid Them. This gives you better insight on diagnosing and identifying the problem.
After figuring out what specifically is wrong with your copy machine, you then might be wondering:
"What factors make a great copy machine repair service company?"
This is a pretty valuable question to ask because it's specific to your business or office needs. What about:
Are you interested in a copy machine repair company that's closely located to your business?
Are you adamant about receiving excellent customer service?
Does the repair company fix your issue within one visit of them coming out to your business?
In order to find the best copy machine company near you will need to find which one will suit your business and your needs. Take a look!
The Manufacturer vs. A Local Authorized Dealer: Which is better?
Choosing a manufacturer is a great option if you aren't worried about time or money. If you don't know who they are you should know who your is. Here's an article on all of the copier companies fighting for our business in Inc. Magazine: Copier Wars. The manufacturer is the direct source to go to since they are one of the most knowledgeable sources for your copy machine.
Manufacturers should be able to troubleshoot or do a quick diagnostic of your copy machine, find the parts, and get it fixed promptly. Right? However, there are a few things you should look out for when going to the manufacturer.
Sometimes, the manufacturer hires a third-party repair company that is responsible for all of their copy machine repairs that cover a specific location or territory. This could be more economical for their business, but if they aren't watching the service performance of the third party or closely monitoring customer feedback, this can quickly become a problem.
Also, if you've purchased a low-end copy machine model, or you're not a regular customer, you may be considered a "small fish" to the repair company and may not get the attention you deserve.
A local authorized dealer almost always focuses on customer service and support. Because this is what feeds their business and keeps it running. They usually have great relationships with copy machine manufacturers, so they typically have an inventory of parts.
The staff of local authorized dealers are well trained on a range of devices, so the repairs are usually quick and effective; getting your copy machine back up and running in no time.
Another great thing about a local authorized dealer is the requirements they must meet that deems them qualified to work on your copy machine. These requirements could be things such as purchasing volumes, support resources, training requirements, and customer service levels.
Make sure you research your location or area to see all the authorized dealers for your specific equipment and copy machine model.
What About A Copy Machine Repair Business?
These businesses typically fix many different types of office equipment. They may be quick to service you and are great at simple repairs. This is one of those things where it depends on what specific problem your copy machine is having.
Most of the time, they have general knowledge of many different types of equipment but are not experts on each device.
Another thing to consider is that they will need to go back to the manufacturer to order parts, taking up more time and money to get your copy machine working.
In some cases, this might not be the best option if you are in a crunch for time, or not interested in spending more than you have to.
Are They Really What They Say They Are?: What To Look For In A Copy Machine Repair Company
So now that you might have found a company to assist your broken copy machine, how do you know they're actually going to come through for you? Here are a few things you should want out of your copy machine repair company:
Response Times:

It's essential for a service repair company to not only have enough technicians in your area, but also a good ratio of how many technicians they have on staff to how many customers they are responsible for servicing. Don't be afraid to ask them what their average service response time is. Every

good

copy machine repair company should know this stat and should be proud to share it with you. The average service response times in this industry for a copy machine is 4 hours.
Exceptional and Quality Service:

No matter whom you go to, every copy machine repair company will tell you they'll provide you with the best service. But, can they truly support this claim? Ask them questions like:
How do you measure exceptional service?

Do you have any customer testimonials or references?

How long have you been servicing your longest customer?

What types of things do you do for your customers that keep them coming back for your services?
It's perfectly ok to dig a little deeper and ask them some tough questions. After all, this is your money you're spending. You have the right to do as much research as you need to.
Competitive Pricing:

Assessing the cost of service from the repair company you choose could be a bit tricky if you aren't familiar with the copy machine or the industry. This is when you should compare pricing from company to company. Maybe even ask other businesses near you what they pay for copy machine repair services. Try to get a feel of the market and the issues you're facing.
We've also published an article on Choosing the Best Copier & Printer Service: 7 Must-Haves. This article provides you with more aspects you should look for when choosing the best copy machine repair company.
With a little research and time, you will be well on your way to finding the best copy machine repair company near you. It just takes a little work!

AIS continues to strive for it's new and existing customers, making your printing and copying needs easy and stress-free. We know your busy work days are filled with meetings and appointments, making it almost impossible to focus on something like a broken copy machine. That's where we step in.
Whether it's informing you of ways to choose the best copy machine repair company, or guiding you to purchase a printer or copier that best suits your individualized needs, we won't let you down.
We're here to give you office technology that provides you peace of mind to help you win more business. Visit us here if you'd like to learn more about how AIS can further the success of your company.