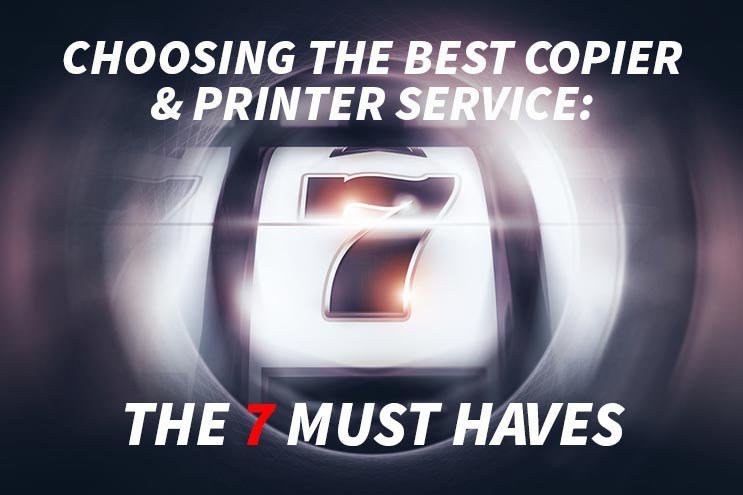 Are you currently searching for a new copy and printer service provider to assist your company's needs?
It's probably tougher than you might have imagined because of how many companies come up in your results when searching for their services online. Let's face it; you probably don't want to take the time out of your busy workday to read reviews and compare different companies you come across. Right?
Even though this process might feel time-consuming, it's imperative to do your research if you truly are interested in getting the best provider for your company.
You most likely have expectations when looking for the right copier and printer service such as getting the best bang for your buck by trusting the company you're paying for. Forbes published a great article on "Three Ways to Build Customer Trust," which we fully agree with and stand behind. Check it out, here! This is a service that comes directly from your monthly budget, and you deserve to feel assured that your copying and printing needs will always be taken care of by a reliable team of professionals who know exactly what they're doing.
In order for you to save time sifting through websites, here are 7 quick tips you can use that will help guide you in selecting a professional and effective printer and copy service repair provider that will be the best fit for you and your company.
1. Reliable Support and Resolution:
One of the most important aspects to look at when searching for a new copy and printer repair service provider is making sure your service technician is a trained troubleshooter, especially in instances that your machine is facing a small problem.
The service technician should be willing and able to reseat any software on the copier as well as having the skills to reprogram error messages that continue to pop up. Great service teams may also be able to assist your copier issues remotely or over the phone, saving you time and eliminating an on-site appointment.
2. Instant Response Times and Communication:
How long does it typically take for your service technician to contact you once you've placed a service call? A great service technician should be contacting you within 30 minutes of your service request, following an on-site visit within two hours or less, no matter what. Their job is to serve you and the needs of your machines.
Dealing with a broken or malfunctioning copy machine can really delay an office's work productivity, so it's important the service technician provides you with instant communication. Reading customer reviews is probably the easiest way to learn how quick a company's response time is. Or just ask for their average response time. Each dealer should be monitoring this on a continual basis.
3. Proactive Upkeep of Parts and Machines:
Just like people, copiers, and printers need upkeep, too. Depending on the terms of your contract, your service provider should regularly visit and check on the maintenance of your machines, just to make sure everything is running smoothly.
Your service technician may also leave extra supplies for your machine when they visit, such as toner, so you don't have to wait to order it when you run out. Make sure to check your contract terms to see what maintenance upkeep services your company has access to.
4. Easy Access to Your Company Account:
It should be very easy for you or your office manager to manage, track, maintain and update your machine inventory and parts. The most effective way to do so is through an online portal, where you can easily place service calls, supply orders, and enter meter readers.
Having an online portal allows you to have everything you need in one place where you can access it at any time of day. Access is everything. Can you text, call or email them with orders or service requests? If they don't then they aren't thinking about what is easiest for you.
5. Multi-skilled and Experienced Technicians:
During the frantic moments when your copier machine breaks down, your main goal is to get the machine back up and running as soon as possible. To do so, your service technician must be experienced and skilled to fix a multitude of problems at that a specific time. It's a huge waste of time to have a service technician come out to find later out he then has to call someone for back up.
You also want to make sure that technician can fix multiple problems in one visit, instead of having to come back on a later day. Find out how much inventory they carry on their vehicle to resolve problems. A serious service business will invest in parts and supplies to ensure they can get you up and running the first time, every time.
6. A Service Call Should Be A Pleasant Experience:
Let's face it, there really isn't anything pleasant about a broken copy machine. In fact, it's usually the opposite feeling. With that being said, there's nothing better than your service technician showing up, on time, with a smile on their face, and ready to help.
Having a happy service technician shows their dedication to helping you, along with showing that they really do love the company they are representing. Company loyalty is important and makes you feel even more assured that you have trusted the right individuals to provide their services to you and your company.
7. Awareness of Contract Obligations and Service Level Agreements:
Nowadays, we tend to skim, or even flat out skip over, parts of a contract that we are really supposed to be closely reading and understanding. This can potentially leave you or your company stuck with a provider that really isn't the best fit or you or a maybe that service provider doesn't meet your expectations.
It is crucial to read over each and every part of the contract, or Service Level Agreement (SLA). You need to have full understanding of the services you are paying for as well as the services you are requesting to be met.
Any questions or concerns you may have up front about the SLA should be asked and reconciled before the agreement is signed, to ensure your needs will be properly met. This allows you and the service provider to have an open understanding of what the services entail, eliminating the fear of being left in the dark.
All of these quick tips can be easily researched by simply reading the online reviews or contacting each company that you are considering to be your next copier and printer service provider. It's important to remember that not all printing and copy machine service repair companies are the best fit for YOUR company. Your company is unlike any other company, meaning that your needs are very specific and individualized. Take this into account to make sure you chose the company that will provide the very best for you.
At AIS, we are completely transparent about providing the right copier and printer service to our clients. If you want to know any of our stats like:
Number of service calls we performed last year
How many clients we had up and running in one hour or less
How many clients we had up and running in two hours or less
Average response time
Percentage of first call resolutions
Number of certifications each of our technical service team members hold
We continually monitor this information and so much more so that we can provide our clients with the right copier and printer service. If you want to learn more about how office technology can give you peace of mind and help you win more business, please contact one of our business technology consultants and let's start a conversation today.
Visit our Office Copy Machine Ultimate Resource Page for additional info on service & repair, and just about anything else copy machine related.