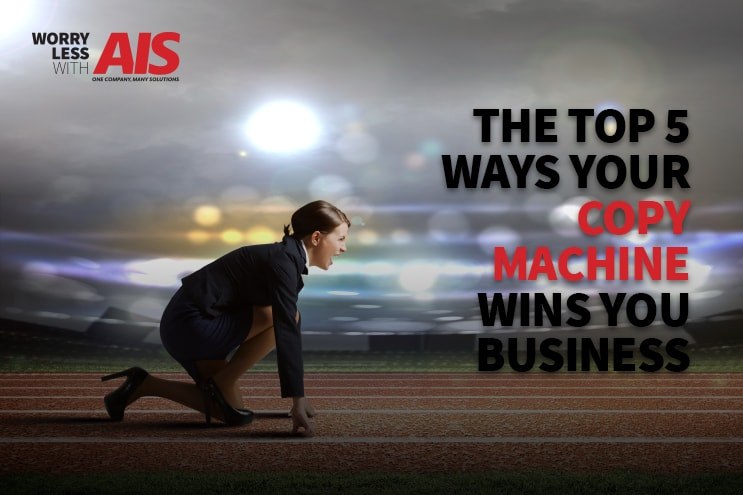 READ TIME: 4.5 MINS.
The goal of every business is to continually streamline processes and increase profits by decreasing your bottom line. For many companies, there is also a desire to grow and expand its customer base.
There is a piece of office equipment that has been around for quite some time, that is actually key in helping your business grow! It's called the copy machine.
With so many advancements in technology and the ability to perform many tasks digitally, it can be hard to understand how a copier is a necessary piece of equipment in your office.
Not only is an office copier essential to your business's processes, but it is crucial to the growth and success of your company. Follow along as we discuss the top five ways an office copy machine can benefit your growing business.
How Can A Copy Machine Support My Business?
1. A Decrease in Cost Per Copy
You will save money in the long-run by having an in-house copy machine because if you utilize a copy machine facility, the cost per copy is actually higher than if your business leases or owns a copier.
To cover the costs and make a profit off of services, copy shops must upcharge per copy. They can charge for the paper, ink, and use of the machine.
Investing in a copier translates into a decrease in cost per copy because your company will not be paying a premium price for paper, ink, or toner.
You may even be able to find a supplier who can offer these materials at wholesale pricing. It is essential to understand that there is a higher initial investment when switching to an in-house copy machine.
However, successfully running a business is a long-term game. You will find that the numbers work in your company's favor to encourage and support your business plans and goals.
2. Increase in Speed, Efficiency, and Customer Satisfaction
Anyone running their own business understands that time is money. Clients expect and appreciate quality and timely services. When it comes to printing signature forms, documents, or even making duplicates of important information, your staff needs to be able to do so efficiently.
The need for copying and printing documents could arise multiple times a day. It is incredibly time-consuming and ultimately, costly. Not only will quick responses lead to repeat clients, but will also earn you new clients based on your reputation for exceptional service.
Your employees will be happier with the addition of an office copy machine because now, they can increase efficiency while becoming more productive.
Marketing is a huge part of generating new clients and getting your name out there to your target audience. This means you need to be able to print marketing materials in an efficient and timely manner for optimal results.
The use of a copier machine allows you to do just this, which in turn helps your business grow and expand.

3. Allow Your Company to Create Future Budgets More Accurately
Budgeting is such an important part of running your business. Without an in-house copy machine, you must rely on copy offices. This makes it difficult to gauge how much should be budgeted for these services.
You never know when the price of copy services will increase, how many times the services of a multifunction printer, such as the printer, copier, scanner, and fax, will be needed in a given month or for an individualized project.
Let's not forget about the cost of travel to complete these tasks. Underbudgeting in this area can have grave consequences. These are services you cannot run your business without, or say "Oh, we will just handle this next month." Unfortunately, it doesn't work like that.
When you need a document printed or copied, you need it right then. A delay could potentially result in a loss of clients. When your business owns or leases an office printer, you will be able to more accurately budget for the cost of materials, maintenance, and the lease payment if you choose to go that route.
This takes most of the guesswork out of how much printing, copying, faxing, and scanning costs your company per month.
4. Securely Send and Receive Documents
Faxing seems like an ancient form of communication, right? Well, most businesses actually still use this feature. Look on any given website with a brick and mortar store, and you will likely find a fax number. Why? It is still one of the most secure ways of receiving and sending sensitive information.
It also cuts out the extra step of having to find a program compatible to open an electronic document with and then having to print it out. Instead, within a matter of minutes, you have the paper document in your hand.
5. Technology That Will Always Be in Demand
Even though models of office copiers will continue to improve, the bottom line is that the technology will always be essential. There will always be a need for hard copies of documents and the need to scan hard copy documents to edit them digitally.
This makes the investment of an in-house multifunction printer is a safe investment that will benefit your business for years to come.
The Bottom Line on an Office Copy Machine
It is amazing to think that one piece of common office equipment can benefit your business in so many ways. While digital seems to be taking over the world, it does have its limitations.
Every type of business, no matter the industry, deals with paperwork in some form or fashion and can benefit from having one or more in-house printers that all employees can use at any given time without leaving the premises.
This greatly increases the efficiency of your company, reduces your bottom line, increases profit, and, most importantly, helps your company scale and save money.
For even more resources on your office equipment, check out our Ultimate Office Copier Resources Page.
AIS is dedicated to providing office technology that helps take your business to the next level. We give you the options to choose from a variety of office copier models and sizes, including multifunction printers, to fit your business needs. With our exceptional maintenance and repair services, you can rest assured that your office copy machine remains in optimal working condition. To speak with one of our business technology consultants, reach out to us here. We're here to give you peace of mind to help you win more business.