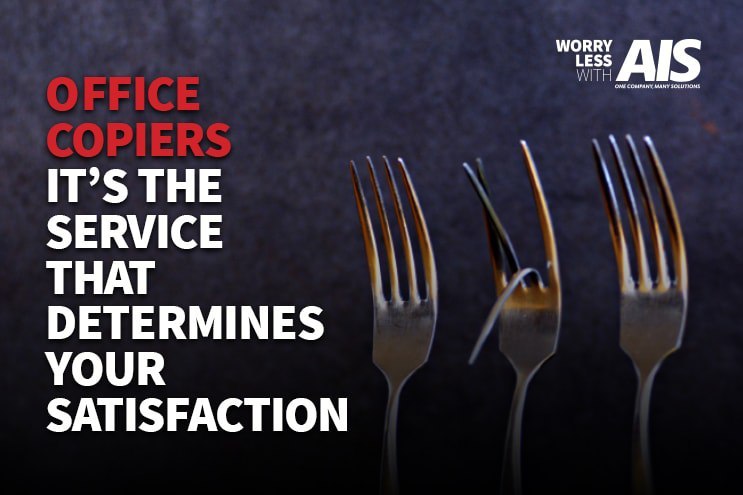 READ TIME: 4 MINS.
As a purchasing manager, your livelihood hinges on your ability to keep productivity active at your office— and that means making sure that your office copier is adequately maintained and serviced. To be honest, it's the service of your office copiers that determines your satisfaction. Trust us!
Failure to keep your copier in good working order can severely hamper your productivity and can even cause delays that may cause customers to take their business elsewhere.
Below is a look at some of the errors people make when buying office copiers and the most important step you can take to keep your copy machine working smoothly and consistently.
What are some mistakes people make when buying an office copier?
Purchasing copier machines or multifunction printers may seem like a simple task. The truth is though, office copiers primarily perform the same functions, regardless of their manufacturer.
Certain features, such as black and white copiers and printers, color printer and scanner options, the printing volume your small business does, and even the choice of a fax machine can be achieved through multiple office copier providers.
However, some common pitfalls can, unfortunately, drain your budget or leave you stranded with a faulty piece of equipment. Here are some of the top mistakes people make when purchasing a copier:
Buying a copier based on brand name alone: This common mistake often results in overspending on a big box brand name.
Purchasing a copier on clearance: Sometimes copiers on the clearance table are outdated or no longer supported by the manufacturer and you may be discontinuing parts or supplies in the future, leaving you without any options.
Buying a used copier on Craigslist or eBay: While the prices are enticing, used office copy machines might be incomplete with missing parts, accessories, or may even be defective.
Avoiding Mistakes
As discussed above, a popular brand name and a rock bottom price do not guarantee a satisfactory experience with a copier. The single best way to avoid the mistakes above is to purchase your copy machine from a reputable provider who is committed to fast, accurate service.
By choosing a supplier who focuses heavily on service and support, you will help ensure that any interruptions to your office productivity are short and resolved quickly.
Essential Questions to Ask Before Purchasing an Office Copier
Sometimes it is not always easy to determine which copier companies are dedicated to providing a high level of service.
The good news is that you can separate service-oriented suppliers from the competition by asking a few probing questions related to their service delivery. Here are the top five questions to ask before you commit to buying an office copier:
"How quickly can you service our copier if it fails?"
It's no secret that copiers sometimes possess problems. They jam, they display error messages, and they require regular maintenance. As you probably already know, attempting to fix an office copier on your own

can be a recipe for disaster.



The key to your satisfaction with a copier is knowing that you will receive prompt service and resolution of problems when they arise. Ask to see statistics on a company's average response time before you commit to a supplier. If they don't have this number, this is a huge red flag.
"How many trained technicians do you have on staff?"
Expertise and knowledge matter

in every industry. However, they are especially relevant in the IT, office copier, and business technology industry. Ideally, the supplier you choose should have at least two dozen technicians available to provide swift support and service.



Be wary of companies that refuse to disclose this information, as they may not have the resources to deliver fast post-sale service.
"Do you stock parts for the copier model we are discussing?"
You can probably agree that today's busy office teams do not have time to wait a week or more for replacement parts or supplies to arrive.

You deserve the peace of mind that comes with knowing key parts and inventory are readily available to facilitate your repairs. Make sure your supplier has a fully stocked warehouse that keeps the components you may need on hand.


"What percentage of service calls do you complete in a single visit?"
Single-visit service should be the goal of any office technology company - especially those that specialize in copier sales and service. Look for companies that stock plenty of parts on their service vehicles and complete the majority of their service calls in a single visit.


"Could you please provide some local references?"


There is no substitute for satisfied customers and a robust list of references when evaluating copier companies. Make sure you request at least three area references of customers in your industry so you can effectively gauge their satisfaction.
You may also wish to check a provider's online reviews before you order a copier.
"What's Next?" Selecting The Best Office Copier Provider
It may seem like a tall order to find a supplier that can answer all of the questions above. However, there are local companies that excel in all of these areas. In today's competitive marketplace, you deserve to work with a provider that can successfully resolve over 90 percent of service calls in a single visit.
As you finalize your selection of a copy machine, remember that not all suppliers are created equal. Finding a trusted company that serves customers in your particular industry is necessary.
Whether you work in the legal, medical, in the educational arena, or you are a small business, you should ensure that your supplier has a proven track record of success serving customers in your industry. Here are just a few more items to look for as you finalize your purchase:
Superb responsiveness: Look for suppliers who respond to the majority of calls in less than 2 hours
An impressive team of technicians: The supplier you choose should employ factory-trained technicians
Factory certifications: Factory certifications showcase a company's commitment to providing high-quality service
Fully stocked warehouses: Choosing a company that maintains a robust inventory of equipment, parts, and supplies will help prevent delays
Single-visit service: Resolving problems and service issues in a single visit should be a top priority for your the copier provider you choose
We invite you to contact us at AIS to discover why we are the nation's leading copier sales and service provider. Better yet, stop by one of our four locations to check out our extensive inventory of copiers and related supplies. We welcome the opportunity to meet you and serve as your single resource for all of your office technology needs! We're here to give you peace of mind to help you win more business.