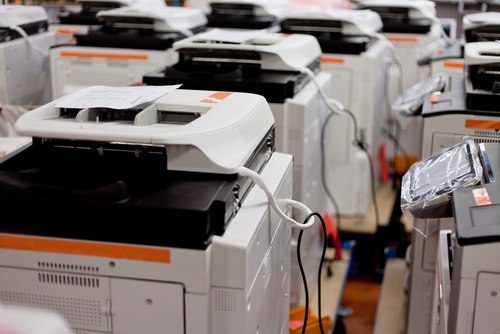 Spending a little time and money maintaining copier hardware is the key to getting the most bang for your buck. With a little TLC, most copiers can operate without any trouble for years.
Getting the Most Mileage from Your Copier Hardware
Whether you rely on monochrome laser copiers, all-in-one inkjet models or a mix of the two, dealing with copier failure is never fun. Broken copiers are a hassle that few businesses can afford for even a day. Keeping your copier equipment humming along isn't difficult if you employ a few best practices to avoid putting undue strain on your machines. Heed the following advice if you want your copiers to go the distance.
Give Them a Regular Break
The biggest mistake that most copier owners make is keeping the machine powered on at night. Unless you run a 24/7 business office, you should turn your copiers off at the end of the day. This will greatly prolong the life of various internal components. Powering down a copier when it's not in use will also keep dust and other airborne debris from accumulating in and around the machine, thereby reducing the need for cleaning.
Follow a Basic Maintenance Schedule
Another major error that most copier owners are guilty of is assuming that their machines will run trouble-free without any maintenance whatsoever. While copiers are fairly resilient, you still need to clean them once in a while. Every month, take a few minutes to clear out the air intake and swap the filter if it's clogged. In addition, wipe down the glass with a mild LED display cleaner. Finally, check any moving parts such as the wheels on the automatic document feeder and lubricate them if need be.
What to Do When Copiers Fail
If you follow the guidelines laid out above, you stand a good chance of enjoying years of incident-free copier operation. Regardless, if your machine does fail due to factors beyond your control, seek out professional copier repair in Las Vegas.