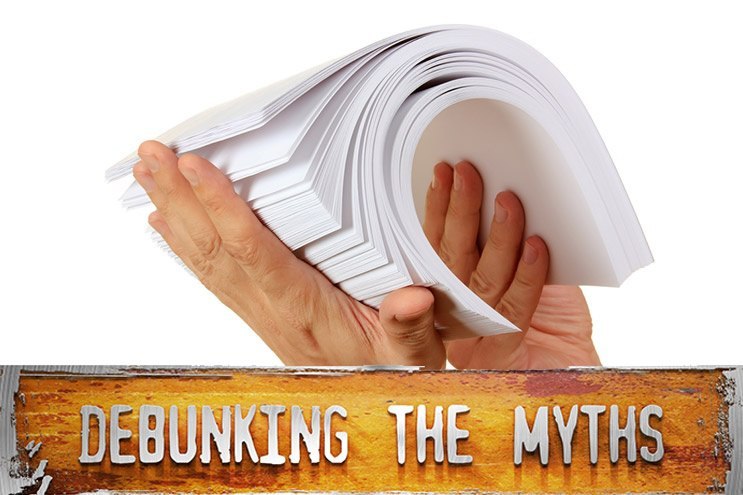 It's a normal thing for you to try to lower your overall business operating costs, and if you do a lot of copying or printing, at some point you are going to need to reduce your paper costs. You may think you are doing the right thing by purchasing cheaper or a discounted paper for your copier, but you could be damaging your copier and leading to a bigger repair bill.
Using poor quality paper, the incorrect paper, or even mishandling the right paper can lead to unnecessary downtime and additional copier maintenance calls. In fact, we recently posted a story, Is Your Copier Paper Working Against You?
Identifying the Right Paper for your Copier
If you think all copier paper is manufactured the same, made from the same materials, and run in any copier—you're wrong.
As a business owner or office manager, placing the right copier paper in your printer or copier is as important as putting the right gas or oil in your car. You wouldn't put something in your vehicle that could potentially damage your engine or void your warranty, would you?
The Copier's Specifications are a Good Start
There's a reason that all copier manufacturers provide specifications on their product literature and in their manuals. You may see something like this:
Specifications:

What does this mean? Well, for starters, that you can run varying weights of paper through your copier, from 16 lb. (pound) bond paper to 120 lb. index paper in the copier. This copier can accommodate bond (high-quality writing paper), recycled paper, transparencies (for presentations), card stock (not over 110 lb. cover), and even envelopes. If you are running envelopes through your copier, you would want to follow the same paperweight guidelines.
To learn more about paperweights, you can always reference these articles:
Now you should have a good understanding of what paperweights and types you can run through your copier. You want to make sure you don't run the cheap paper with a weight less than 16 lb. or it will just tear and cause jams. Don't use something thicker than 110 lb. index or it's just going to jam or break something as the copier tries to feed it through its path.
Make sure you read the manual because many times the copier manufacturer will recommend feeding thicker paper, index paper, or card stock. Make sure you understand where you should be placing card stock or index paper. The manufacturer of your copier may have strict instructions or guidelines for the placement of thicker paper, such as using the bypass tray. Using this tray shortens the path of paper moving through the device making it easier for the thick paper to travel through the copier.
Storage and Proper Handling of Copier Paper can go a Long Way
Paper is a valuable commodity and your team should treat it as such. Choose an assigned closet or other space that's cool and dry to store the paper. Avoid areas with heaters and other equipment. If the humidity in the office tends to be high in your location, then you may consider installing a dehumidifier in the paper closet. Humidity isn't likely to damage the paper, but it'll introduce additional moisture to the copier that can accelerate wear.
It's also important to place the copier in an area of the office that's cool and dry. Paper basins within copiers are designed to be cool, but that can be undermined by nearby heat sources like electronics or HVAC vents.
Correctly using the right paper goes a long way toward ensuring that your office copier remains in peak condition. A large number of calls for copier repair can be avoided if the storage and proper handling of your copier paper are considered.
Have you heard the urban myth that you need to fan the paper once you unwrap it from its packaging and before placing it on the copier paper tray? Yes, it is a myth.The only reason you need to fan paper before placing it into a copier is if you are using "drilled" or "3 hole punch" paper A quick fanning of the paper before placing it into the tray loosens the paper that may have stuck together when the paper was originally drilled and packaged.
Deal with Paper Jams Immediately
Minor paper jams can sometimes be particularly problematic because they're seemingly easy to fix, but the paper may remain in the copier, and the cause of the problem may not have been corrected. A copier that jams regularly has a problem that should be looked at by a service technician.
Follow these steps immediately when the copier indicates there is a jam:
Stop what you're doing.

Turn off the machine.

Remove all paper near the feed mechanism and look closely at the path the paper moves through the copier.

See if there is any residual paper along this path. Ensure that the mechanism is clear and moving smoothly.

Check the display on the copier to see where the paper jam is. Copiers today have a fairly good diagnostic system.

Turn on the machine, feed the paper, and perform a printer test before proceeding.

For more information read,

How to Fix a Paper Jam in a Copier: Repair, Prevention, and Tips
Have a Copier Routine
Assign someone to check the copier every morning, especially on Mondays. Why? Because many times on Fridays staff may have found something wrong with it and have left it for someone else to fix. Also, it's the beginning of your work week, and you want to ensure all of your equipment is ready for your team to do their job.
Check for paper jams, low toner, and any displayed error messages. Set some rules that the entire office must abide by, such as keeping the lid closed at all times to avoid dust accumulation. And don't be afraid to post them near the copier as a reminder. Let them know that they should never copy anything heavier than paper, which includes putting pressure on the machine by copying a person's hands or face. If you haven't seen some of the funny videos of people falling through the copier glass when trying to photograph a body part, there are plenty of them on YouTube. Just use the search term, "Copier Fail."
What is Eco-friendly or Recycled Copier Paper?
Today, there are plenty of great copier papers to choose from that are 100% recycled paper. Using recycled paper does not mean that they will jam in your copier. In fact, if you read the specification sample we showed you above from a manufacturer, they recommend the use of recycled paper. When using this type of paper, or any paper for that matter, and it jams in your copier, it may be due to some other issues. For instance, it may have been sitting out open from its packaging for a while, and dust or moisture may have affected it. Just make sure if you plan on using recycled paper in your copier it meets the basic manufacturer's specifications for size and thickness.
Is there a difference between Inkjet paper and copier paper
To begin with, inkjet paper is much more expensive than copy paper. Although it may provide a good vibrant copy, it's probably not the best paper to run through your copier and vice versa. Inkjet paper has properties that can handle liquid from the inkjet and conversely, copier paper is a bit more porous and will make inkjet images or text look a little blurry because the ink spreads out more on this type of paper. Also, some inkjet paper has a special "ColorLok" that separates the color from the ink to provide a better image from an inkjet printer.
What is the best copier paper?
That depends on what you are trying to do. If you want clear and crisp color for presentations and sales proposals, you may want to have one type of 20 lb. copy paper for every day use and then a supply of slightly more expensive "bright white" or "Laser" print paper. This may be a little more expensive, but the output has greater contrast for black and white images and text or a more vivid color when copying color documents.
Here are some examples of different types of copier paper:
Recently, one company has been offering "Jam-Free" paper. They guarantee that you will not experience more than one paper jam for every 10,000 sheets using your "high speed" copier or printer, or they will replace your paper or refund your purchase price. At this time, this seems like a marketing or advertising program. They say it has to do with their scientifically designed and rigorously tested paper to perform at the highest levels. We shall see…
Visit our Office Copy Machine Ultimate Resource Page for additional info on supplies, and just about anything else copy machine related.
At AIS, we want to make sure that our clients have the most recent information on equipment and consumables (toner, paper, etc.) and their proper care and use. It is important for us to ensure that our clients are the most informed in the industry so that we can do a much better job of supporting them when they need us. If you would like to know more about how office technology can be put to work for your business and provide you peace of mind, let's start a conversation today with one of our business technology consultants.