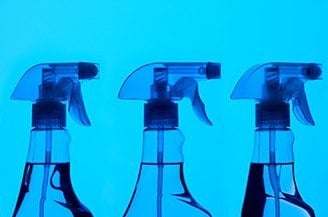 For years, we recommended NEVER using Windex – or any other cleaning product with alcohol – to clean the glass on your copier.
Our clients would sometimes even get annoyed at the recommendation – but it's just EASY to spray Windex, wipe, and be done.
True, but the alcohol in Windex could also dry out exposed belts. Not a big deal, right? Well, the belts are part of the system that moves paper through the machine. Dry belts don't work as well, are prone to breaking, and that means less productivity for you and more service calls for us.
That's changed.
Over the past few years, the design of Kyocera's copiers has changed so that the belts are no longer exposed.
Windex away. Gently. Here's how.
Use a microfiber cloth. Paper towels leave behind paper particles. Those particles can degrade copy and scan quality.

Don't use TOO much liquid – it'll streak and that's also not good for copy/scan quality.
HOWEVER, not all multifunction printers in operation will have glass that covers these belts. If belts are exposed, continue to use an alcohol-free cleaning product.
Clean the Control Panel Too
While you're at it, go ahead and clean those areas that people touch all the time – the handles, control panel, etc. It might not prevent everyone from catching the flu or a cold, but every little bit helps!
We recommend against using bleach wipes as they are often too wet and you don't want to risk the chance of liquid entering your control panel.
Using rubbing alcohol and your microfiber cloth, wet the cloth and wipe down the control panel, handles, and any other area that employees handle frequently. Rubbing alcohol dries quickly and with little residue, which is why we recommend using it.
There you are, two quick tips to keep your copier clean.
If you need more extensive copier repairs, contact us by clicking on the button below.