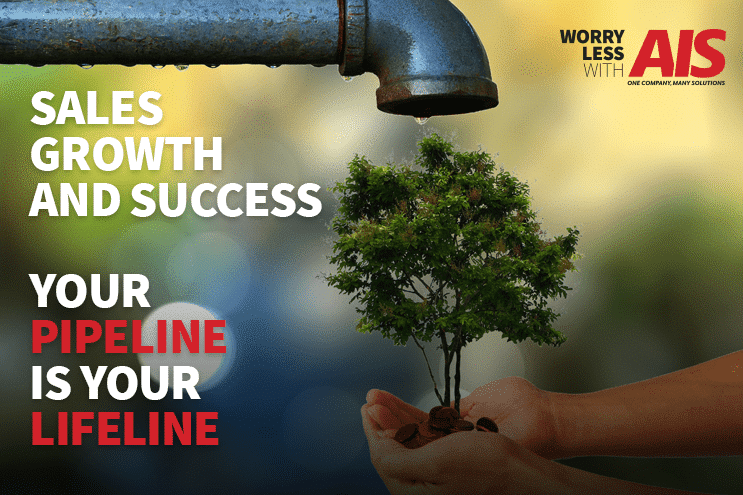 READ TIME: 4.5 MINS.
Like many companies, the foundation of profit and success typically stems from sales growth and how a sales team has increased revenue over a fixed period of time. There are different ways to measure or assess how well your products or services or selling, as well as the performance of your sales team.
However, one thing we've noticed many companies don't know or take seriously is the importance and value of a strong sales pipeline. Before we get into the details of what makes an impactful pipeline (and what doesn't), let's first go over the basics and explain what a sales pipeline is.
A sales pipeline is a great way to track and monitor the progress (or current standings) of deals a sales team is currently working on or deals they expect to close within a reasonable amount of time.
Before establishing a pipeline, a sales process must be defined and implemented so that the sales methods match the journey of the buyer throughout all stages of their purchasing decisions.
Maybe you've been asking yourself some questions lately that you can't seem to find the answers to, such as:
How can I increase my percent sales growth without feeling like I'm a "pushy" salesperson?
How can my business control year over year growth in a positive and consistent way?
Why aren't my sales numbers improving even though I haven't changed any of the methods I've used for years?
Can a healthy pipeline truly make a difference with my customers agreeing to the terms of a contract?
Many steps make up a sales pipeline, such as prospecting, qualification, consideration, decision, and close. To learn more about these steps, read an article published by Data Hug, What is a Sales Pipeline?
Follow along as we explore the benefits of a strong sales pipeline, and how a pipeline can drive an increase in sales growth and success to your company while helping you and your employees achieve their business goals.
Utilize Your Resources: Your Pipeline Is Your Lifeline
As you probably already know, when it comes to your job performance and the steps you take every day to become a better employee, it's so valuable to learn and use all resources available to you.
If you're a writer, you might utilize grammar resources, such as Grammarly, or content generation tools to learn the best topics to write about for your readers. The same thing goes for sales. Your pipeline is a resource to help you and your sales team succeed, boost growth rates, and keep track of deals to avoid losing potential customers.
Speaking of customers, we've got an article you might find interesting, The Voice Inside My Head – How Do I Reach My Customers?
Your pipeline is a tool that allows collaboration and understanding when looking at the best ways to reach your customers and the stages they're at in their buyer's journey, while also supporting your annual growth goals.
Mike Weinberg is the author of a book called, Sales Management Simplified, and speaks profoundly on the importance of your pipeline as a lifeline, and the results you'll see the more you utilize it and treat it as a necessary resource.
Mike's quote, "Your Pipeline is Your Lifeline," seems like such a basic concept, and it begs the question, "Why do so many salespeople have a hard time understanding this concept?" A pipeline is a lifeline, right? It's not a suggestion or a recommendation—but an actual lifeline!
This has us wondering what the problem is with most pipelines and why so many sales funnels look more like sales straws.
Stay Away From A Weak or Clogged Pipeline
Unfortunately, more times than not, most sales pipelines are weak or inadequate. There simply aren't enough deals in the pipeline to consistently hit a sales quota or establish any type of steady income. The downward sales spiral happens when a pipeline is "light" or ineffective becomes predictable too.
For example, a salesperson might have already relegated themselves into thinking they will "Run the table," on the three deals they are working to make their monthly, quarterly, or annually quota. News flash! Rarely, if ever, does a salesperson "Run the table."
Matter of fact, we've noticed that for every three deals in a pipeline, a salesperson will win one, lose one, and have one push out to a later date. When you look at a pipeline and only see three deals, this is an evident warning sign you are in trouble.
The funny thing is most salespeople would rather live the "Run the table" lie than accept the "Win one, lose one, push one" reality. Outside of losing a deal, it is the saddest thing many businesses or sales managers see in their sales team.
Another issue many battles in regards to their pipeline besides it being weak is when their pipeline is clogged, or too full of deals. A pipeline that is full of deals (that either doesn't have any hope of closing within a 90 day period or is full of one or two monster deals that will make up for any shortcomings that month) is also something that is problematic.
Have you ever fallen victim to the, "One deal to save me" mentality? It's ok if you have—a lot of people do. As you've probably learned, when you have the mindset that one sale will save you, chances are, it always falls through.
Striving For Sales Growth: The Takeaway
Regardless of your industry, how large or small your business is, or what your competition is like, having a healthy and well-organized pipeline is one of the best things you can do to further your success as a salesperson.
There are always different ways you can go about perfecting your selling technique, and the various steps you take on how you sell. But, starting with a well-rooted pipeline truly makes all the difference to help set you apart from any other salesperson or sales team trying to sell the same products or services you are.
Speaking of setting yourself apart, especially through sales and revenue growth, have you ever heard of providing customers with the ultimate customer experience? Read our article to learn more about customer experience and how it differs from customer service, Customer Experience: How to Achieve SMB Growth and Slay the Giants.

At AIS, we continue to find ways to better educate our current customers, as well as our potential customers and readers. Even though we're a business technology company, we're eager to share some of our best practices so that you can succeed and accomplish your business goals, just like us. To learn more about our SMB methods, or about any of the products and services we offer, reach out to one of our business technology consultants, here. Also, check out our video channel on YouTube, The Copier Channel. We're here to give you peace of mind to help you win more business.