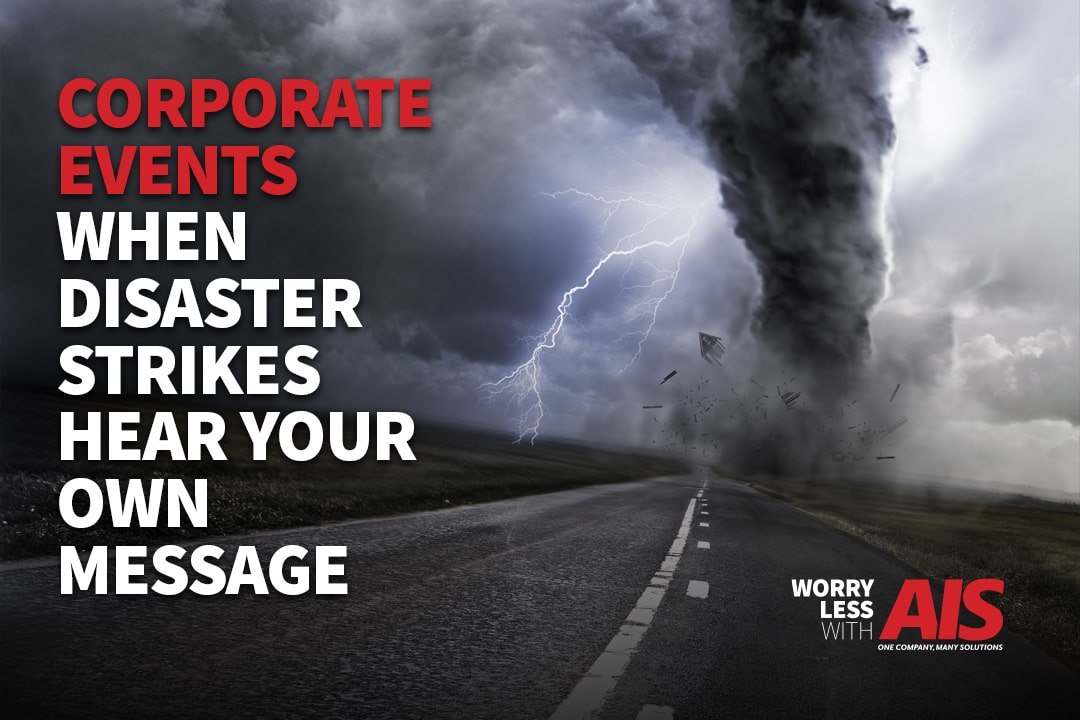 READ TIME: 8 MINS.
At the beginning of each year, we throw a huge Kick-Off event for our employees and their significant others. Our kick-off event is one of the more creative ways we share our successes of the previous year, as well as taking a look at our goals for the year to come.
Our annual Kick-Off is designed to show gratitude to our hardworking employees, celebrate our business growth, and share our plans for the future. From cocktails to dinner and even dancing, it's truly an event that most of our employees look forward to each year.
This year it took a couple of tragic turns for the worse, not only in our planning but how we acted to save the event. To make this a successful corporate event, I was forced to hear my own message. But, it wasn't such a bad thing.
Here's a little background on how we begin planning an event like this. Typically, our event is broken up into different segments that include a few different speakers or special guests.
Some of our speakers are employees, but I typically have a significant speaking presence along with an influential keynote speaker. We begin planning ahead (about six months) for this event and it takes an incredible amount of collective effort.
In the middle of last year, I had the privilege of meeting a guest speaker at another event I was attending. As I listened to him speak, I thought of how perfect he would be as our speaker for our 2020 event. We set up a call and created a solid plan for him to speak as our keynote speaker. I was thrilled and absolutely couldn't wait for my team to hear his message— I knew it was going to be epic.
Once our speaker was locked down, I began weekly Kick-Off planning meetings with some of our executives and our marketing department. We first brainstormed an overall theme or slogan for the upcoming meeting and build from there.
So, what's next? It was a huge relief to have a theme, but how do we organize the rest of the event? It was critical for me to center the event around the initial theme and keynote speaker so that our employees effectively receive our message.
Follow along as we give you more insight into our planning process. But, most importantly, learn how I was obliged to hear our own message in this year's kick-off. All I can say is, we made lemonade out of lemons.
Catastrophes That We Turned Into Successes
As our brainstorming sessions commenced, we gave much thought about the growth of our company just within the past year, as well as how our growth applies to the message our keynote speaker was planning to give.
We incorporated our company name, AIS, into the 2020 theme, "rAISe Up!" We capitalized the "AIS" so that our company name stood out.
This event was about raising up each employee (myself included) to be the best versions of ourselves, to our other staff members, and to our customers. My thought process about rAISing Up meant:
Raising up others around us when they need a helping hand,
Raising up our team members when they need to be "pushed'' a little more, and
Raising up our local community by volunteering.
A Series of Unfortunate Events: Where Do We Go From Here?
As our creative juices were flowing, and our ideas for the event were starting to come together, a horrible and unexpected tragedy struck. About six months before the event, I received a phone call with horrible news— our beloved keynote speaker was involved in an accident and passed away.
At this point, it was tough to describe my emotions. I felt so much sorrow for our speaker as he was a wonderful person who has inspired hundreds of thousands of people—he had so much to give. I felt sorrow for his wife, who is now a widow and his friends who lost such an iconic person. I felt empty inside.
After a few weeks of processing what had happened, I knew it was time to figure out our Plan B as we needed a replacement speaker. During this time, I happened to receive another call (this time it was much better news) about someone that was also a very well-known speaker.
This speaker personally knew our previous speaker, and graciously offered to speak on his behalf at our event. Wow, I did not see this coming! Without even consulting my team, I immediately said yes, as this person's message was extremely similar to our original keynote speaker, allowing us to continue on with our original plans.
So off we go, again. We were deep into strategizing the details of the event, such as the choreography needed, location, time, invites, food, beverages, décor, departmental presentations, and employee awards. The list goes on and on.
The presentation deck of 200 slides was just about finalized, the awards were ready, and we were anxious to debut all of the hard work that we'd put into this event for the past six months.
Unfortunately, I received another bad-news phone call about our new keynote speaker. Except for this time, we were only a week out from Kick-Off. Our replacement speaker, unfortunately, had a family emergency, and would no longer be able to speak.
I thought lightning never strikes in the same place twice?
As you can imagine, the news brought immediate and sheer panic to our entire Kick-Off planning team. Our Kick-Off event is truly an AIS staple, and the opportunity for all of us to relive the great accomplishments of last year while learning how we're all going to make this year even better.
As a side note, this event is lengthy, and it's on a Saturday. For many of our employees, this requires them or their loved one to find sitters for their children, just so that they can take time out of their busy weekend to spend with their co-workers. Because of this, it's my top priority to make this event truly worth-while and beneficial to each of our staff.
So what was I supposed to do now? Do I hire a magician to fill in the time slot we allotted to our keynote speaker? Do I try to find another speaker last minute? This was when it clicked for me. We all can either learn and grow from this, and see it as an opportunity, or we can let it weigh us down.
Hearing My Own Message
I had an epiphany. Isn't our theme about Raising Up? Hello, Gary??? Duh!! This is almost too good to be true. Now, I have the direct opportunity to speak to each of our staff members about what it means to Raise Up… the entire point of this year's Kick-Off.
Maybe this was just meant to be.
Call it cliche, when life gives you lemons, make lemonade. This also got me thinking, "Can't I directly apply what has happened to our core values?" Absolutely!
By the way, if you're unfamiliar with core values, read about them (and how to implement them into your business) in our article, Best Practices to Create Great Company Culture At Any Business.
Here are our core values and how I applied them to the events that were taking place before our Kick-Off event:
Adapt: Clearly, we had to adapt. And not just me. The entire kick-off planning team had to adapt to the news and create changes to the entire event (schedule, planning, timing, etc.).
Integrity: Our core value states that having integrity means that we are honest. I could have easily withheld the cancellation of our speaker, but it was too important to me to stay truthful to all of my employees. They are on this ride with me! We are on this ride together.
Surpass: We knew we still needed to put on a great event here, so that's what we're doing for all our staff members. It's up to me and my team to surpass their expectations even when plans fall through. This is exactly what they do every day for our customers.
Nurturing: This event is all about nurturing, especially when we hit roadblocks that we simply cannot control.
Optimism: If we didn't remain optimistic, it would have been obvious to all employees that we gave up when times get hard. And, that's not what we're about. Hard times call for over-optimism, to truly show our dedication to this event.
WOW!: Our goal is to still "WOW" all attendees with everything else we have planned for this evening. The cancellation of one or two keynote speakers does not define our event. We, the team members, do.
We can also relate some of the setbacks we experienced to our Four Gears of Excellence. Our Gears of Excellence say, "As a member of the AIS Team, I will follow these 4 Gears of Excellence with civility and courtesy, even in unpleasant situations."
Even as the President of this company, I am still an AIS team member and follow these guidelines just as all my employees do.
Responsive: Because the news came a week before the event, we had to act fast to the changing needs of what our staff members would expect from this event. It wasn't our fault, but it was our problem.
Knowledgeable: I have a need for improvement so that this event provides employees with a quality experience they'll never forget.
Trustworthy: I honor the AIS organization and without all employees trust in me, the company can't continue on its path of growth and success.
Efficient: I used my time (the little I had of it) and my resources wisely so employees and their guests could get the most out of Kick-Off. I would never want any employee to feel like I wasn't efficient with my time because it's their time spent at this event, too.

The Takeaway: What Did My Message Teach Me?
So, what's the takeaway in all of this? What did we learn? What can you learn? No matter how much planning you spend on something and no matter how prepared you think you are, you're not. Life happens. We can even apply this to the COVID-19 pandemic that's taking place right now.
When you're faced with challenges you can't control, you're forced to do one of two things:
Sulk. Let it define you and prevent you from conquering and moving on to something bigger and better.
Or, RAISE UP! Raise up to the challenges harder than you ever had to do when things were easy. Raise Up to help your team members with ideas, strength, and motivation to make your successes even more impactful than you had initially planned.
Raise Up for yourself so you can look back and feel proud of your accomplishments and how you took any setbacks life threw your way by turning them into something powerful and sustainable.
One of my favorite quotes I always turn to in challenging situations is, "Attitude determines outcome." You can't determine what happens to you in life, you only determine how you react to that, and that determines the outcome.
The roadblocks that were thrown our way were such a valuable lesson—it kept things in perspective.
Our setbacks required me to step back and focus on being thankful for what we had, not what we don't or what we may have been lacking. I personally (and thankfully), didn't have to endure a tragic event such as losing a spouse or a family emergency.
I had all of my employees here with me, and I was honored to reflect on this journey with them. Just as AIS team members tie in our core values to problems and roadblocks at AIS each day, I did just the same during the kick-off process.
We've created the resources needed to solve problems and overcome obstacles through our core values and our gears of excellence. We have access to these tools to fall back on when we're challenged to RAISE UP!!