Not All Copier, IT, and Telecom Partners Are Created Equal
July 19th, 2019 | 5 min. read
By Dave Clark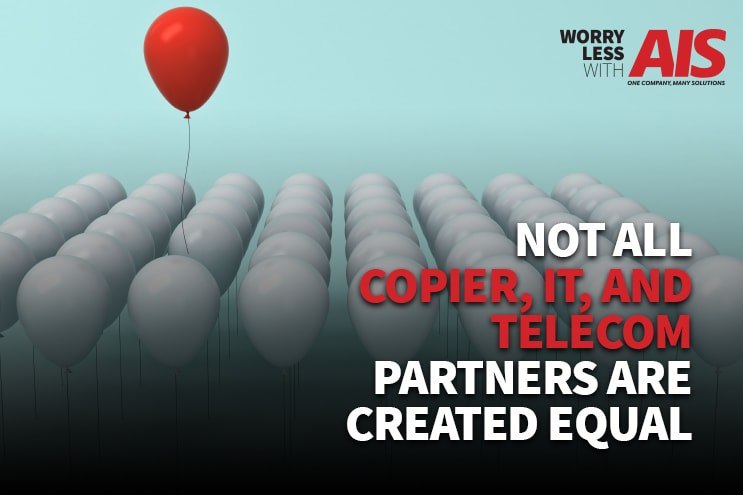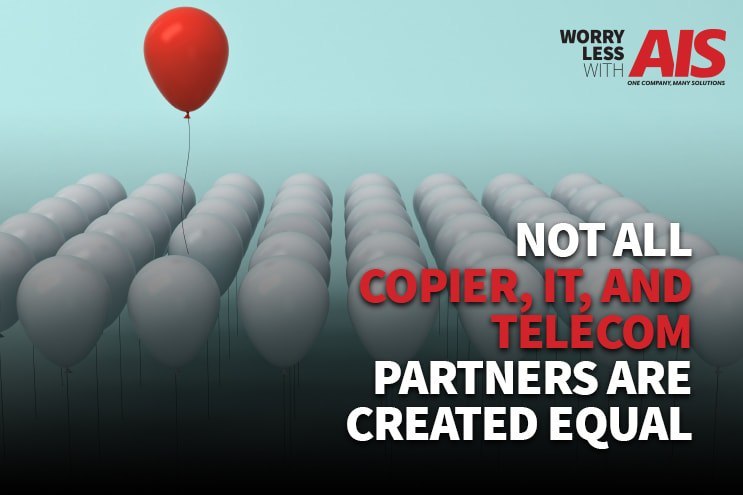 READ TIME: 4.5 MINS.
Are you in an industry where it's common to partner or outsource your technology needs to drive more business? What are some great copier, IT, or telecom partners you've previously worked with?
If you've never partnered with a business technology company, or not sure what one is, don't fret! There's a lot of businesses out there in your same shoes. However, it's essential to know what you're potentially missing out on and the costs your business could be saving.
It is not too uncommon to hear a business owner say, "All business technology partners are the same, it's just about who gives us the best price to meet our business goals or needs." You might be guilty of even saying that all business technology partners provide the same services.
On the surface, these statements might seem accurate. However, when diving deeper into the capabilities, processes, technology, and service deliverables that a business technology partner can (or can't) provide, these statements couldn't be further from the truth.
The goal of a business technology partner is to help your company meet your long-term and short-term goals. A great partner is one who analyzes your current business infrastructure, employees, and customers, and assesses your pain points or the areas you're struggling with.
Most business technology companies provide expertise in office copiers and printers, managed IT services, document and process management, copier and printer repair and maintenance contracts, and telephone services.
Almost all technology partners advertise and promote the tools, products, and infrastructure they utilize to deliver their solutions to help you achieve your business needs. However, in many cases, these tools and solutions can vary extensively and might not always meet the needs of the company, employees, or customers.
Follow along as we go over some of the most common ways technology partners can alleviate the challenges businesses face and how to determine if a partner is the best fit for your business.
Also, check out one of our articles that can help you find a great partner for your office copying needs, How To Find The Best Copier Companies Near Me.
Finding The Best Technology Partner For Your Business
Most office technology partners are needed to meet the challenges or difficulties a company is experiencing. However, we've found that you might not even know some of your challenges because of how normal they've become to your daily routine.
Some of the most common challenges or difficulties you might be unaware of are:
Outdated technology
Poor or nonexistent network security
Lack of professional or qualified IT experience
No data backup/backup issues
Hardware or software issues
The lack of current information technology keeping up with the growth of a company
Lack of functions or add-ons with your office copier or printer
Shortage of supplies
Poor production quality, such as lines on your paper, wrinkled pages, too-light of copies, misfeeds, or spots on the page
Unable to effectively deliver to your clients
If your business or employees are experiencing any of these issues, you've certainly come to the right place. Partnering with a business technology company is one of the best ways to minimize the amount of downtime you might be facing to help maximize efficiency and profitability.
Once you've identified some of these problems, you then have to make a decision about which company you feel is best for your business. It's vital to notice that the relationship between you and a business technology company is a partnership.
A successful partnership requires collaboration between both parties so that the outcome benefits your business at the highest level.
Business Technology Companies That Stand Out From The Rest
As you begin assessing and evaluating the differences between technology providers, there are key indicators as to whether they can deliver the outcome your business requires. We typically divide these indicators into the following categories:
The experience with organizations in similar size and scope
The newly emerging technology that is vetted and industry-accepted
The tools the partner uses to implement or manage the project or services provided
How the provider clearly demonstrates their ability to deliver technology effectively
How the partner measures their deliverables to their current customers
How the partner is performing for their clients against Service Level Expectations
Something to take note of is that not all business technology companies you look into or meet with are a fit for your business—and you might not be the perfect customer for them either. Each business technology provider must establish some sort of target audience, and it's ok if you don't always meet those specifications.
The importance of meeting with many different technology providers is critical because it's the best way to learn how well (or not so well) you two will mesh together on the fulfillment of your business operations.
You Get What You Pay For
Have you ever heard the saying, "There is no free lunch?" It's an economic term meaning that every decision made, another decision or path is not taken. When evaluating technology management or providers, it is not always about the lowest cost.
The lowest quote you receive from a business technology company could be an indicator of a subpar offering that unfortunately might have the potential to be the least impactful on your company.
Speaking of technology costs, read our article to learn even more about the expenses that come with IT services, How Much Do Managed IT Services Cost?
Final Words
With so many choices in deciding today's technology providers from local companies, national companies, and online resources, it can seem challenging at times to navigate the best selection.
Technology can certainly make or break your company, and as a growing business, you wouldn't want to ever lose money or customers because of an office copier or IT infrastructure malfunction.
Take some time, and do your research about finding the best business models and technology partners near you. The more you know, the more qualified you'll be in finding the best solution for your small business.
To learn more about the benefits of outsourcing, read an article published by The New York Times, The Benefits of Outsourcing for Small Businesses.
Most technologies and services are not a commodity, but a business deliverable that helps take your business to the next level.
One of our main goals at AIS is to support your business goals, as well as to inform you of some of the best ways to stay competitive within your market and industry. We're here to provide you with the resources and tools your business needs so that you can spend less time focusing on technology issues, and more time on pressing tasks. If you'd like to learn more on partnering with a business technology company, or any of the products and services we sell, reach out to us here. Also, check out our video channel on YouTube, The Copier Channel. We're here to give you peace of mind to help you win more business.
Dave Clark is our VP of Strategic Sales, based out of our headquarters in Las Vegas, NV. He's had an illustrious 28-year career in business technology and continues to expand his knowledge on new and emerging office technology solutions. Dave is also the face of many of our videos we shoot and produce for our YouTube channel, The Copier Channel. Outside of work, you can find him hanging out with his two daughters and best friend Jak, his Jack Russell Terrier.