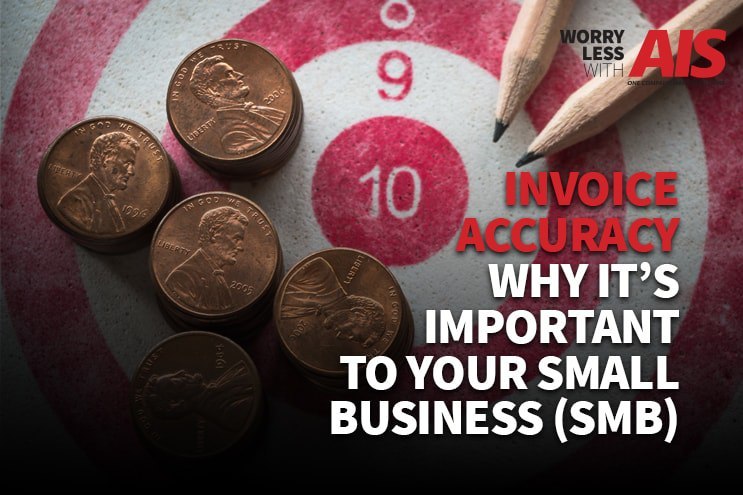 READ TIME: 6.5 MINS.
When you think of your finance/accounting department, what processes do you implement that support invoice accuracy, and why would it be that important to your small business? For starter's inaccurate invoicing not only can be a pain point for your customers, but also a dark shadow on the relationship your employees have with your customers.
Unfortunately, many businesses forget or are unaware of the simple steps you can take to ensure accurate invoicing, and how this accuracy builds trust. The trust can be a significant factor in retention of your customers as well as increasing net new clients at your SMB.
Typically, more significant emphasis and support are given to the sales department because after all, they're the ones who made the sale. However, once the sales reps complete the sale, the customer and the ongoing relationship will be maintained by your finance/accounting department; nurturing the customer to provide the ultimate customer experience.
By the way, have you ever heard of the customer experience? It's different from customer service. Read our article to learn more, Customer Experience: How to Achieve SMB Growth and Slay the Giants.
Before we get into some invoice accuracy best practices for any SMB, we'll first briefly discuss what invoice accuracy is.
Invoice accuracy is measured by Key Performance Indicators (KPIs), and the goal is to not only track but improve billing accuracy. KPIs are used to monitor and then measure against benchmarks to eliminate the root causes of billing errors or inefficiencies to identify potential issues.
It's encouraged that finance/accounting departments use a variety of KPIs to efficiently measure their billing and invoice accuracy. For example, a suggested KPI could be the percentage of invoices that are 100% accurate and need no further attention or resubmission.
This raises the question of, "What percentage of invoices that we send to our customers have zero errors?" So, how do you get to 100? Isn't 100 a starting point and every mistake detracts from that?
Follow along as we discuss some great steps to accurate billing, the small details, the most common problems, and what we've done to adapt and grow our invoice accuracy within our SMB.
Invoice Accuracy: Communication Between Finance/Accounting, Sales, and Customers
You'll probably notice us referencing this point more than once, but we can't stress enough the importance of open and effective communication between your finance/accounting and sales department.
Your sales team works vigorously at locking down new deals, while also maintaining trusting relationships with the clients your business has been serving year after year. The sales reps at your SMB place their trust in your hands once they turn over any customer information to the finance/accounting department.
Linkedin published an article on invoice accuracy you might find interesting, Why Invoice Accuracy Matters To Your Business.
Take a look at some simple steps of how your sales and finance/accounting departments can work together to take that ensure accurate billing starts with account creation:
1. Distribution of Customer Information From Sales to Finance/Accounting
Once a deal is made, verified, and processed, the sales rep is responsible for giving the finance/accounting team the information they need to build a successful and accurate customer profile. Accurate information begins here. Any mistakes can lead to frustrated customers and staff. At a minimum, the customer profile should include:
Contact information of the decision-maker (name, company name, title, phone, email, and address)
Contact information of anyone who will have the authority to be making purchasing decisions in the future (such as the re-ordering of supplies or parts)
Any information specific to individual business needs
2. Contract Setup
Once your finance/accounting team has the customer information, it's important to begin setting up the agreement using the appropriate accounting software,a good quality control (QC) process of the contract is essential.
It's critical for someone from your finance/accounting team to verify all parts of the contract with the originating sales rep and/or the contract so that they are both are on the same page when it comes to the terms of the sale made. Billing errors and profitability issues resulting in customer concerns will occur if a contract is set up incorrectly.
3. Sending a Welcome Kit and Call
Does your business have any resources or tools to send new customers once they become a client? Many companies don't, but many do. A "welcome kit" is a great way to set you apart from the competition.
The goal of a welcome kit is to equip a new customer with the tools they might need throughout your partnership with them. Some key features of a welcome package could include:
A letter from the President
Contact information of Support Team members (help desk, customer service, account management)
The customer's Finance Account Manager contact information
A "Products and Services" page
Also, it doesn't hurt for a member of your finance/accounting team to place a quick introductory call to the new customer introducing themselves and giving a warm welcome. It's even better if the Finance Account Manager (FAM), assigned to that customer, performs this task. We'll talk more about FAMs later on!
3. Triple Check and Verify
Once speaking with the customer, it's imperative to verify the contact information of the decision-maker or purchaser to eliminate any miscommunication in the future. Verifying contact information or contract terms is a high priority, even if you and the sales rep reviewed the information twice before.
Ever wonder why every time you call your bank they ask you to verify your contact information? It's because they understand how vital it is to have up-to-date and accurate contact information for every customer.
Also, verifying with the customer gives them peace of mind knowing that you care about their account and are committed to providing them the best service possible through open communication. The more you assure a customer that you're on the same page as them, the better partnership you both will get out of each other.
Finance Accuracy Is All About the Details
A quote you may have heard by the famous basketball player and coach, John Wooden said, "It's the little details that are vital. Little things make big things happen." Even if you've never heard this before, we bet you can easily apply this to any accuracy efforts made within your finance/accounting department.
In most cases, the little details are almost as important as the big ones. It would be a shame to lose a deal or receive poor feedback from a customer because your team wasn't detail-oriented. A detail-oriented finance/accounting team is critical for invoice accuracy.
Here are some vital details we feel are the most important to focus on when creating or reviewing a customer's profile or contract:
Contract dates
Proper products and rates
Payment terms (contracts are typically NET 15, and others are case by case)
Common Inaccuracies Your SMB Is Facing
Through our experience, we can confidently say that the most common problems SMBs face with customer billing come from inaccurate data from errors stemming from the set-up or beginning phases of account creation.
Unclear billing dates, terms, or inaccurate charges are some of the most significant issues that will affect the overall customer experience with your SMB. These problems are also easily preventable, making it hard to justify when it happens.
When you're a small business, each new customer is significant to your growth. The customer is buying from you because they believe in you and now you need to deliver. Not only the product or service they are purchasing from you, but to retain them, you need to provide continued customer service to nurture and form a long-lasting relationship.
Some of these common inaccuracies can not only damage the customer experience but throw off the billing cycle or schedule as well. When these issues occur, your finance/accounting team is left spending their valuable time researching the problem, figuring out why it happened, sending a corrected invoice, possibly issuing a credit to their account, and then attempting to repair the customer relationship.
To avoid the massive headache that comes from this, as well as the amount of time you'll waste, a thorough review of a new contract is something to always focus your time on in the beginning. A more detailed review upfront can save you hours later down the road. After all, garbage in garbage out.
Final Thoughts: How We've Grown To Support Invoice Accuracy
We've done a lot over the years to get our invoice accuracy to where it is now. However, there's always room for improvement, and we're always looking for ways to perfect our system.
Earlier, we mentioned FAMs. The challenges and business needs of our customers are important to us, which is why we felt FAMs would be a great implementation to the department, company, and of course, our loyal customers.
A company's individual FAM is dedicated to assisting the purchaser, their business, as well as answering any questions they may have within their account. Our sales reps work hand-in-hand with the customer's FAM, managing their account in the following areas:
Questions concerning invoices
Contract terms and conditions
Updating contact information
Reporting meters
Allowing your customers to have their own individual FAM encourages a thriving partnership, established on trust and knowledge. It also shows a commitment to a great customer experience.
As you can tell, there's a lot that goes into invoice accuracy, especially if you're an SMB. Even though we merely touched the surface, we feel there's always room for growth, you and your team have to be willing to explore options that work for your business, and the customers you serve.
At AIS, we're passionate about providing our readers with the tools and resources they need to grow their SMB, employees, and client base. We're continually looking for the best practices for meeting and succeeding your long term and short term business goals. If you'd like to learn more about invoice accuracy, or any of the products and services we offer, reach out to us here. Also, check out our video channel on YouTube, The Copier Channel. We're here to give you peace of mind to help you win more business.