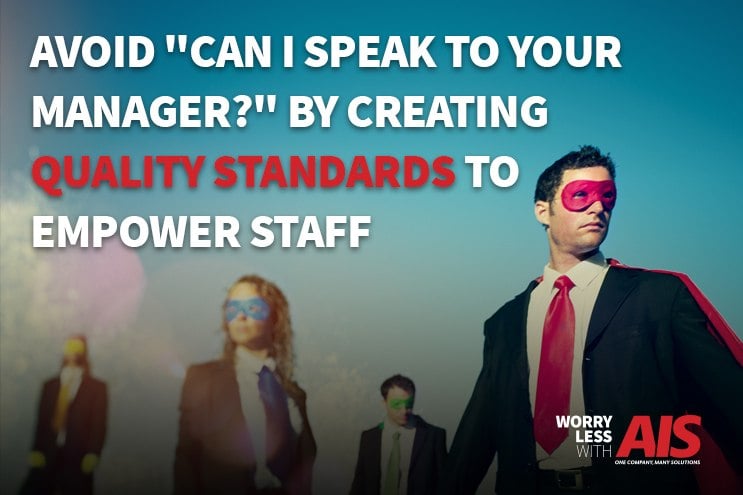 READ TIME: 4.5 MINS.
How frustrating is it to speak to a company, and you can't get the answers you are looking for, so you ask, "Can I speak to your manager?" It's pretty frustrating, right? And, it certainly isn't a good impression.
It can be a total win-win for your customers, staff, and business by identifying and creating quality standards and empowering your staff.
To give the best customer experience, your staff not only needs the authority to make decisions but also the knowledge to respond. But, are you confident that your team can make the most of those decisions?
Well, if you don't have that confidence, let me give you a few suggestions that may help, as it did with our company, AIS.
Building Quality Standards
First, we built our quality standards. These quality standards are the operating priorities that guide the consistency of any customer experience. They also provide parameters for your staff on making quality decisions when delivering that customer experience.
Start by writing down all the words or phrases you think your customers would use to describe an ideal service experience from you. Most of these words or phrases will fall into six categories:
Use of time

Examples: Efficiency, Speed, and Timeliness



Elimination of Risk or Worry

Examples: Accuracy, Privacy, and Security



Personal Connection

Examples: Appreciation, Politeness, and Respect



The Flow of Experience

Examples: Ease, Accessibility, and Simplicity



Sensory Environment

Examples: Cleanliness, Organization, and Style

Communication and Information

Examples: Accuracy, Helpfulness, and Knowledge
Once you have a list of these words, clarify those that you might apply to your organization by selecting the words that hold the most meaning for you. It would help if you got this down to a list of about four to six keywords to define your "standards of quality."
You will also need to consider how you would define each of these standards behaviorally. In other words, how can you communicate with your staff on what they need to do to achieve these standards?
As another example of how we did it, we came up with:
Responsive: We anticipate and swiftly respond to the changing needs of our customers—and we take time to listen. It may not be our fault, but it is our problem.


Knowledgeable: We present ourselves as industry experts and the company as a thought leader. We have an incessant need for continuous improvement and quality service.


Trustworthy: We are respectful of all our interactions. We aim for consistency in all our tasks, and we honor the AIS organization.


Efficient: We perform our roles efficiently, so clients get the most out of our partnership. We use our time and resources wisely.
Related: Cultivating Company Culture Through A Mission Statement
Next, your quality standards must be organized into a clearly understood hierarchy to avoid staff with irreconcilable tie-breaks. To have these be a decision-making tool, these need to be ranked in priority order. This will reflect the hierarchy of your quality standards.
The danger of not understanding the hierarchy of your quality standard is when faced with a customer service challenge, staff will improvise, and the customer will recognize this, followed by the dreaded, "Can I speak to your managers?" request.
Determining Which Quality Standard Is Most Important
For AIS, out of our four quality standards (responsive, knowledgeable, trustworthy, and efficient), which is the most important one?
If our staff had to make a decision and both of these are a tie, which would come first? Let's say a customer sent us an email with a question, and after our staff reads the email, they realize it will take some time to research, maybe a day or two.
Now our staff has a possible dilemma, our quality standards are in a tie between responsive and knowledgeable. Should they respond to the email without the answers to be responsive, or should they do the research to be knowledgeable?
We ranked our quality standards in the following order of importance: responsive, knowledgeable, trustworthy, and efficient. So in this example of the tie between the quality standards, responsive wins.
We have determined through research with our clients, that being responsive is the number one expectation we should provide to our customers. So for this example, our staff would respond via email immediately.
We would communicate that we have in fact, received their email, restate the question to make sure we understand it, would be bad if we researched the wrong item, and then give the client date and time on when we will have the answer to them.
Don't forget to identify a way to measure your ability to deliver on these standards. By identifying a set of KPIs (key performance indicators) to benchmark and then continually measure how your business is delivering on your new standards. This will also be helpful in discovering "learning opportunities" for staff as you develop and implement standards.
To learn more about measuring KPIs, read our article, KPI's: Are They Still Relevant to Field Service Technicians?
The Final Say on Quality Standards
Because of how important our quality standards are to our organization, we've named them. We call them our "Gears." Just like the gears of a machine, when all are working together, they bring more power. The term "Gears" also has meaning for the products and services we offer to our customers.
The gears at AIS also represent our staff, as again, when all these are working together, we can deliver more power and efficiency to serve the needs of our customers better.
So, if your company is getting the ever-so-dreaded, "Can I speak to your manager," maybe it is time for you to take the time and develop your own quality standards.
To learn more about the culture we continue to create at AIS, or any of the products and services we offer, reach out to us here. We're here to give you peace of mind to help you win more business.