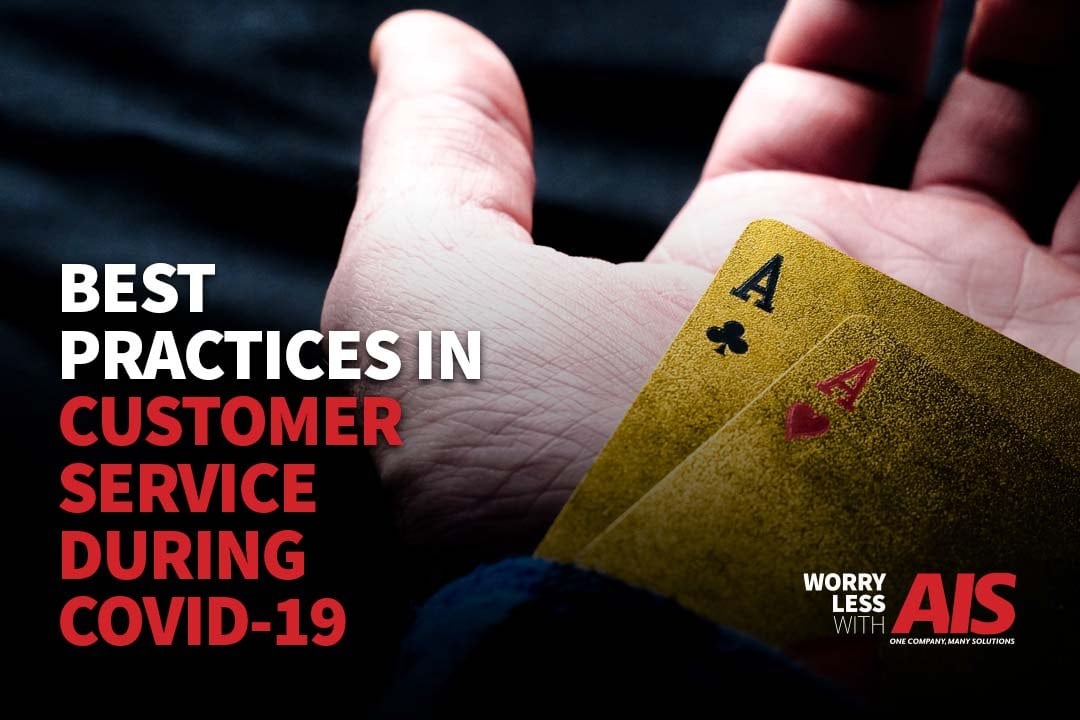 READ TIME: 5 MINS.
It's safe to say that almost every business and household in the world right now is feeling some effect from the novel COVID-19 virus. Whether you're the owner of a daycare, a paralegal for a law firm, or an Amazon delivery driver, this pandemic is something you can't avoid.
The strict regulations in place for social distancing and even isolation have many wondering about upping their business game and asking themselves,
"What are the best practices in customer service during COVID-19?"
For both essential and non-essential businesses, it's become a challenge to find creative ways to reach and connect with customers.
During a time of such uncertainty, change, and even panic, you're forced to make business decisions you've probably never had to make before. However, there's a bit of simplicity when it comes to sustainability and continuity during a time like now. Meaning, you can do one of two things:
Stay put in your ideas and strategies, and hope that your business can make it out alive once normal business life resumes. Or,
Find ways to make your business better than it ever was before.
Believe me when I say, there really is no better time than now to strategize and discover different ways your customers can benefit from the products and services your organization sells or produces.
As so many small businesses suffer from the economic fallout, now could be the time for your business to shine and take your customer satisfaction efforts to the next level.
Try and think of the bigger picture as far as the efforts you make now that significantly support your business growth for the future.
Related Article: COVID-19, Prepare Now for Later: Can Your Small Business Bounce Back?
Pandemic Proof: Best Practices in Customer Service
Your business (regardless of the industry or size) relies on a strong customer base. Through years of exceptional service, your customers know exactly what they'll get from you each time they receive a delivery or place a service call to one of your representatives.
Even though times have changed, and our person-to-person contact is limited, there are alternative things you can do to effectively connect and communicate with your customers.
Adapt and Modify to Give Exceptional Customer Service
I quickly learned that just because our customers were now working from home (WFH) didn't mean they wouldn't need access to their office technology devices (such as their printers and copiers). If a customer was no longer using our equipment at their office, they needed an alternative solution as they work remotely.
Our service technicians and business technology consultants are offering in-home copier installations so that customers could still conduct their daily business needs and duties. Of course, this came with extra safety precautions that my team followed—but I will get to that a little later on.
Something as simple as visiting a customer's home as opposed to their business really wasn't out of the way for us. Visiting a customer's home office shows our dedication to their business as well as how quickly we were able to adapt to the changing needs of our environment.
We also put a tremendous emphasis on over-communicating with our customers, especially before a sales or service appointment took place. We continue to ask our customers of any special requirements, prior to us showing up for service calls so that we can do our best to assist remotely whenever possible.
Although many of our efforts come from our service department, we also offered other service-based solutions, such as financial considerations and product promotions.
Keep in mind, even if you have an actual customer service department, all sectors and employees should be customer service-based right now. It's an "all-hands-on-deck" type of situation. To learn more about our group efforts, visit our COVID-19 Response and Support Webpage.
Extra Safety Measures To Keep Our Customers Safe
Another way we've upped our game and practiced better customer service techniques is by the new safety measures we require for all employees.
Whether we are visiting our customers who are staying home or at their office building, we are committed to providing them peace of mind. It continues to remain critical to us that our clients know their health and safety is always our top priority.
Below are the new safety procedures all of our employees are practicing:
Strictly follow all CDC health recommendations
Implementation of internal cleaning initiatives of all our facilities
Continuous communication to all staff with updated safety standards as they occur
The utilization of hand sanitizing spray before, during, and after any contact with a business, equipment, or staff member
Disinfecting towel use when servicing all equipment, including glass and control panels before leaving an external site
Temporary suspension of all travel and in-person demonstrations when required, by leveraging video conferencing and telephony platforms (to reduce person-to-person contact)
Of course, the COVID-19 pandemic has presented its fair share of challenges. But, we are continuously working hard to stay safe as well as making sure our customers feel comfortable while we are on-site.
Small Gains and Lessons Learned
It's always a healthy idea to look for the positives that may have surfaced from a setback or challenge. If anything has come out of this, I believe we have become more attentive to our customers and their business needs.
Each business we serve is different and has specific demands, especially when it comes to the level of excellent customer service they require.
During these trying times, we are even more willing to do whatever it takes to let them know we are here for them and their business. Even a simple wellness call to ask how they're holding up goes a long way. At the end of the day, their success is our success.
As you continue to reach out to your customers, it's critical to shift your focus. Instead of solely speaking on selling new products or services, make sure to ask, "What can I do to help you and your employees?"
It's truly a great time to let them know you're not just a business that sells office copiers or telecom services; you're much more than that!
The Final Say On Best Practices in Customer Service
Being there for your customers, and supporting their needs, will set you apart from other companies that are closing their doors or are too overwhelmed by this crisis. Your customers will be looking to you to help get their business restarted when all this is over.
Take advantage of this time to present new and creative ways that allow you to connect with your customers, And, not just your current customers, but potential ones as well. You never know what new business could turn up just by the minimal efforts your business and employees continue to take.
AIS is not just any office technology company. We are a company dedicated to educating, informing, and empowering our customers and readers with the knowledge they need to grow. To learn more about upping your game for best customer service practices or any of the products and services we offer, reach out to one of our business technology consultants. We're here to give you peace of mind to help you win more business.