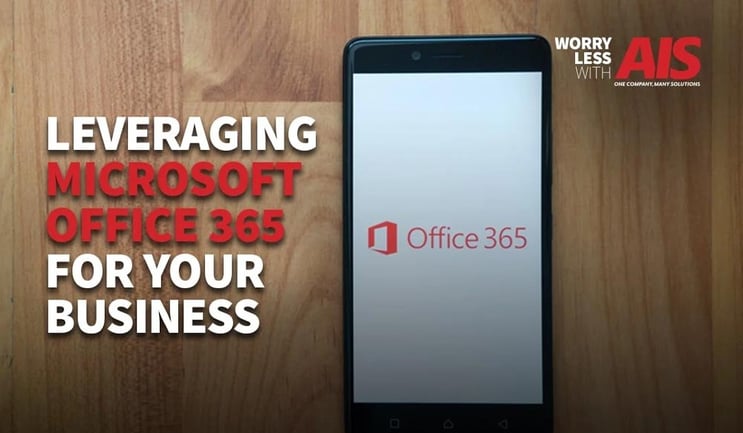 READ TIME: 5.5 MINS.
This article is Part Two of a series on how Office 365® can help your business collaborate, communicate, and connect. Click here to read Part One.
When AIS moved into office 365, we didn't know the full impact that it would have on our small business. We had gone back and forth on different communication, collaboration, and office suite platforms.
Throughout our business, we had users using many different products like GoToMeeting, Zoom, Skype, Slack, Google Docs, Microsoft Office… the list could go on and on.
It took some realizations from our management team that we needed a more functional communication and collaboration system. Our entire team immediately relished the benefits afforded by leveraging Microsoft Office 365 for our business. Resistance to change can come in many forms. For AIS, our reluctance or hesitation fell into three categories:
Cost
Control
New ways of thinking and doing things
Below, we're going more in-depth on the three categories that we initially pushed back on.
Our Office 365 Findings


1. The Cost and Impact of Office 365
Much of the IT industry is moving towards a subscription-based model. Ever heard the term SaaS (Software as a Service)? SaaS is a software licensing and delivery model in which software is licensed on a subscription basis and is centrally hosted. It's sometimes referred to as "on-demand software." Learn more about it here.
Meaning, you pay monthly for a set of services that are often cloud-based. This is a stark departure from the tradition where typically, small and medium-sized businesses buy software and run it well past its supported life.
We know of companies still running Office 2007, which hasn't been supported by Microsoft since 2017… yikes! The reason for doing so boils down to cost.
The typical mindset is to maximize the benefit from the software and avoid the sometimes huge capital expense of new software. No business wants to increase its costs. For many, it sometimes seems easier to swallow a larger capital cost than a recurring monthly subscription.
For us, it made sense to move to the monthly subscription model. Cost-wise, we were pretty close to our current on-premise or on-site solution.
The additional benefits of more security, productivity, collaboration, and features, along with some nudging from an industry peer, helped put things in favor of Office 365.
2. IT Teams Want Some Control
Moving to the cloud or Office 365 means you are no longer storing your data on systems that you own and are either on-site or in another offsite facility. By the way, I'm sure you've heard so many of us mention "The Cloud," but what is it?
In the simplest words, The Cloud (or cloud computing) means storing and accessing data and programs over the Internet, rather than storing information on your computer's hard drive. The cloud is just a metaphor for the Internet.
You are storing data on someone else's equipment and simply renting the space. So, where does the loss of control happen?
When switching to the cloud, you lose control of how and where your data is stored. The, "How is my data stored" is generally less important to most as it deals mainly with the hardware and redundancy that is provided.
All major cloud providers have a level of redundancy that even some enterprises envy, and hardware in the big picture doesn't matter all that much. The, "Where is my data stored?" is a far more critical question.
With the cloud, including office 365, you are storing data in multiple data centers, potentially around the world. If you are in a regulated industry like healthcare (and there are specific compliance standards), you have to know where your data resides so that you can protect it.
Many applications in the cloud, including Office 365, offer industry compliance agreements and services to help you. This leads me to my next point, which is the concern of data backup and recovery.
3. Adapting: A New Way of Thinking And Doing Things
As human beings, we are creatures of comfort. We get used to doing things how we think best, and at times, ignore a better or more time-saving way to do something.
As mentioned earlier, change is not good or bad, it's what we want it to be. To reap the full benefits, people have to be shown how the change will benefit them. That's what we did!
We spent a great amount of time communicating with our team, providing training resources, and helping them understand all the benefits Office 365 would bring them.
Looking Toward The Horizon
There are tons of features and benefits to utilize within Office 365—and taking advantage of all of them is nearly impossible. Compounding these benefits with the constant release of new features (and continual tweaks that are being made), can become slightly overwhelming.
The good news is that you can filter that all out by focusing on what's critical to your business, just like we are doing at AIS. We have a roadmap of features that we want and plan to implement, based on current needs while also looking ahead.
So, what are our needs? Below are some examples of things we are implementing, based on the demands of our business, employees, and customers.
SharePoint Online: SharePoint Online is a Content Services Platform (CSP). It allows users to manage documents, workflows, document versions, and more. The way we use SharePoint is for our Intranet. Keep in mind, there's a difference between the Internet and an intranet. The intranet can be thought of in two ways. The way we are talking about it here is for the purpose of internal communication and access to internal resources. The intranet is a local or restricted communications network that can use software from the world wide web. As a result of the continual improvement of our intranet, additional features will need to be created, and more collaboration will occur. Having our intranet in a continual improvement loop will always ensure that we are communicating and collaborating effectively.
Forms and Workflows: We have lots (and I mean LOTS) of forms and workflows to help us manage various things like conference room bookings, visitor registration, and so on. By utilizing forms and workflows, we're able to have everything in a central location, as everything has a home. We're now able to provide a more convenient and consistent experience to our customers and employees.
Encryption: If you don't currently have encryption (security for emails), now is the time to get it. In this day and age, there is no reason not to have this feature, which helps you protect your sensitive email information when passed internally or externally. We previously had ways of sending encrypted messages, but they weren't integrated directly with our email solution, which was yet, another system to manage. With our 365 subscription, we have access to email encryption natively in our email client, making it reachable to our users in only a couple of clicks.
Now that you know the applications and programs we currently use, you're probably wondering what features of Office 365 interest us in the near future.
Bookings: Bookings is an excellent way for you to let your customers schedule appointments with you or your business through a self-service web portal. And guess what? This feature is FREE if you have the right Office 365 license. We plan to implement Bookings so that our staff can improve our overall customer experience by allowing users to book appointments directly with our sales, finance, or management team using this feature.
Data Loss Prevention (DLP): DLP is a system that you can use within 365 that helps prevent the leaking of sensitive data. DLP is going to help us further secure our data and the data of our customers. This ensures that all of our business data is not transmitted inappropriately, that only those who need access do. DLP does this through a complex process of categorizing and scanning your data for things like social security numbers, credit cards, and other personally identifiable information.
Mobile Device Management (MDM): Today, every business has mobile devices, right? Quite honestly, the need to secure and manage these devices has gone relatively unnoticed, at least in the SMB (small business) world. Management of your mobile devices needs to be part of a BYOD (Bring Your Own Device) policy. MDM allows an organization to manage applications and data on devices such as laptops, tablets, and cell phones. By securing these devices, AIS will further be able to protect customer information and also provide a great user experience to our entire team.


The Final Say: Office 365 Transition
As you can tell, the transition into a new email system, such as Office 365, is a big one to make. There's a lot that goes into a change like this, such as pricing, implementation, education, and effectiveness.
However, becoming educated on different business solutions now will only help support your employees and customers later. Take some time to learn the best ways a cloud-based email solution can benefit your organization—you may be surprised at what you find out!
At AIS, we're dedicated to staying up-to-date on current data initiatives, software applications, and industry trends. Our goal is to make sure our customers and readers know the options they have for their business needs. To learn more about our cloud-based solutions or any of the products and services we offer, reach out to us here. We're here to give you peace of mind to help you win more business.