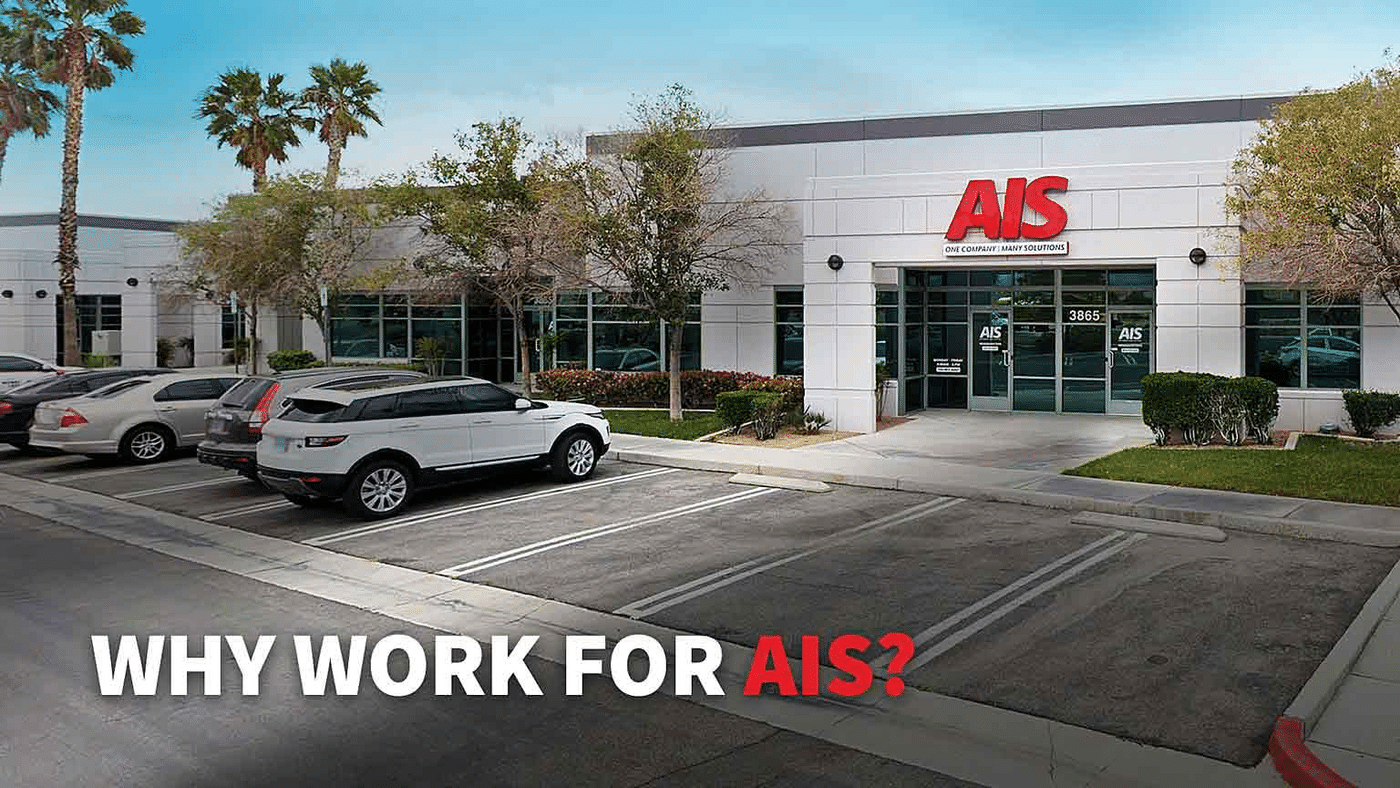 READ TIME: 3 MINS.
Right now, it's a buyer's market. You're probably shopping around for your next job or waiting to see what you can get working for a different employer. While additional benefits and extra pay are extremely nice, that is not the only thing you should be considering.
Finding "Purpose" is "The Why" behind any company. If you watch or read Simon Sinek's content, you'll quickly realize how Purpose drives employees and companies to succeed; and in the end—that is what most of us want.
In recent years, the word Purpose has become a buzzword in the world of work—and AIS is no different.
We take our purpose seriously, "To provide technology that works and revolutionizes your business with service you'll fall in love with." This is the goal of every single employee that works here, from the CFO to our Delivery Driver's, the Sales Representatives to the Service Technicians, and Las Vegas to SoCal.
Every Business Has a Purpose: Why is AIS Special?
We are unique because our Purpose drives us. This Purpose is behind our entire process, starting with selecting the best employees, learning & development, and how we treat our customers both internally and externally.
As an HR Assistant, I'm not the person out there servicing or selling technology. But, I am a part of finding the best people to service and sell our products while developing and evolving our culture.
Maybe I'm biased, but I believe the culture at AIS is truly something amazing to experience. The last sentence of our Mission Statement sums it up quite nicely: "Our foundation of work ethic, integrity, and teamwork enable us to work within a culture that cares about our customers, our community, and each other."
This does not mean that there are no troubles or that we don't stumble while trying to accomplish this. It does mean that we will work through those troubles and stumbling blocks to make a workplace we each want to be a part of.
Related Article: Cultivating Company Culture Through A Mission Statement.
How Do We Grow Our Culture?
Although this is a lofty mission, we have a lot of strategy and delivery in place that allows our culture to grow. Here's how we do it:
1. Our Hiring Process
We hire people who will put effort into their work. While a candidate may be able to do the job, do they have the willingness?


2. Practicing What We Preach
Every company talks about their integrity, but that does not mean they walk their talk. Here at AIS, we are very transparent and frequently communicate with each other through emails, TEAMS chats, phone conversations, meetings, our podcast, and "Water Cooler Conversations." If an employee doesn't know something, that information is generally out there and easily accessible.


3. We Get Along
Teamwork is the modus operandi (a particular way or method of doing something, especially one that is characteristic or well-established) for work today—so we hire for it. We evaluate the employees we already have in a team and decide if a candidate would be a good fit.
Most of our lives are spent at work, so we should like our teammates, right? To help facilitate that, each manager should be hosting a team-building activity with their direct reports quarterly.


4. Enjoying Where We Work
At AIS, we try to make work fun and rewarding. We recently had our first-ever summer Olympics (themed after the Olympics that just took place in Tokyo), and we offer internal mobility with opportunities for advancement in the same, or even a different, department.


Our team also cares for each other. If someone is hurt or needs assistance, we do what we can to alleviate their troubles or show our support.

Related Article: Best Practices to Create Great Company Culture At Any Business.


5. Connecting With Our Customers
We care about our customers (both internal and external), as without them, we would not be here today or constantly growing. That work ethic I talked about earlier, is where it shines.


6. Supporting Our Communities
There can be no AIS without the community we are a part of. This is not an endless void or vacuum, it is a biosphere. Everything that affects the community, such as COVID-19, affects us, and we in turn, affect our community.


As an example to make sure that we maintain a positive, beneficial, relationship with our community, AIS offers each employee up to 24 hours of volunteer time off.

7. Working Together
This is the final piece of our Mission Statement, but it is definitely not the least. As we have found out through the most recent trials of 2020 and 2021 and more distant trials throughout history, we need each other.


Here at AIS, no one works alone (even if you have a single-person office). If you need any help or have questions, there is always someone you can ask or talk to.
The Final Say: Why Work For AIS?
This does not even come close to covering why you should work for AIS, but that's alright. We are constantly changing and evolving to meet our customers' needs, so there is always something new going on.
If you are interested to learn more and come to work for us, check out our website for our list of job openings at www.ais-now.com/careers.