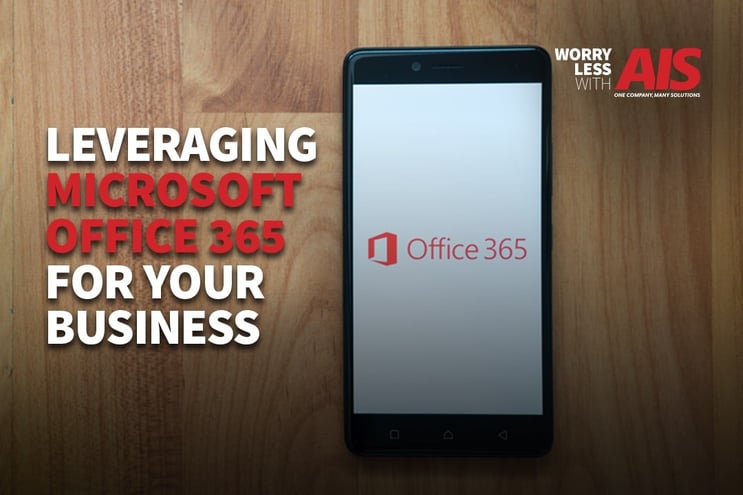 READ TIME: 6.5 MINS.
This article is Part One of a series on how Office 365® can help your business collaborate, communicate, and connect.
I've previously written about disaster recovery and business continuity, as it's so essential to a healthy IT infrastructure. I focused mainly on the fact that it's the perfect time to start planning and implementing due to the current state of affairs (COVID-19).
I mentioned that there were a couple of excellent collaboration platforms available to small and medium businesses during this time of uncertainty. Those were Google G-Suite and Microsoft Office 365 (Office 365). As you probably know, both platforms dominate the collaboration and productivity spaces for small and medium businesses.
Since we at AIS utilize Office 365, I thought this would be a great time to talk about our journey into leveraging the benefits of Microsoft Office 365 and what our business is starting to see. The idea of any kind of change is scary to most, especially company-wide— and new or emerging technology can have the same effect.
Change is scary but in of itself isn't bad. The effectiveness of change depends on how it's communicated, planned, and supported. A massive change, like moving to Office 365, if not managed correctly can cripple a business.
Making the switch last year to Office 365 was a huge decision, with far-reaching financial and business consequences. In this article, I am walking you through AIS's journey into Office 365, what you can expect in your implementation, and how the 365 features have begun to transform our company digitally.
Office 365 Journey and Transition: What to Consider
When deciding to move to Office 365, you have to look at all considerations, both good and bad. Like any adjustment or change you make for your business, it's critical to learn all you can upfront so that you know what to expect once implementation begins.
Costs and Pricing Analyzed: What Is The Cost Of Your Current Email Solution?
Whether your email is through a cloud-based solution (such as Office 365) or still have an on-premise email server (Microsoft Exchange), there is a cost involved. The pricing for almost all email solutions can be a mix of licensing, support, maintenance, storage, software renewals, and others.
Before getting started on the Office 365 migration, you will need to collect all the costs of your current email solution and then compare it to what it would cost to be in Office 365. Office 365 has a lot of features and add-ons.
Depending on the license types you choose you may get these features and add-ons included versus having to purchase them separately. Be aware of this as this is a great way to demonstrate value and justify cost.
Not sure how to find accurate comparisons? That's what a great managed IT services team is here for! Read more about the IT partnership you could have by reading our article, IT Help: Can Your Managed IT Services Provider Do All This?
It's important to keep in mind that there is going to be an overall project cost, whether you have an internal IT department, or a technology management provider.
Let's say you've collected your current email costs, and maybe on the surface, your findings show you're better off with your current email solution. For me, this isn't very surprising. It's common that cloud-based solutions (like Office 365) are more expensive. But why?
Just like you, we're regularly looking for ways to save money or cut unnecessary costs through our business expenses. So, how do we at AIS, justify the added cost that comes with Office 365? Well, part of our justifications came from the new feature set included in the Office 365 subscription.
As it currently stands, there is a feature gap between Microsoft on-premise solutions versus Microsoft cloud solutions— and this gap is not shrinking. The gap is expanding in favor of Microsoft cloud solutions as this is where Microsoft (and many others) are seeing the future in business cloud computing.
Also, this gap extends beyond Microsoft branded software and systems including video conferencing, VoIP (Voice over Internet Protocol), CRM (Customer Relationship Management), and ERP (Enterprise Resource Planning) solutions. Meaning, some of these systems will only integrate with 365.
Office 365 Features: What We Use The Most
For AIS, the features we found most beneficial in were in the following applications:
Microsoft Teams is a unified communication and collaboration platform that combines persistent workplace chat, video meetings, file storage, and application integration. We use it now more than ever, as so many of us are working virtually and regularly sharing documents. We are also hosting customer meetings in Teams to such a degree that now, we are looking to add on VoIP so that we can reach customers who might not be able to currently leverage Teams.
SharePoint Online is a cloud-based service that helps employees share and manage content, knowledge, and applications for almost seamless collaboration across an organization. Previously, we were hosting an on-premise version of SharePoint which acted as our intranet. Our old intranet was slow and bogged down with unnecessary amounts of data. Not to mention, our team found it challenging to find the information they needed. Now, we have developed a new intranet, based on SharePoint Online. This new intranet is helping our employees find and access critical information faster, as well as collaborate more freely and with fewer restrictions.
Microsoft OneDrive is a file hosting service and synchronization service operated by Microsoft as part of its web version of Office. With each license of Office 365 you get a certain amount of cloud storage. OneDrive is allowing us to decentralize our information to create a more open and collaborative environment. It is also helping us internally reduce our dependence on expensive storage systems, while also providing document versioning, resiliency, and security.
VoIP (Voice over Internet Protocol) is a method and group of technologies for the delivery of voice communications and multimedia sessions over the Internet. As mentioned before, we are now looking to expand our capabilities with Teams by using VoIP. Make no mistake, we still have a phone system. But, the future appears to be heading to a more unified environment where desk phones are a thing of the past.
CRM Integrations is the seamless connectivity between your customer relationship management (CRM) software and third-party applications. In our case, we are integrating Office 365 and our VoIP system with Salesforce so that we can provide a better and more seamless customer experience, while also generating some efficiencies.
Planning and Communication for Office 365 Implementation
So, you've justified the switch, but what's the next step? A project plan. Your internal IT department or managed services provider should be able to help. This project plan needs to include timelines and milestones for the migration, and an internal communication plan to help employees accept and embrace the change.
This communication will need to be reinforced multiple times throughout the process. It needs to come first from the CEO/business owner and be followed by senior leadership support.
Throughout this process, you will have to make several decisions that will affect your overall experience—which is where it turns a bit into a "Choose your own adventure" situation. Some of the choices you will need to make includes:
Choosing a Licensing Source. You have a couple of options for a licensing source. You can go directly to Microsoft or a third-party vendor. There really isn't a difference in the end product that is provided. But choosing a third party can be a little more expensive. The extra expenses are due to the better level of customer service and support that you will receive, rather than you having to call Microsoft directly (we've all heard those horror stories). Sometimes, those third-party vendors will also bundle other services with your licenses. So, make sure to take advantage.
Method of Migration. There are a few ways to do these migrations, and they each have pros and cons. My preferred method is a cutover. In general, the steps are set up, initial transfer, cutover, and final transfer. There are many items in these seemingly small steps, so don't be fooled.
Auditing Mailboxes and Cleanup. Before migrating, you will need to create an email optimization plan as you don't want to pay for licenses when you don't need them. And before migrating, it's essential to clean up your data so that you don't transfer things that you don't need. Garbage in, garbage out. This plan can be dense and is another great reason to rely on a managed IT provider to help map it out.
Signature Management. If you don't have a central way to control your companies' image and brand in an email, you should strongly consider looking into signature management. Signature management allows you to centrally manage people's email signatures so that you have a consistent image and message for all email communication. There will be a cost of this feature (should you want it), so make sure to allocate that within your budget.
Remote Work Support. We started this move to Office 365 before COVID-19. By the time it hit the US and the states we service, we were firmly entrenched in Teams, and OneDrive. The global crisis and need to work remotely accelerated our implementation efforts so that we could provide the required tools and resources to our team. It also helped us stay in touch with our remote teams so that they didn't feel as isolated, as we have more than one location. Sorry— no embarrassing video conference stories to share! Securing your remote workforce is critical and Office 365 helped us do this by reducing our dependence on VPNs while implementing multi-factor authentication, and secure cloud sharing through Teams and OneDrive.
Take a look at the graph below that shows how all our team members have begun utilizing Teams over the past few months. We've really taken advantage of communicating virtually during the quarantine.

The Final Say in Our Office 365 Journey
This may have seemed like information overload, but really, I just scratched the surface. There are so many factors that go into a transition like Office 365 but it's certainly something that can significantly benefit your business.
Make sure to check out the second part of this blog as I talk about our findings and the future plans I have for the Office 365 integration at AIS. You can read it here.
For any questions about our Office 365 journey or any of our IT solutions, make sure to reach out to us. We're here to give you peace of mind to help you win more business.