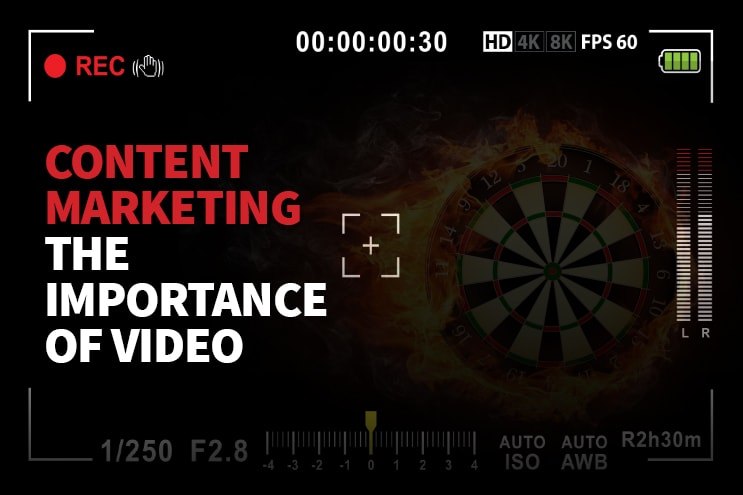 READ TIME: 8 MINS.
This article is Part Three of a series on Content Marketing. Make sure to read Part One and Part Two of this series.
As we continued our content marketing efforts, we knew that we'd eventually have to take a massive leap of faith when it came to video. When we began implementing our content marketing strategies while working with author and digital marketing expert, Marcus Sheridan, as well as his team of content experts, we continued to learn the significance of video.
Let me tell you this, I wasn't on-board with video at first, for many reasons. These were some of my initial thoughts:
"Video is going to be too hard."

"Video isn't that important for a B2B technology company (of course, I was in denial because of the first objection!)

"Video is going to take to many resources, cost too much, and were going to look like amateurs."

"I just can't see how video is going to help our content rank."
And then my last (and most daunting thought) was, "I'm scared of video." If producing video were easy, everyone would be doing it, right? Wrong! Everyone starts somewhere, and when you do, you'll start as a beginner, just like me.
Pushing Through the Video Wall
I'm here to tell you that when it comes to video, prepare to feel uncomfortable— but only for a little while. Everyone goes through it. I did and still do. Your palms get sweaty, and you constantly review your talking points to then immediately draw a blank as soon as you place yourself in front of that big, scary camera.
Your videographer might even tell you to relax or take a deep breath, but when you're the one under pressure, those helpful words just don't cut it, and you're thinking about anything besides relaxing.
These feelings are very common and occur because you're out of your comfort zone. You're probably also experiencing a rush of thoughts in your head for why you aren't going to be any good on-camera.
For me, video was much like learning to speak in front of crowds. The more you do it, the more relaxed you are, and the more fun you can have while doing so. It's also much easier to have a conversation with the camera when you are discussing topics that you know and are comfortable speaking about.
I bet by the time you've recorded 20 videos, all your fears will be behind you. Anyone can do it. Besides, the harsh reality is that you have to do video, or you'll get left behind.
I remember watching one of my team members, like our Content Producer, whiz through educational and content videos effortlessly, making me think I needed to keep working harder to feel more comfortable on-camera like her. But then I had a thought, "Maybe I can get her to do all mine?"
But Why Video?
Words are one thing, but the effectiveness of video is much more powerful. Besides, when added to your content strategy, video can supercharge the value by supporting and building your audience, search, and results. Think of video as a piece of content that helps as a booster within your marketing strategy.
Take a look at some of these facts on why you should be using video in marketing your business:
People buy from people they like and trust.

Decision-makers hide from salespeople behind email, voice mail, and the "gatekeeper" at their business's front desk.

Online video, just like written content, is available 24/7 and 365 days a year.

YouTube is the second largest search engine, and Google loves video (they should, just because they own YouTube).

Video can be used to explain anything and provides more context than the written word.

Video increases conversions, purchase decisions and revenue.
If you want to see actual stats proving the value of video when marketing to businesses, read this article published by MarketScale, Marketing Statistics Prove Value of B2B Video Content.
Content Creation and Brand Awareness: How We Use Video
There are so many different ways you can incorporate video within your entire company. You can produce videos for internal and external marketing purposes, videos for sales reps to use, as well as videos for your service or helpdesk department.
One of the great things about video (if you haven't started to notice) is that your options are endless when it comes to creating quality content for your targeted audience. Below are some of the ways we use video.
Video for Marketing.

We've embedded video in our culture and our strategy.—we use it everywhere! We include video within our emails, on our website, in our blog posts, marketing campaigns, and on our landing pages. We've become so comfortable with it; and because we've realized its importance, we continue to look for more ways to integrate it.


We use video in marketing to answer decision-makers questions and what Sheridan calls the "Big 5." If you don't know what that is, you should read his book,

They Ask You Answer

, or see my earlier blogs on Content Marketing—

Part 1

and

Part 2

. These blogs will also help you understand how we've moved from traditional marketing to digital marketing and what that means for your business



We also create content for customer testimonials and journey videos produced by our marketing team. These videos demonstrate how our customers are benefiting from partnering with us.
Video for Sales.

We've integrated video into our entire sales process. Our marketing department has taught our sales team how to use personalized one-to-one videos to help get them in the front door, bypassing unopened emails or unanswered phone calls.


We've also added video bios for each of the sales staff in their email signature lines to build better relationships with current or new clients.

Because this has been so successful, we're even adding it to all of our service technicians, management team, and our newly formed finance account managers who answer customer financial and accounting questions. Every team member that touches a customer will have a video bio email signature.
Another great way we use video for our sales teams is by creating a video that answers 80 percent of the questions our salespeople get asked during initial sales calls. We do this so our customers are more informed and our sales staff can get these questions answered, allowing them to spend more time discussing the customer's needs.
Let's face it: customers today are less interested in hearing a sales person walk them through a sales proposal line item by line item. One to one videos allows our sales staff to present proposals, even when they can't be in front of the customer.
By creating a video and attaching to the summary email for a sales proposal, our team can walk customers through the proposal and answer any questions they may have. It's almost as good as being there.

We even produce product videos, and when we do, we try to have as much fun as we can while developing them. For example, check out our video comparing

Sharp vs. Kyocera

.



Video for Service or Helpdesk.

We found that by producing videos for tech tips and DIY (do-it-yourself), our customer service staff and service technicians were able to let customers help themselves in troubleshooting the most common problems with our products. This resulted in lowering the number of support calls and happier customers.
Creating Premium Videos: The Right Workshop and the Right Tools
We use a host of tools that allows us to produce, distribute, host, and measure the effectiveness of our videos, their reach, and also to monitor our progress. Here's a list of the majority of the tools we use:
Videographer.

Find a student, a staff member, or someone with some creative background who has a willingness to learn and can immerse themselves in the production of video. If they have editing skills, then it's a major plus.



Equipment.

You don't have to have a big budget, so focus on starting small. Check out this blog published by iMPACT on the basics,

Set up a Killer Office Video Studio on a Beginner Budget. Here's What I Would Buy

.



Adobe Premiere.

You need an excellent editing tool to edit well, add sound, type, and effects to present your work. Final Cut Pro is another great video editor.



Rev. (rev.com)

This online service creates a transcription (builds a text version of the audio portion of your video) that will be needed to upload to your hosts. Some online hosts automatically generate a transcription (they can come with inaccuracies) when you upload your files. So don't settle, but spend the money (small per-video, fee) to get it right.



Wistia and YouTube Hosting.

All of your videos online (whether on a landing page, embedded in an email, or stored on a channel) will need a place to host and store it. Depending on the data you'll want to glean from it, you might have to settle on one or more hosts. We use Wistia for any business video that we want to get complete visibility of its views and use YouTube for overall reach. We even have our own video channel on YouTube,

The Copier Channel

.




Tubebuddy.

Just like the Google search engine, YouTube has a back end, and you're going to need a tool that can help you research keywords, insights, and analytics. Tubebuddy is the Google Analytics and research tool for everything YouTube.
Tactics: Supporting a Solid, Winning Strategy
Just like your written content strategy, you'll need to decide on several tactics that will help you implement your video strategy.
It's vital to first start with company buy-in. And when I say company buy-in, I really mean it. From top to the bottom, everyone must support your efforts. Of course, you'll have a few "doubters." But, they'll get on board once they start seeing results.
This brings up the next important point. It's essential to monitor, measure, communicate and celebrate your wins. If you don't, then how is the rest of your business going to know the results of all your hard work?
Make sure your entire organization understands how your efforts are helping the bottom line. In the beginning, focus on determining what topics or questions you'll be answering with your video. We did so very similar to our blog or written content strategy.
These topics should be completely aligned, and you should be performing keyword research or working with your content manager to go over topics on a regular basis, as well as the video projects you can schedule to coincide with their calendar.
At a minimum, start by producing one video a week and then increase this to twice a week. Interestingly enough, a well-organized video shoot may include multiple video projects during the same recording session since you already have a location, equipment, and talent in place.
By recording more than one video at a time, you'll have enough great content during editing time for multiple videos.
Keep in mind, video length will vary, and the "right" or appropriate length should be determined by how long it takes your video to explain or present your idea. There's no perfect answer when it comes to the duration of your videos.
Are We There Yet? What's Next?
Hell no! After all, I went through all of this to feel more comfortable with video, and now I need to take our sales team through the same process. Why? Because they are the ambassadors to our organization.
Our goal is to prop up our sales teams and load them with the content resources they need so that potential customers will trust and buy from them. However, it can be tricky to get everyone on board!
Try getting a senior salesperson with ten plus years of experience and tell them that we are going to change everything they are comfortable with, and they need to do something completely new… Ha! It's a challenge, but take it from me, it can be done!
Keep a lookout for more content marketing topics in the future as I discuss what we're learning on this new adventure in digital marketing.
At AIS, we aren't just a technology company. We're your trusted news source when it comes to the growth and future of your business. You'd be surprised at the successes you'll see just by implementing some of our strategies. To learn more about content marketing, or the products and services we sell, reach out to one of our business technology consultants. We're here to give you peace of mind to help you win more business.