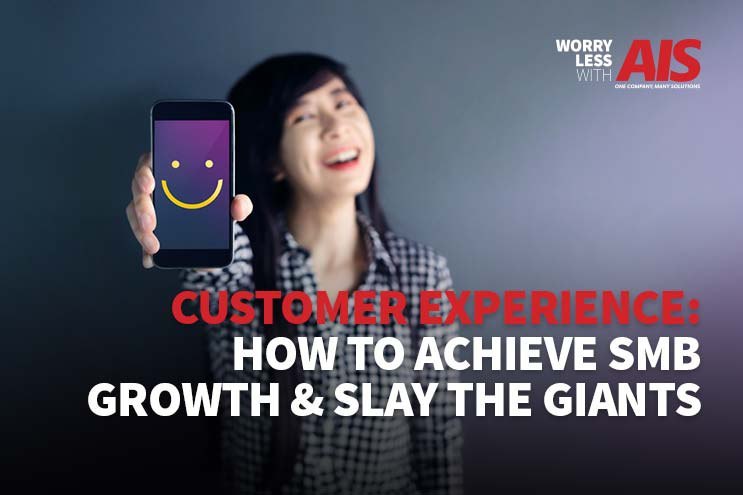 READ TIME: 6 MINS.
Achieving SMB growth can undoubtedly seem challenging at times, especially if you're competing against larger or more established companies. Even if your SMB has endless amounts of resources, such as employees or a healthy budget, becoming the top dog in your market can bring unexpected challenges and setbacks.
So, what is it that makes even the smallest of companies able to compete with the giants? What's the differentiator that causes them to stand out over the rest? These are both pretty thought-provoking questions you might not have the answers to, and that's ok! You've come to the right spot.
What many businesses don't know is that the answer to these questions is pretty simple—yet extremely important. If you really want to know how to become the exception in attracting the best employees and customers, your answer lies here:
The Customer Experience.
Unfortunately, there's been a noticeable decline in customer service year over year, and as a society, we've unknowingly developed an acceptance of poor customer service. However, we're not talking about customer service. We're talking about the customer experience.
Follow along as we explain the differences between the two—as well as provide you with some great insight into the most rewarding benefits of focusing on customer experience.
Customer Experience vs. Customer Service: What's the Difference?
As we mentioned earlier, being an SMB isn't always a walk in the park in a world full of enormous billion-dollar enterprises.
Have you ever heard the William Shakespeare quote, "Though she be but little, she is fierce"? Just because you're considered a small or medium business doesn't mean you have to act that way. When you think about, most SMB growth begins by taking small steps anyway. Everyone has to start somewhere!
Speaking of SMB growth, do you know how managed IT services can support your business goals? Read our article to learn more, How Does Managed IT Services Increase SMB Growth?
Because there are notable differences between customer experience and customer service, we feel it's necessary to educate you on some fundamental contrasts between the two.
Customer service is more of a reactionary effort, and happens at a single touch point, whereas customer experience focuses on proactive approaches, and occurs at all touchpoints.
What are touchpoints? Touchpoints are simply every point of contact in which you touch or reach a current or prospective customer. Some examples could include a social media post advertising a sale of your products, or an in-person visit to a customer's office.
We'll talk more about customer touchpoints a little later on, but this concept is paramount when assessing your interactions with customers.
All right, getting back to comparing customer service and experience. The customer experience is even more effective if you're selling more of a commodity because most companies sell some type of product or material, upping your competition.
The key differentiator when it comes to the customer experience is in the service you provide. The more knowledge and resources you're willing to explore when it comes to your business and customer-centric interactions, the better chances you have at becoming a business that no other business is.
Finding that needle in the haystack, or that one unique approach to something, such as emphasizing on customer experience rather than solely focusing on customer service, can bring you great success.
Creating The Ultimate Customer Experience
For starters, take a moment and think beyond the obvious ways you can create a memorable customer experience.
An instance of a minimally-serving or basic customer experience would be how well you decorate or furnish the reception area of your office, or how friendly your customer support phone greeting is.
Now, both of these customer touchpoints are great ways in demonstrating that you care (or don't care) about what customers see or hear when they contact you. But a great experience goes much deeper than this.
For example, a way to show your investment in customer experience could be in the structure of your parking lot. That's right, we said parking lot! Take a look at some of these questions to consider for optimizing the customer experience for something as simple as your parking lot:
Have you thought about any implications your customers might face if your store was open in the evenings after sunset, and your parking lot was dimly lit? How welcoming would they feel pulling up to a dark parking lot?
Was it easy to navigate from your car to the front doors of your business?
How many spots are designated for customers specifically coming to your store? What happens if you're located in a bustling shopping center with only two designated parking spots for your store's patrons?
We understand there are always limitations, and you might not have much control when it comes to the structure of your parking lot if you're renting the building space or sharing it with other businesses.
However, the mere acknowledgment of saying to your customer, "Hey, thanks for coming in today. I know parking is horrific out here, but we appreciate you stopping by," goes a long way.
An acknowledgment, even if you think it holds no value, does. To many, a thoughtful response is an uncommon way to give someone the ultimate customer experience. However, it's setting you apart from big businesses who don't care to make those smaller efforts.
Identifying Your Touchpoints
Now that you've learned what customer touchpoints are and how these touchpoints significantly impact the customer experience, we wanted to briefly show you what happened when we analyzed our own customer touchpoints.
When we did our touchpoint analysis, the results were absolutely shocking. We quickly discovered we have over 192 different touchpoints or ways in which we reach our customers!
By thinking outside the box, we were proud to learn that we have a presence on our customers in almost 200 different ways, which opens the door to so many great new ideas and customer experience strategies.
As technology savvy as our customers are nowadays, we knew it was time to update one of the most important points of contact we have with our customers: our website. Learn about our website communication strategies by reading, AIS Launches Revamped, Customer-Focused Website.
This got us thinking about how gas stations were run in the 1950s and 60s. You, as the customer, would do as little as pull up to the gas pump, which immediately prompted a greeting from a smiling attendant who was ready and able to assist you.
Better yet, if it were your local gas station, the attendants would even call you by your name, ask how the kids were doing, and if you still needed help moving your couch next weekend. They'd pump your gas, clean your windshield, look under the hood, and check your oil.
If that isn't excellent customer experience, we're not sure what is!
Bonding With Customers: Make Them a VIP (Very INDIVIDUAL Person)
The power of excelling the customer experience lies in its ability to create an emotional connection with your customers, as well as a logical one. When both are done together and done well, you'll begin to see a positive impact on the economics of your company.
Bonding with your customers plays a huge role in customer touchpoints, especially if you're an SMB competing against larger companies. Stronger bonds mean:
Customers are willing to pay more,
Customers will return over and over,
Customers will refer and recommend your services to friends, family, and colleagues.
A global analytics and advice firm, Gallup, published an article, Customer Satisfaction Doesn't Count, and states, "If you do not make an emotional connection with your customers, then satisfaction is worthless."
You've heard the term, VIP, or Very Important Person. But, we've got a different meaning for that acronym. A great way your customers will receive the best customer experience is when you label them as a Very INDIVIDUAL Person. When customers feel like individuals, they are more likely to perceive their experiences as unique and special.
Now at some point, we all make mistakes, and you'll encounter a service failure. The key is that hopefully, you'll have established enough goodwill along the way in great customer experiences, that the service failure doesn't drive that customer away.
Through your mistakes, you'll realize the difference between good customer experience and great customer experience.
When it comes to service recovery or recognizing a customer's bad experience, your ultimate goal is to pursue the reconciliation of the relationship with the business owner or purchaser, not just the resolution of the issue.
Service recovery is about salvaging a potentially damaged relationship, and your staff must truly believe that the customer is more important than the problem itself.
Speaking of treating your customers as important individuals, it's also critical you do the same with your employees. You must give your employees and staff the customer experience, and treat them as a VIP. You certainly can't expect your team to take care of your customers if you don't take care of them.
The Takeaway
As you can tell, there are ways you can easily beat the giants, especially by distributing exceptional customer experience management within your industry. The incredible thing about this is that it doesn't take a lot of investment dollars to become a dominant and well-known business, even if you're a small business.
Developing influential relationships with your staff, understanding your customer's expectations, treating them as individuals, analyzing your touchpoints routinely, and improving those experiences, will take your business and your brand to the next level.

One of our main goals at AIS is to empower our customers and readers with the information they need to further the success of their business. We are here to help you reach your goals, even if you're just starting out. If you're interested in learning more about SMB growth, or any of the products and services we offer, reach out to one of our business technology consultants, here. Also, visit our video channel on YouTube, The Copier Channel. We're here to give you peace of mind to help you win more business.