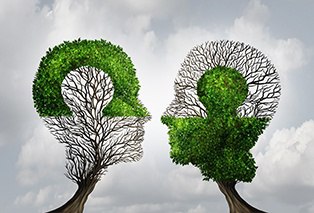 "Oh, great. I've been reading this blog for six months and NOW I find out she talks to herself?"
Well, yes, but hear me out because often I'm talking to myself trying to figure out how I can best help you.
Like many people who are sales professionals (yes, we are people), I am constantly thinking of how I can improve my sales process. (I sell IT services and office technology.) With the holidays behind us, we all got our shiny new toys – I lucked out and got a classic NES and some additional Echo Dots to build my Alexa household empire – and have now moved onto resolution lists and 2017 business plans.
For 2017 I am asking myself the following:
"How can I reach potential clients better?"

"How can I continue to make good on the commitments I made in the customer evaluation process for the clients I have that took the leap with me in the first place?

"How do I listen to what the client is saying to me and harness that need into a realized solution?"

"How do I as a SMB technology specialist stay relevant to understand emerging technologies that can help my clients and avoid bleeding-edge and/or costly solutions that wont improve their business?'

"How do I communicate the value of my solution to potential clients, so when they sign on as new business they in turn help my company maintain profits and continue to build and maintain the standard of offering 80% of our competitors don't have?"
There are limitless possibilities in the technology and IT landscape today. With the beginning of a new year, topics like IoT, SaaS, HaaR, BDR, VM, AWS, SD-Wan are hanging out in the IT echosphere – causing confusion for customers and opportunities to show off and pontificate in white papers, articles, and technology briefs. By the way, message me if you want the answer key for these abbreviations. :)
Back to that voice inside my head. You will continue to see many posts from my perspective in 2017 as someone who sells IT services. I will continue to talk about the potential value of aligning your company's goals with a Managed Services provider. I won't stop working to build content that has value for you whether you do business with my company or not. I want to help you navigate the oft-confusing world of IT.
My inner dialogue will also reflect on is why clients did not go with my offering. For me this will be critical to understanding from a client's perspective of how they choose what's right for their business.
Some comments and rejections in 2016 were:
"We don't need all the bells and whistles."

"Your competition has newer and more relevant technology, they understand our vertical more."

"It's just not good timing, this is all great information for the future."

" I don't agree with your assessment of our risk."

"I don't understand what you are selling me."
On the other side of the coin, here are some comments from clients in 2016 who bought my services:
"I can see how we have been selling ourselves short with á la carte IT, this comprehensive plan is what we need to grow our business."

"You really took the time to understand our business and company culture before you talked technology."

"We didn't realize all the potential pitfalls in our business when it comes to IT and how we manage it today, frankly that is why we have our current vendor. Although they have been with us for years the timing is great to move towards a relationship with your company."

"I finally understand how lack of business continuity and employee downtime (even at 15 minutes a day) costs my organization money."
These are all great snippets to help me focus on my sales process for 2017 as an IT subject matter expert. I imagine many of you are doing the same. Please comment below (or send me a message directly) with any thoughts on your goals and direction for 2017.