Cultivating Company Culture Through A Mission Statement
October 16th, 2019 | 7 min. read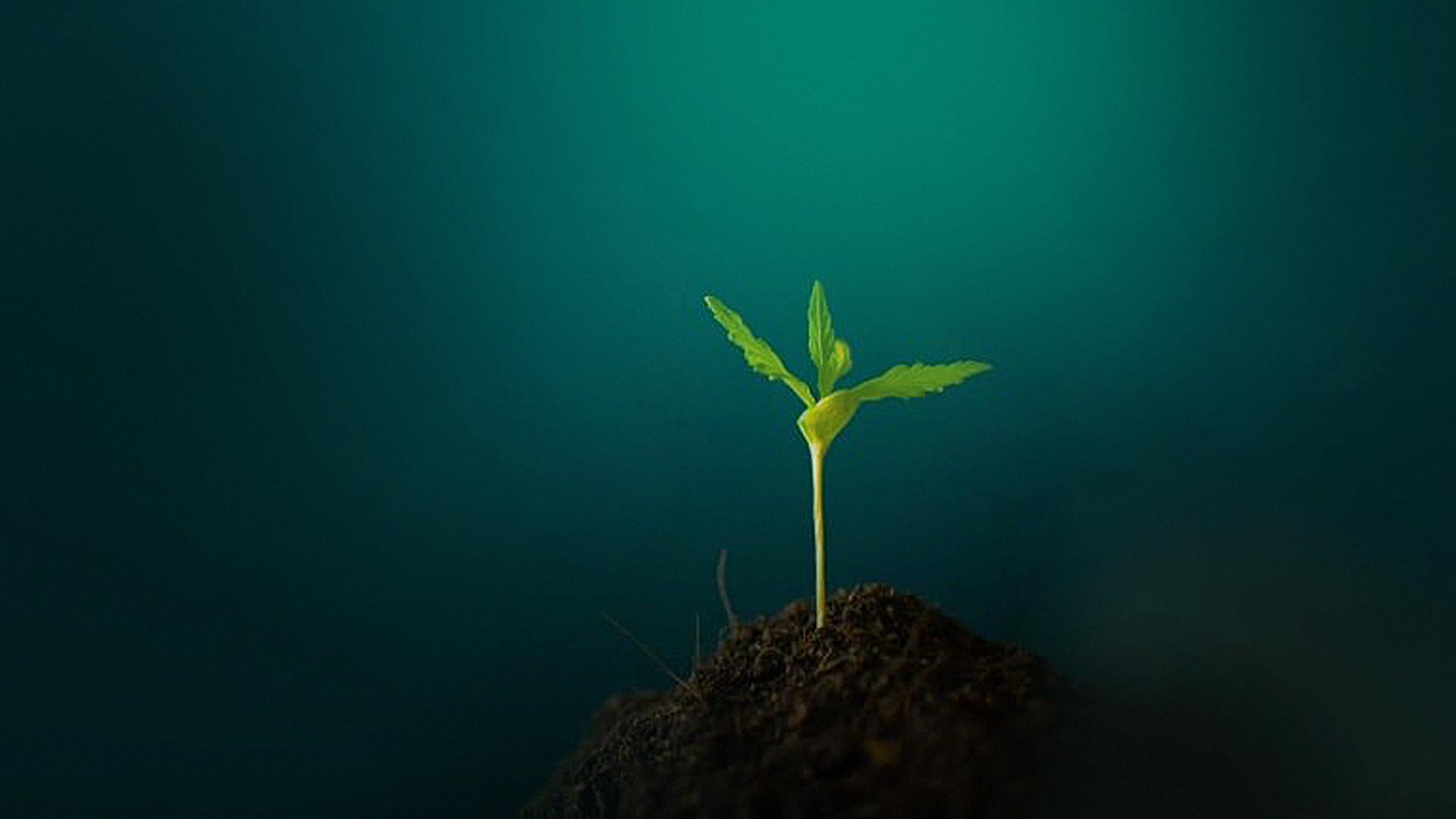 Your business has made some tremendous improvements in company culture and employee engagement, but where do you go from here? How do you know which measures to take to keep your culture alive and growing? You'd hate to see all your efforts go to waste, simply because you weren't sure how to expand it, right?
Once you've established the backbone or overall theme of the culture at your company, the next step is to cultivate it.
With every new implementation at any company, there's always a process involved. With company culture, it's hard to cultivate it without creating it in a way that best benefits your business, employees, and customers.
Before we dive into cultivating culture, it's important you first understand some of the best ways to create a strong company culture. Read our article to learn more, Best Practices to Create Great Company Culture At Any Business.
We highly recommend reading this first article on work culture as this one is just a continuation of it. It's helpful for you to understand exactly where we started as we began this rewarding journey of creating a great culture here at AIS.
Follow along as we give you some great takeaways on how to cultivate culture at your organization so that your business can continue on its path of growth and success.
Cultivating Your Company Culture: Living up to your Mission Statement
As we discussed in our first culture blog, the mission statement at AIS remained intact since our doors opened over 17 years ago. Today, for purposes of this blog, we're placing a special emphasis on the second sentence of our mission statement:
"Our foundation of work ethic, integrity, and teamwork enables us to work within a culture that cares about our customers, our community, and each other."
Anyone can easily find our mission statement and its entirety, here, on our website. It's important to note that having a mission statement and promoting a mission statement are two entirely different things.
Does your team know where to go to find your mission statement? Could they tell you what your mission statement defines? Do they even know your company has a mission statement? Along with our mission statement displayed on our website, we also showcase it:
Throughout the hallways of all our offices and on the walls of our break room
In our culture book which every member of the team has
On our YouTube channel, embedded in some of our videos about our company
You can't expect your employees to support your company culture if you aren't standing firmly behind it and stressing the importance.
So here's the question: does your organization have a mission statement? If you answered "No," then it's time to get to work. Creating a mission statement is a valuable and essential task to complete if you're serious about the development of organizational culture at your business.
Take a look at an article published by Forbes on supporting a good mission statement, The Importance Of Having A Mission-Driven Company.
If you do have a mission statement, then you're at a great place when it comes to furthering your company's culture . For starters, take a hard look at your mission statement. Examine, word for word, what it says, and the promises or visions portrayed about your organization.
Believe it or not, individuals want a work environment and organization that has strong follow-through and commitment to upholding important values. Like anything in life, you can't just talk the talk; you must walk the walk. If not, you'll quickly lose credibility as a valuable employer and organization.
What we're trying to get at is if your mission statement makes grand or extraordinary claims, it's imperative for the brand of your business, to follow through on them.
Living Up To Your Mission Statement: How Can Your Business Support It?
By now, you should know if your organization is living up to your mission statement. What specifically does your company do that supports the claims your mission statement makes? Let us give you an example.
Part of our mission statement promotes our company as supporting and strengthening our community. So, how do we do that? We currently promote two important components within our organization that help us to uphold that piece of our mission statement.
We say we care about our community, but how do we show it? We provide each of our team members 24 hours of VTO (Volunteer Time Off) each calendar year. These VTO hours are paid time off for team to donate their time to any non-profit organization of their choice.
Typically, most of our employees prefer group volunteer activities where a team will go out for 3-4 hours on a workday to help local non-profits fulfill whatever tasks needed.
We have partnered with wonderful local organizations such as Three Square Foodbank, Catholic Charities of Southern Nevada, Project 150, Goodie Two Shoes, and the Ronald McDonald House— just to name a few.
Since the beginning of our VTO program back in 2015, our employees have contributed over 1,000 hours of volunteer time to local non-profits in our community. Not only do our volunteer efforts help our local communities, but we get to work together as a team during these activities promoting camaraderie.
Often, different members of different departments volunteer together, allowing employees to work together, where on a typical workday, they may not have much interaction.
Another one of the more recent ways we stand behind caring for our community is through a Work-Study partnership. We partnered with the Cristo Rey Work-Study Program (CWSP), which is a local College Preparatory High School in North Las Vegas.
This program is part of the Cristo Rey Network that was founded in 1996 and is one of 37 schools in the network.
To give you a few stats, there are currently 11,522 students nationwide that take place in this program and over 13,000 alumni. We're proud to be one out of 24 top-notch organizations in the Las Vegas area to have partnered with Cristo Rey.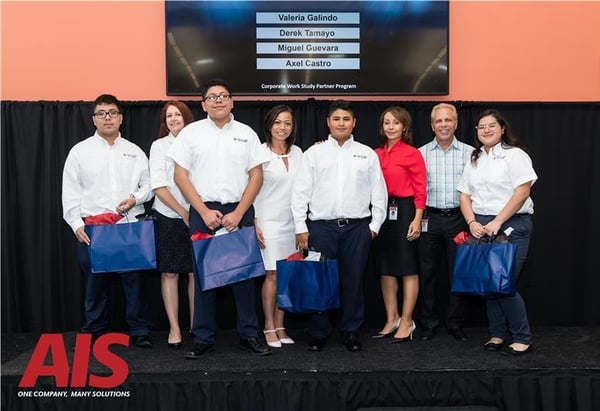 Cristo Rey students join AIS on 'Draft Day' with Jessica Clemmons, Human Resources Manager, Francine Do, CFO, Rosa Solares Executive Coordinator, and Gary Harouff, President.
Nationwide, over 3,000 corporate partners that have helped students earn over $62 million towards their tuition. Cristo Rey CWSP has been instrumental in achieving 90% college enrollment after high school.
Learn more about programs like this by reading an article published by one of our local news stations, CBS Las Vegas, 'Draft Day' Connects Students, Companies For a Real-World Experience.
We mention all of these statistics because of the impact we feel we can make on children's education, especially by aiding students in achieving college degrees. All in all, this strengthens our community which is what our mission statement says we do.
In addition to completing a college-prep curriculum, students are employed by partners such as AIS. Students are actual workers and integral members of the AIS team. These students are required to work five days per month within our organization, where they'll learn and develop entry-level work skills.
What students gain from this partnership is assistance subsidizing a portion of their tuition along with gaining key skills needed to help them stand out in college applications and the experience needed to enter the workforce after high school.
Currently, we have a team of four students that work five days per month in all areas of our organization. So far, we are a couple of weeks into this school year, and the students have been exposed to every department here at AIS including, sales, service, and administrative support.
As only freshmen in high school, some students are uncertain about what their future aspirations may be. By being an integral part of the team and culture here at AIS, it's our hope that our mentorship and guidance will help open their eyes to a world of countless possibilities where opportunities are only limited by their imagination.
We feel these examples are clear proof of how we back up our claims within our mission statement of supporting and caring for our community.
What's Next In Cultivating and Achieving Great Company Culture
Company culture is important and goes hand-in-hand with cultivating through a mission statement. In this article, we chose to pick apart our mission statement and only discuss one part of the overall message.
Our mission statement addresses many aspects, all of which we stand behind each day. Make sure to keep a lookout for more articles to come that describe the other ways we're continually backing up our statement.
If you can take away one thought from this article, let it be this: Have a strong culture that you believe in and care about, with a mission statement and actions that support it each day.
At AIS, our goal is to educate our readers and our customers on best practices for company growth and sustainability. We stand behind our mission statement so we can continue to give our customers and high quality employees the support and trust they deserve. We also stand behind our products and services so that every business we serve is in the best care possible. To learn more about cultivating corporate culture, or and of the services we offer, reach out to us, here. Also, check out our video channel on YouTube, The Copier Channel. We're here to give you peace of mind to help you win more business.
Rosa's greatest contribution has been to identify and craft the Culture at AIS. The Culture at AIS is a living and breathing organism that needs to be continually cultivated. Follow Rosa on this journey where she shares what she's learned along the way. Wins, losses and those in between; and what it means to cultivate the culture in an organization. Learn tips, tricks and best practices to building a quality culture. Every now and again she may even share a thing or two about the most recent concert she attended! Rock on!