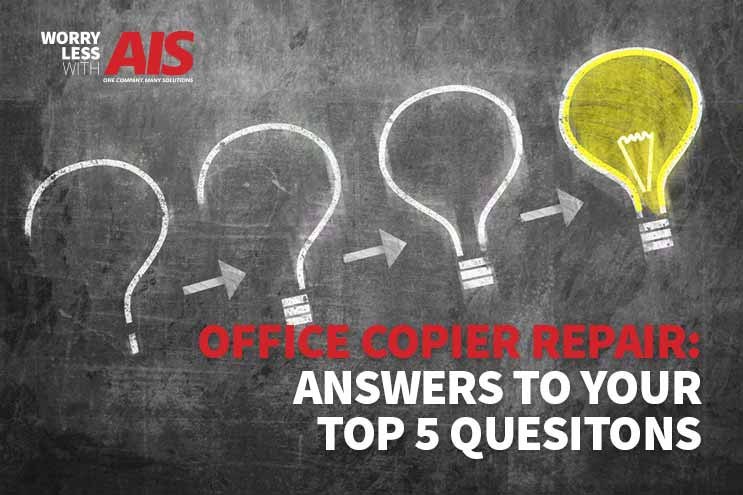 Read Time: 5.5 MINS.
Oh no… it's Monday morning, you've got presentations all week, and your copier goes down, leaving you frantic with questions as you search for an office copier repair technician. Does this sound familiar?
Unfortunately, copier issues and malfunctions come up all the time, and it probably seems like they also come up at the worst times, too.
Dealing with a broken office copier is not only frustrating, but it can significantly impact your business and leave you with hours of downtime you can't afford to lose.
If your copier goes down, you're left with questions on finding the best (and quickest) ways to get your device back up and running. So, hear us out, we've got you covered when it comes to copier repairs and finding the best service team for your business needs.
Before we get into the answers to the top 5 questions you probably have about office copier repair, let's briefly discuss the qualities that make a great office copier repair services company.
As a business owner or decision maker, your goal should be to find a team of professionals who provides the following:
Qualifications and trained technicians
A variety of inventory, stored in their warehouse and vehicles
Positive customer reviews
A high Net Promoter Score (NPS)
All of these criteria leads to less downtime and costs associated with office copier repair. To learn more about these qualities and characteristics, and what you should look for in an office copier repair company, read our blog, Choosing The Best Copier & Printer Service: 7 Must-Haves.
Office Copier Repair: Your Questions Answered
Every business is different, even if you produce similar work to the company down the road. Your business goals are different from them, and the nature of your printed or copied data is specific to your employees and customers.
However, we've found there's a shared group of questions that almost all businesses ask when their copy machine goes down, making it easier for us to provide answers to all businesses, near and far, big and small.
Question #1: Manufacturer vs. a local dealer: which is better?
Choosing a manufacturer is an excellent option if you aren't too worried about time or money. A manufacturer is a direct source to go to since they are one of the most knowledgeable sources for your black and white or color copiers.
Manufacturers typically troubleshoot or run quick diagnostic tests of your office copy machine, find the right parts, and promptly fix your machine.
A local authorized dealer almost always focuses on customer service and support, because this is what feeds their business and keeps it running. Local authorized dealers usually have great relationships with copy machine manufacturers, so they typically have an inventory of parts.
The staff of local authorized dealers is well trained on a range of devices, so the service and repairs are usually quick and effective; getting your copy machine back up and running in no time.
Questions #2: How do I find the best copier repair services company nearest me?
To be blunt, no matter what copy machine you end up with, they all do the same three things: copy, mis-feed, and jam. Because of this, you're going to need a maintenance contract which is another extra expense.
We're going to answer this question with more questions. However, these questions are ones you should consider when looking for a copier repair services company nearest you.
Do they offer both a lease or purchase price?
What's the total lease price or the total purchase price?
What copier can your business afford?
What's the length and the interest rate on the lease?
Is there a buyout at the end of your lease, or do you just keep the copier or printer?
What's the cost of the maintenance contract? How long does it last? And what does it cover?
How many service technicians do they have to support your area and how are they trained?
How large is their inventory of parts and equipment?
Learn more about finding the best copy machine repair company near you by reading our article, What is the best copy machine repair company near me?
Question #3: What makes an office copier repair services company better than the rest?
As we mentioned earlier, there are so many different and essential qualities in an office copier repair service that you should look for—it can almost become overwhelming to choose the right one!
Determining if a company is better than the others sometimes depends on what you're looking for and the specific needs of your business.
This is your money, and you have the right to get the answers you need from every repair services company you're considering. Don't be afraid to ask tough questions like:
Response Time: What's the average time it took to respond to your customers last year? How accessible is your technical support staff? How many different ways can you reach your support team when you have a problem?
Chron published an article you might find interesting on the importance of response times, The Importance of Response Time in the Service Industry.
Qualifications: How many technicians do you have to service your market and how skilled are they? How many certifications does each of them hold? This is important in making sure you have experts qualified on your equipment.
Parts: How much inventory does each of your service technicians carry on their vehicle at any given time? Will they need to make multiple trips to the warehouse to get the right part?
Reviews: Do you support other customers in the same industry as yours? If so, how have you helped them? (Ask for some references–your competitors may not want you to know how good their copier company is.)
Customer Service and Technology: What other technology do you use to ensure you are providing the highest levels of customer service? What is your business reinvesting to support growth over the next five years? (5 years is the average length of a copier lease and or service contract.)
NPS: What is your Net Promoter Score (NPS)? (A NPS is how likely your customers are willing to refer you as a company.) This is an important metric that determines if their customers are pleased with their service relationship. Not a lot of people or businesses know what an NPS score is, but large brands do. Companies like Apple, Amazon, Netflix, Nordstrom all know their scores and measure their performance by it each year. To learn more about this important measurement, Satmetrix® explains it very well: https://www.netpromoter.com/know/
Question #4: Why do I continue to see lines on my paper, wrinkled pages, too-light of copies, and experience paper jams?
Troubleshooting and tips for common copier malfunctions are our specialties. Take a look at some of our reasons for your most common issues:
Lines on Paper: Nothing is worse than when you need to make copies of an important document, but it prints out with lines and other deformities. This can be caused by foreign substances on the glass or the mirrors within or can be due to a drum blade malfunction.
Paper Jams: Paper jams are perhaps the most common problem anyone encounters. There are as many potential reasons for a paper jam as you can think of possibilities, but it occurs most frequently because of improperly sized paper and improper loading. By checking these two issues first, you can get the copier working again quickly.
Wrinkled Pages: Lines on the paper are one thing. Wrinkled pages are another. The fastest way to losing a shot at a promotion is to hand your boss important documents that are wrinkled and crumpled; when this happens, it's likely due to worn out feed rollers or moisture within the fuser assemblies.
Copies Aren't Dark Enough: Density setting errors often cause problems with the color of the copies. If you notice a problem with the copies being either too light or too dark, check the settings on the copier. If they're correct, check the toner.
To learn more about copier issues, and how to fix them, visit our video channel on YouTube, The Copier Channel.
Question #5: Is my office copier unable to perform well because of my offices' high-volume printing demands?
Do you know how much printing and copying does your business typically does? Some companies only print a few documents per day, while others print hundreds or even thousands.
You might have even purchased or leased your office copier at the start of your small business before you had had a database full of customers. After years of growth, your printing demands most likely changed, and your office copier is now unable to keep up.
It's essential to learn the specs of the specific make and model of all your office technology devices. You might discover that your current office printers and copiers seem to need repairs simply because they are over-worked and weren't made to support the high-printing needs of your business.
Have you heard of managed print services? If not, read our article to help assist you with your printing volumes and needs, What is Managed Print Services?
Your copier is a vital part of your business. It manages the workflow of paper and electronic files and you're using it to present your customers with information about your products and services to generate revenue or manage the operations of your business.
When it breaks down or is showing the signs of a breakdown, you need to know who to go to. If you're looking to identify the best copier or printer repair service, be ready to ask questions and research your options ahead of time—don't wait until it's too late…when it's broken down.

At AIS, we are proud to provide helpful tools and resources for our current customers, as well as anyone wanting to learn more about office technology equipment. Our drive stems from wanting to learn more of the latest and greatest office equipment to help your business achieve its goals. If you're interested in learning more about our services, speak with one of our business technology consultants, here. We're here to give you peace of mind, to help you win more business.